By Lisa Shell

Have you ever wanted to shop locally but you're not quite sure where to start?  What to buy? How to wrap it?  With less than a month before a wedding, I went on a search for just the right wedding present.  The bride hails from Grayland and will be relocating to Texas with her husband after the ceremony. In Grayland, I found friendly, knowledgeable proprietors at five great gift shops and just the right personal appeal.
Potshed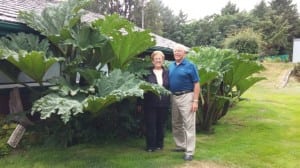 Mikki and Doug Holt invite guests to their property.  The Potshed offers succulents, pots, and garden decor. This is the place to find the perfect outdoor decoration and "yard-warming" gift.  Mikki creates leaf shaped pots using the Hypertufa formula and many are one of a kind.  Hypertufa is popular for making garden ornaments, pots and landforms. Hypertufa is relatively light compared with terracotta or traditional concrete and can withstand harsh winters.
Mikki's hallmark is the "leaf-pot" she makes from the enormous leaves of her prized Gunnera plant.  She uses the leaves from her plant and creates "one of a kind" Gunnera leaf shaped pots.  Gunnera is a tropical water loving plant that produces huge leaves.  Potshed is located at 1713 Main Highway State Route 105 in Grayland.
Heather and Hollie Tucker invite you to Pomegranate's current location.  The duo are related by marriage and partnered together years ago to bring you their home decorating talents. At the new location they showcase a beautiful collection of gifts for baby showers, birthdays, housewarmings, and other special events.
The atmosphere is relaxed, displays are exceptional and I felt comfortable enough to do a little "window-shopping."  This gift shop is elegant, modern, and at the same time has a good old fashioned nautical feel to it.  Strolling through the shop, I liked the selections from around the world.  From cookbooks, to whimsical beach signs you are sure to find just the right gift or decor for your home.
Be dazzled as you shop in the glitz and glamour studio filled with hats, scarves and jewelry. Pomegranate houses one of the largest selections of scented candles in Grays Harbor. Pomegranate's new location is at 1767 State Route 105 in Grayland.  Follow their Facebook page to see more images.
Owner Shawn Evans brings you The Treasure Chest in Grayland, described as "2,000 square feet of 'man cave' items, anything and everything." This shop is filled with antiques, collectibles, paintings, woodcarvings, glass balls and more. You may just find your treasure, I know I did when I saw a "Melville & Erlander" sign.
Erik Erlander's woodcarvings adorn the homes of people around the area.  Melville can be found here, on Saturday mornings, painting new works that include landscapes, seascapes, figure studies, mythical themes and custom paintings.
Shawn, who started as a vendor, recently took ownership of The Treasure Chest.  The rustic shop is located at 2172 State Route 105 in Grayland.  Learn more by clicking here.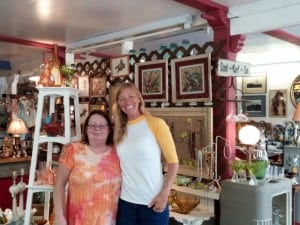 Meet Cindi Molchan.  She shares her passion with you by offering items from her personal collection – a variety of jewelry, hats, signed artwork, home and kitchen collectibles, and her own line of handcrafted beach signs.  All these items can be found during your visit to The Painted Pelican an antique, collectibles, and decor shop in Grayland.
Cindi and her husband have lived in Westport for 18 years and recently moved to the beach. Cindi's cherished collection fills the entire first floor.  She even saved some space upstairs for two vendors – Molly from Westportsurfadventures.com and Heather from Pomegranate present nautical and vintage decor upstairs. Cindi creates driftwood signs you can purchase to decorate your beach retreat. The Painted Pelican is located at 1820 State Route 105 in Grayland.  See more on their Facebook page.
Beach Shop
April Hircko's Beach Shop opened about 25 years ago.  Glance through the porthole and catch a glimpse of this little gift shop's treasures.  Kites, flags, windsocks, souvenirs, glassware, trinkets, hats and more abound in this small building with a large inventory.  Ice cream and espresso set this shop apart from the rest in Grayland.  April's Beach Shop is open on the weekends during the summer and located on the corner of State Route 105 and Cranberry Beach Road (County Line Road) in Grayland.