By Gale Hemmann
As I walked into rehearsals, the day was already in full swing. Kids in the 7th Street Kids theater program were onstage, rehearsing a song. The song happened to be "A Poultry Tale," the opening number for Honk!, the musical the group will be performing August 1 – 3 this year. Everyone was wearing matching orange t-shirts with the name of the musical emblazoned across the front. The staff were upbeat and engaged, keeping the kids smiling as they ran through numbers several times. Right away, you can tell that the energy of this theater program is special.
The 7th Street Kids program, started in 1992, is housed at the historic 7th Street Theatre in Hoquiam. Every weekday for six weeks each summer, over 50 students spend their mornings in rehearsal. At the end of the summer, they put on a family-friendly show for the local community. Since it began, over 600 local kids have been involved in 7th Street Kids. Many go on to work in theater, perform at the local Bishop Center at Grays Harbor College, and come back as staff with the 7th Street Kids program.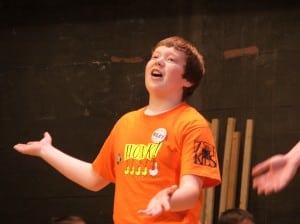 So, what makes kids not only want to get up and go to rehearsal every morning, but to come back year after year? During my brief visit, I saw numerous reasons. In addition to the positive atmosphere, one element that makes this program stand out is the highly qualified staff. The staff brings a wealth of theater experience and dedication to their jobs.
One example of participant turned staff is Nick Barene. Barene is currently serving as the Assistant Producer, and this is his first time directing. He grew up acting and playing music in the area, and is now studying music education at Pacific Lutheran University. He says he enjoys his work with 7th Street because he hopes to be a band director in the future, and it is great experience toward his career goal, as well as being a lot of fun.
Another former 7th Street Kids graduate is Tamara Helland. Helland is currently in her second year as choreographer with the program. She brings a background with 24 years of dance experience to the group. She used to own her own local studio (Let's Dance). During the school year, the energetic Helland also directs the Aberdeen High School's musical. Over a bite of lunch, Helland tells me that she enjoys working with the 7th Street Kids because she appreciates when students are brave enough to try new things and make them their own. Helland clearly knows her stuff – she brings fun, innovative choreography to the show and makes sure the kids are in synch.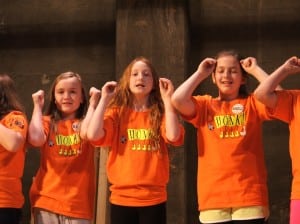 Throughout the morning, I also got a chance to talk a little with Julayne Fleury, the Theater Director in between run-throughs. Fleury did not grow up in 7th Street Kids, but is active in the local theater scene. This is her second year directing the program. Last year she directed the hit musical Shrek. She said what's most rewarding about her work is seeing kids on the stage after weeks of hard work, and how it bring out their talent and confidence.
Fleury attended Hoquiam High School and now is entering her final year at Western Washington University. She's also been keeping busy this summer as one of the leads in the musical Chicago at Grays Harbor College (Fleury plays "Roxie"). She is also an understudy for another actor.
In addition to all this, Fleury also helps run the 7th Street Kids "mini-camps" in the afternoon. Mini-camps are two-week-long sessions that provide a way for kids to try out theater without the full commitment of six intensive weeks. Despite, or perhaps because, of this busy theater schedule, Fleury says the summer is her favorite time of the year. She is both acting and directing, and totally immersed in the world of theater.
The final staff member I met was Alex Eddy, the Music and Pit Director. I found him at the keyboard during a brief break in rehearsals. This is Eddy's ninth year working with 7th Street Kids. He is a trained musician – he started playing piano at age 8 or 9, and also has experience with guitar and trombone. He likes playing music for the 7th Street Kids because of "all the growth you see in the participants, both within a season and over the years." During the rest of the year, you can find Eddy playing music at the Bishop Center shows, with the Driftwood Players, and at Aberdeen and Hoquiam High School productions.
As the kids filed to the front of the theater for their cast photos (I visited on photo day), I got a chance to catch up with Jeannie McNeal, the Board President who oversees daily operations at the theater. McNeal got involved with 7th Street Kids when her daughter was nine years old and started participating in the program. McNeal first started out helping with costuming and then found herself getting more involved over the years. When founder Micki Colwell passed away in 2001, Brad Duffy became the producer and McNeal along with other volunteers helped take leadership in the program.  McNeal has been in her role ever since.  She says she loves the sense of teamwork involved in the productions – everyone works together to accomplish a successful show each year. McNeal was warm, welcoming, and very proud of the kids' upcoming production.
McNeal notes that they chose the musical Honk! this year because it is a fun, inspiring play with plenty of parts for all the kids. This is the group's second time performing it – they also performed it in 2004 to much success.
Parents are involved too, donating at least 10 hours of time to helping with the program.  This could include ushering, helping with sets or costumes, or supervising dressing rooms during show days.
In the lobby, I also spoke with two Board members who were there helping out with photo day. Dori Cooper got involved in 7th Street Kids seven years ago, and has had several children participate. She says, "It's just such a great program." Ian Templeton has twin daughters in the program and agreed it creates a positive creative experience for kids.
The cast and crew are excited about this year's production of Honk! Bring the kids for an evening or afternoon of great entertainment and support this local theater tradition.
There will be two evening shows (Friday, August 1 and Saturday, August 2) and an afternoon matinee (Sunday, August 3). Tickets are available online, at Harbor Drug & Gifts, Rosevear's, and at the theater box office one hour before the performance.  You can also join the event page on Facebook.
7th Street Kids is a nonprofit program. Though it is run out of the 7th Street Theatre, it is a separate organization. They rely on your community support and local sponsorships to keep the program going and offer scholarships through the "Sponsor a Child" program. Business sponsors this year include Ingram, Zelasko and Goodwin, LLP and Le Orthodontics.
Read this past article on GraysHarborTalk about the history of the 7th Street Theatre.
7th Street Kids Present Honk!
At the historic 7th Street Theatre
Friday, August 1 – Sunday, August 3, 2014
Ticket information and show times can be found here.
All photos courtesy Gale Hemmann.