By Tom Rohrer
As a youngster growing up in Southern California, Thurston County resident Jim Moreno had a passion for street rods.
"I was in the club 'Hot Heads' of San Diego and I belonged with my cousin Bob. I think I was 16 and he was 17," says Moreno. "We used to drive down the beach, get into trouble, all of that. It was fun times."
Several decades later in his new home in Olympia, Wash., that passion still burns strong – even though getting into trouble is no longer a part of it.
Jim, along with his wife of thirty years, Debbie, has found an avenue for his interest through membership in the Olympia Street Rod Association (OSRA).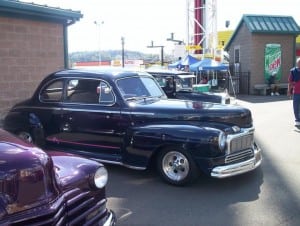 The Morenos have been members of the club since 1996. In 1999, the Morenos and the rest of the association thought the area was in need of a summer show and decided to organize the first annual event. Now in its 16th year, the Morenos have overseen all of the Olympia Street Rod Association Summer Car Shows. This year's event will be held on August 9, at the Lucky Eagle Casino from 9:00 a.m. to 5:00 p.m.
"I think there's a passion for street rods in the area, but also people just enjoy getting outside and looking at these cars. They sort of capture the imagination," says Debbie. "People who have no idea about the show, they'll drive by it and it catches their eye. Soon enough, the afternoon goes by and they're still looking at cars."
Along with providing the public an opportunity to view street rods free of charge, OSRA gives away several prizes throughout the day and donates proceeds to both the Rochester Area Food Bank and the Thurston County Food Bank. Prizes include a $300 gas card, a $300 cash card, cash giveaways of between $5-$10, tickets for the Lucky Eagle Casino buffet and a $500 gift certificate for the Tumwater Les Schwab to a registered street rod shower.
"We want to give back to the community. That's part of the mission of our group," Debbie explains. "They do a lot for us and we want to return that favor."
Hosting the event at Lucky Eagle Casino is beneficial for both parties involved.
"It's a great location, and we get a lot of foot traffic out there," says Jim. "The show is always one of their biggest days for the Casino, so we both lucked out a bit in how it's all worked out."
A band will be on site at this year's show for the first time. Joining the band will be roughly 350-400 street rods on display. Seeing the community come together with a shared passion for the famed style of automobile is always a special experience for Jim and Debbie.
"It's a lot of fun to see people in this setting.  After everyone is parked, the traffic stops coming in and you can get around to talk to people and see cars," Jim says. "You get all kinds of people, but they all are interested in street rods. Everyone can share experiences."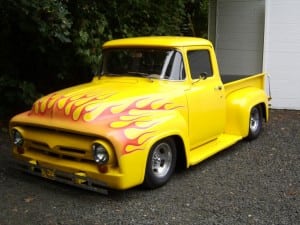 The Morenos experience together with street rods dates back to the early days of their marriage.
While still living in San Diego, the couple attended a family wedding in the Puget Sound area. They've been living here ever since.
"I said, 'I never want to leave.'  It was that quickly," says Debbie.
"She saw Olympia and said, let's move here immediately," remembers Jim.
Two decades before the move up to Washington, the couple purchased their first street rod, and have shared a love for the specific type of vehicle ever since.
"It's a passion that's developed over time.  When Jim saw an ad in the paper for a 1956 Ford Truck, we went out and looked at it," Debbie Moreno recalled. "It was just sitting in the fields with weeds growing up around it.  He turned the engine over and I heard it and thought, 'ohhh, we own a truck.'"
In addition to the 1956 Ford Truck, the couple owns a 1935 Chevy they purchased at a garage sale.
Together, the couple drives the vehicles to car shows in the region or to locations such as Yellowstone and Glacier National Park.   On these trips, they are joined by their fellow car club members.  It's a group the Morenos appreciate.
"We're close friends and every year the bond grows a little stronger," says Jim.  "These relationships are some of the things were most thankful about since moving to Olympia."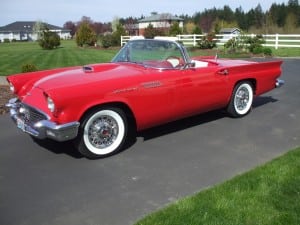 "Over the years, we've met lots of car people. It's a very tight knit community, and if someone is in trouble, we rally around that person," comments Debbie. "A few years ago I had cancer. They hosted a car show for me and it was amazing the amount of people who came out. That did my heart so much good."
Formed in 1972, the Olympia Street Rod Association has had a peak membership of around 50 and a low point in the teens. "A small group" according to Debbie, the current membership continues to meet monthly to discuss matters such as the summer show, upcoming trips and unsurprisingly, street rods.
While movies and fictitious stories have given rise to the idea that automobile groups participate in unlawful activity, the Olympia Street Rod Association goes against that stereotype nearly to a fault.
"We're not running around like a gang. Honestly, we have trouble running at all these days," says Jim with a chuckle.  "If anything, we're a grey hair gang."
For more information on the Olympia Street Rod Association Summer Show, including a form to display a vehicle, click here. To find out more about the event, visit Lucky Eagle Casino's website here.
All photos courtesy of Olympia Street Rod Association.