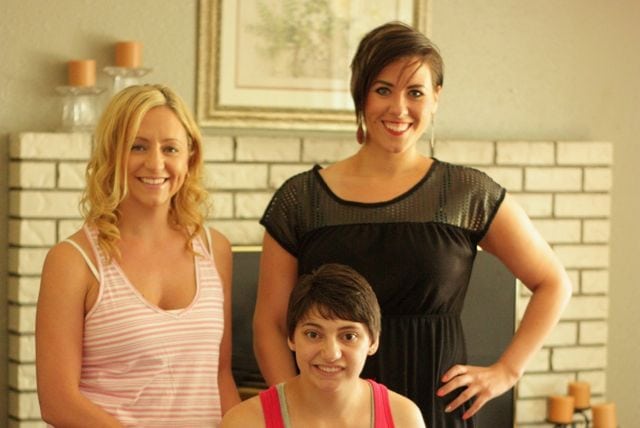 By Chelsea Royer

It's the trend these days, in and out of Hollywood to do something noticeably different with your hair. Whether through cut, style, or color, doing something drastic is "in." We see this when looking at celebrities who have gone from long, beautiful hair to short and spunky or a pixie cut. Most of us are not brave enough to lop off our long or medium length hair to sport a pixie cut, but we admire the ones who are.
Allison Wood is a local Montesano girl who just graduated high school and is currently a local trend-setter. Shifting from long, elbow length hair, Allison now frames her gorgeous smile with a spunky pixie cut. She doesn't miss her hair and she didn't cry when she cut it because she knows her hair is going to help someone who doesn't have any. Placing her long locks in an envelope, Allison sent her hair off to Locks of Love where she hopes a young girl will end up wearing it as she battles cancer.
Lyndsey Verboomen, who is Allison's hair stylist at Trendz Salon and Day Spa, says it is a little intimidating when someone comes in wanting such a drastic change in style. "You never know how someone is going to react because it is such a big change. Are they going to cry? Are they going to like it? Are they going to hate it? But Allison came in with a big smile and this confidence and said, 'cut it off.'"
"We took as much as we could to give the most hair," adds Verboomen.  "She was the best fun.  She just laughed and held her hair after we cut it. Most people are so attached to their hair, but for her it was just like, 'take it' because she knew it was going to a good cause. She's a confident girl and her hair wasn't her security."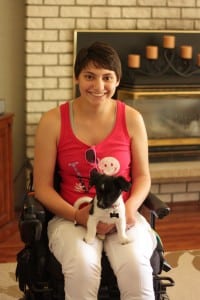 For the stylist, the donation hit close to home because her co-worker, Jennifer Blodgett, is currently battling cancer. "You realize and see how much value Allison's hair has when you have someone who is directly influenced by her donation. Jen, who has no hair, is a hair stylist who loves hair.  To look at someone like Allison who is willing to give it up – for her to donate was super touching."
Something you should know about Allison is that she's mostly wheelchair bound due to Cerebral Palsy. There are many different levels of this condition, and for Allison, it inhibits many movements and abilities most people take for granted. Allison doesn't let this stop her. Her can-do attitude has her accomplishing up to 500 steps on her own two feet and an optimism that she'll be able to live on her own one day. And it obviously doesn't stop her from making a difference in her community. Allison loves children and hopes to eventually volunteer somewhere she can make an impact in their lives.
Katie Gillis, Allison's mom, couldn't be more proud or supportive. "She's just a really brave kid and always has been. I don't know that I could cut my hair off and be utterly confident about it. She felt good about the haircut, how she looked, and that she's doing something for someone else.  The haircut is quite sassy just like her."
"I'm very proud – proud that she wants to do it and I imagine she'll probably do it again," adds Katie.  Allison's family is passionate about serving their community, not only with their jobs, but also with their time. It is just something they do and Allison is stubborn enough to follow in their footsteps. "I think the spirit of donation is important," says Katie. "However you contribute to your community is a good thing. Whether it's hair, time, or volunteering…whatever it is you can offer instead of just taking is important."
Trendz Salon and Spa has a similar mentality. For the stylists and women who work at the Salon, impacting the community has been a priority since day one. Their slogan being, "Where you will always feel at home," is the atmosphere they try to cultivate. Now over a year old, the salon is growing and the staff is ever more focused on giving back to their community, specifically through the clients they serve on a regular basis. Thinking of themselves as a team rather than competition, the salon has a comfortable atmosphere where clients can make themselves at home.
If you're like Allison and are hoping for a new style to make you look fabulous, are looking for skin care or wanting to have your nails done by a talented team of professionals, check out the Trendz Salon Facebook Page or call 360.249.5600.