By Douglas Scott
Often, when we are looking for an outdoor experience, we take journeys to the wild Pacific Coast or up to the wet rain forests of the Quinault, Queets and the Hoh. While gorgeous, these destinations don't fit in our busy schedules as an easy afternoon trip or evening stroll. Instead, we decide more often than not stay in town. We retreat to a living room to watch TV, play games or read books on our devices when we could go outdoors and explore.
Staying in Aberdeen doesn't have to mean staying inside. We live in – despite the rain and gray days – one of the more beautiful locations in the country. With numerous amazing experiences right in our own backyard, the city of Aberdeen, WA, has great hikes, parks and natural areas.  All we need to do is get outside and explore.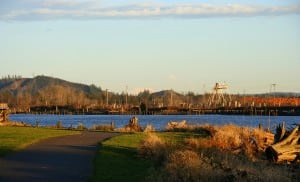 Morrison Riverfront Park
A 1.35 mile trail along the Chehalis River is right at our doorsteps, but few locals seem to make it down to walk the scenic path. The Morrison Riverfront Park in Aberdeen has picnic tables and benches, a fishing pier, restrooms and a playground, all while giving access and views to 4,650 feet of the slow winding Chehalis River. At sunrise and sunset, this part of town might just offer the best views. It is also a nice jogging route if you are looking for a more scenic run.
Walk Basich Trailway
At 1.2 miles, this paved trail connects Cosmopolis to Aberdeen. Crossing the Cosmopolis Waterway a few times, this trail meanders past Pioneer Park, through wetlands that offer seasonal birding opportunities. Following this old railroad track, the Basich Trailway lets visitors have a great walk along an old section of rail that once helped transport timber to the nation.
Kayak the Wishkah River
For those lucky enough to have a kayak or canoe, paddling the Wishkah River is an incredible experience. Whether you go less than a mile to take in views of the city, or work your way far up river to the wilderness of the Olympic Peninsula, this tidal river is a great outdoor activity. Rowing past timbered forest lands along the regionally historic logging river is something we all should do, to not only have a fun adventure, but to embrace and understand the culture and history of the region. For Nirvana fans, kayaking or canoeing along the muddy Wishkah will help you connect with the sights and the sounds that shaped Kurt Cobain.
Lake Aberdeen
With nearly 640 acres of timber and 5 acres of development, Lake Aberdeen is a gem of a natural area. With the fish hatchery right on the southern end and undeveloped land surrounding it on three sides, Lake Aberdeen is a great place to get away from the hectic pace of work. Bring a kayak or canoe and enjoy the silence and beauty of a wooded-lake in the Pacific Northwest.
Disc Golf at Sam Benn
If you haven't played Disc Golf at Sam Benn Park you are missing out on an incredibly addicting and rewarding family-friendly day out. With 14 acres of adventure and excitement to be explored, Sam Benn Park is a perfect place to enjoy a sunny afternoon or to watch the sunset in the evening. Aberdeen residents have been enjoying this park since the 1920s, so you know it has to be good!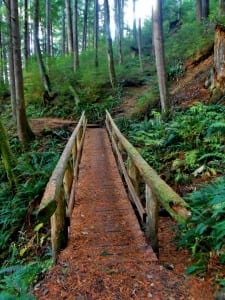 Explore the Wilderness at Stewart Memorial Park
On the outskirts of town to the north, James Stewart Memorial Park sits along Stewart Creek. With a huge picnic area that can accommodate 75 people, a mile of wooded trail, a playground and isolation, this park is exactly what one needs after a long day of work, or for a nearby nature weekend experience. The trails are fun for kids, adults and dogs, with a few bridges and steps. The smell of the forest is great, and with it so close to home, Stewart Park might become a family favorite.
Discover the Lake Swano Trails
Make it up to Grays Harbor Community College and visit the Lake Swano Trails.  It might be the most underrated area of Aberdeen. In 1992, Grays Harbor College began construction on the 1.5 mile Model Watershed interpretive trail, and it has since become a fantastic walk in the woods. The watershed trail leads to views of the man-made Lake Swano and through some of the most cared for trails in the city.