By Gail Wood
As a three-sport starter, there are many things Cole Edwards can do. But even Cole, Aberdeen High School's #1 singles player in tennis, starter at point guard and all-league shortstop, can't be in more than one place at a time.
But he's tried.
For example, on Friday afternoon he used his baseline smashes and overhead slams to beat his Yelm opponent in straight sets. Shortly after shaking hands with his opponent and thanking his coach, he headed for Tacoma to participate in a baseball camp and a weekend of scooping grounders and belting sliders.
"Yeah, I like to stay busy," Cole said, stating the obvious to those who know him.
But don't get the wrong impression. Cole isn't just a three-sport jock, concentrating only on athletics. Hardly. He's a 4.0 student, acing every class in high school. His only blemish is an "embarrassing" A-minus in eighth grade.
"I can't remember when I didn't get an A," he said, almost sounding apologetic. "It was sometime in grade school."
But no matter what the sport, or the situation, in a classroom taking a test or studying for a college entrance exam, Cole always gives it his best.
"He likes to compete," said Kim Edwards, Cole's mom and #1 fan. "You can see that in his game. He always tries hard."
Cole, who was one win from going to 2A state last year as a junior when he finished fifth at district, loves tennis.  He loves the challenge. But even his tennis coach, Andy Duffy, knows that if Cole had to pick a favorite sport, it wouldn't be tennis.
"I'd say his passion is baseball," Duffy said. "But you wouldn't know it. Whatever he's playing at the time, that's what he loves the most. That's the kind of kid he is. He always gives it everything he's got. He's an amazing kid."
Against Shelton earlier this season, Cole lost a tough, three-set, 2.5 hour match. He was even cramping up a little at the end of the match.
"But when he was through, it was time for him to go and play baseball," Duffy said. "He's that kind of kid."
Some coaches tell their athletes to make a choice. Pick a sport and commit, but Duffy doesn't complain.
"If he doesn't have baseball or tennis, he's got something else," Duffy said. "He's always busy. And you know he's going to make it."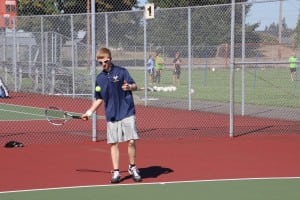 The other day, rather than rushing off to a baseball practice after a tennis match, Cole had another commitment. He had a practice session for preparing for the SAT, the college admittance test.
And yet no matter how busy, or how passionate Cole is about winning and doing his best, he's still not too driven to forget about being a good teammate.
"I'll tell you one of the most impressive things about Cole," Duffy said, setting up a story about his No. 1 singles player.  Duffy described how Cole isn't too busy or too cool not to notice and help a rookie group of eight freshman turning out for the tennis team.
"One of them was struggling with his serve and he went over there and worked with him," Duffy said. "That's what makes him a special guy. It would be pretty easy for someone who is that good and that focused to take it selfishly and do it all for himself. But not afraid to help someone on the team."
But at times the busy, on-the-go schedule that doesn't leave much time for watching television can even tire Cole.
"I do my best to stay on top of my game in all three sports," Cole said. "Sometimes it's hard to stay with it, but I can do it. I've proven I can do it."
On the tennis court, Cole's style of play changes according to his opponent's strengths. He can be wall-like in his play, returning and returning shots until his opponent makes a mistake.
"He's a grinder," Duffy said. "He'll adapt on the court, whatever it takes to get the job done. He's comfortable from the baseline, but he's not afraid to come forward."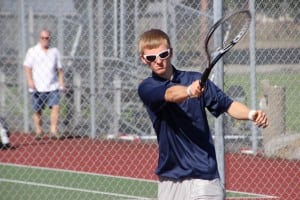 Cole's secret weapon isn't a favorite shot. It's his approach, his no-quit effort.
"His hustle is what wins him matches," Duffy said. "He never gives up on a point. He fights for every point on the court."
And Duffy knows a little something about determination. In 1988, he and his new bride peddled their bicycles across the country, starting at his hometown, Middleton, New York. Three months later when the pulled into Aberdeen, it was 75 degrees and sunny.
"We fell in love with the place," Duffy said.
And after graduating from Central Washington University, with a degree in education, Duffy raised his family in Aberdeen. He's got no regrets.
"It's been a great place," he said. "People here are fantastic."
With 17 turning out, Duffy has a young team this year. Besides Cole, Warren Pratt and John Solan are his other singles players.
"I have three solid singles players," Duffy said.
In doubles, Conner Weber has been partnering with Ryan Solan, John's younger brother. But Duffy has used Ryan and Pratt as his starting doubles, too. It's going to be a learn-and-grow season for Duffy's team with Cole helping to set the tone.