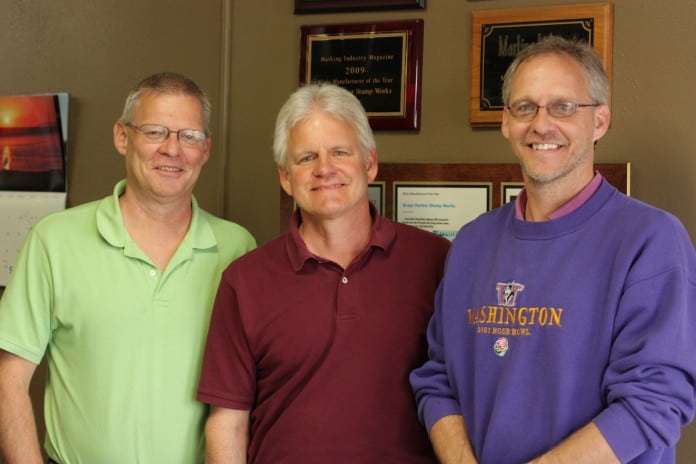 By Chelsea Royer

The history of modern civilization in Grays Harbor County is relatively young. Once the loggers, sailors, and dreamy-eyed visionaries moved into place, development and industrialization raced ahead at a breakneck pace. Forests were conquered, railroads were made, and cutting edge Electrical Buildings, hotels, and cities were built and expanded. For a brief period of time, Grays Harbor was one of the more wealthy locations in the United States.
However, there are some businesses within Grays Harbor that outlived the flux in economy – legacies that have survived and thrived. One such business is Grays Harbor Stamp Works.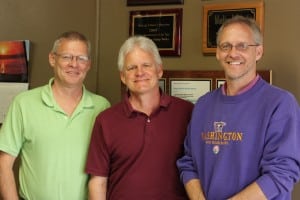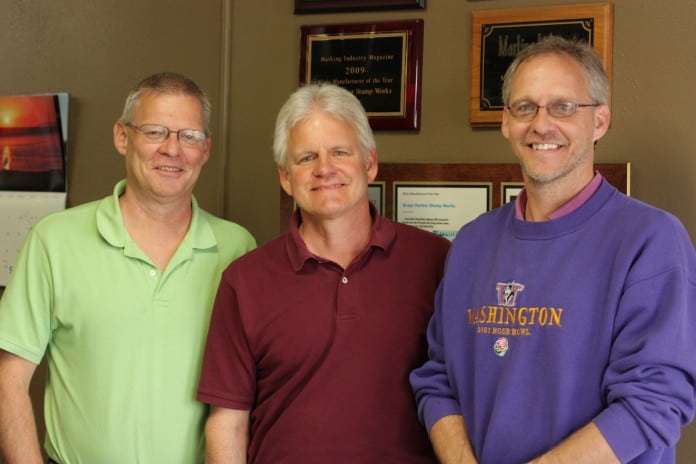 Founded in 1916 by a German immigrant named, Herman Simon, this man had heard of one young gentleman's work ethic in the town of Spokane. Simon invited Clary "Windy" Windell to move across the state in order to work in his stamp shop. Only 23 years old, Windy decided he was moving for no less than a partnership in Simon's business. Simon agreed and before long, Windy was settled in the bustling town of Aberdeen. Not so many years later, Simon passed away and Windy purchased the other half of the business, resulting in sole ownership. The building and business in downtown now belonged entirely to the Windell family.
Windy ran a successful business up until his retirement. More often than not, when a man is done with a business, it either closes out or is purchased by an outsider. Not so with "Windy" Windell. The business passed along to his son, Robert, and eventually to Robert's sons – Ron, Ken, and Dave. These three brothers are the current owners of Grays Harbor Stamp and the shop could easily be converted into a museum instead.
Ron, Ken, and Dave value the business and their grandfather's vision. Some of the client base and accounts have lasted for all three generations. Many customers remember their father and grandfather and the storefront has been a place for storytelling and laughter. Windy is far from forgotten – his handwriting is all over the Windell workspace. His original machinery is still operational and in use by the Windell brothers today! While Grays Harbor Stamp boasts cutting edge stamp technology, the Windells are proud to also continue operating with the same vintage machinery their grandfather used.
When many like businesses have declined or closed, Grays Harbor Stamp has twice in a row won awards for the largest increase of sales of any stamp shop in the country. This is in part because the Windell brother's have been so successful at marketing their business up and down the coast and into the Puget Sound. To keep their business a success, the brothers have maintained their father's values and customers, but also branched out to garner new accounts and meet new faces.
For Ken, the best part about his business is the legacy. His entire workspace is haunted by history and the work of his father and grandfather. Vintage floors are worn down and smooth from years of labor – there are even perfect footprints embedded into the floor where an employee worked for years at the same press. In addition to the legacy, Ken loves the relationships they've maintained with their customers. "We consider our clients to be a little more personal than customers," says Ken. "They've become more like friends."
From stamp making to engraving to campaign buttons, Grays Harbor Stamp takes on a wide variety of orders. From their father, Robert, being giddy over the invention of the fax machine to his sons adopting newer and more efficient technology, the shop has adapted over time to suit their customers' needs. Their footprint in the Harbor is indelible, their longstanding accounts that span three generations a testament to reliability and quality.
We have yet to see if Ken's son will develop a love for his father's printing shop. Whether or not Grays Harbor Stamp works lasts for another generation we have yet to discover. But for now, the business is a tribute to the legacy and history of Aberdeen's original business owners.
110 N G Street
Aberdeen, WA 98520
360-533-3830