By Gail Wood
As seniors and returning starters on the Elma Eagles' football team, Joe Wilson, Steven Percell and Rio Ortega have that been-there, done-that quality. However, that experience is a perspective Elma coach Jim Hills lacks this season.
Elma starts only three seniors – Wilson, Percell and Ortega. To get the most out of that experience, Hill starts his senior trio on both sides of the football.
"Their senior leadership means everything," said Hill, who is in his 20th season as Elma's head coach. "Without those guys leading the younger crew, we'd be in trouble."
Youthful mistakes have been costly in the Eagles' start this season. Turnovers against Rochester and North Mason helped result in a pair of defeats.
"We've had a chance to win every game," Hill said. "If the ball bounces the right way, we'd be 4-0. But obviously it didn't. Our seniors have led us through the season so far."
It's the second year in a row Wilson, Percell and Ortega have pulled double duty, starting both ways. Wilson, at 6-foot-4, 250-pounds, starts at offensive and defensive tackle, making all-league last year as a junior. Wilson first moved up to the varsity late in the season his freshman year. But despite his all-league experience, Wilson is still only 16 years old. He's an experienced yet young senior lineman.
Hill said the way Elma's youth sometimes shows up on the field is in missed assignments, missed blocks and missed tackles. Mental mistakes due to inexperience.
"Assignments. Alignments," Hill said. "That kind of thing."
A key for the rest of the season in Elma's hope for a playoff run rests in cutting those mistakes, limiting the turnovers. The equalizer is effort.
"Offensively, it's a matter of securing the ball and really staying on blocks until the whistle and being really aggressive," Hill said. "We've got to pick it up with our aggressiveness offensively."
And defensively?
"It's just all tackling," Hill said. "We've had way too many missed tackles so far."
Percell starts at cornerback and running back. Ortega starts at linebacker and fullback. They're Elma's one-two punch in their running game, a key to the Eagles' offense. Tristan Robinette, a junior, is a first-year starter at quarterback and is at this point more of threat running the ball than passing it.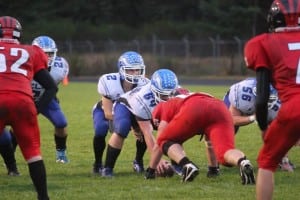 "He's a running quarterback and he's really learning how to throw it," Hill said. "We're working hard on it. We're just teaching him how to manage the game and manage the huddles and things like that."
With experience being the best teacher, Robinette is improving with every snap.
"Experience is a big part of it," Hill said.
Elma's three starting seniors squeeze the most out of their talent with hard work. They approach the game with a blue-collar work ethic, always pushing themselves in drills at practice.
"They're really good quality high school football players," Hill said about his senior starters. "Their heart is in it and they try really hard."
Typically, Hill said his senior trio leads by example, not by pep talks and rah-rahs. However, they took on a more verbal leadership role last in week in the win at Tenino.
"They lead more by action," Hill said. "But last week, they verbalized a few things and justifiably so. Again, the games we've lost we made some ball mistakes. We don't make ball mistakes we win those games."
Those mistakes were in turnovers – fumbles and interceptions.
"And not being Johnny on the spot to recover fumbles," Hill said. "And missed tackles too. That can kill you."
Wilson, because of his size, is probably the most talented, the Eagle with the most potential. He could play in college.
"Joe is a pretty good high school player," Hill said.
Elma, which plays Hoquiam on Friday, opened the season with a 25-24 win against Klahowya. The Eagles then lost their next two games, losing to North Mason and Rochester 18-14. They won last week at Tenino 44-14.
With 38 underclassmen on the varsity – 17 juniors, eights sophomores and 13 freshmen – the Eagles are a learn-and-grow team. Elma has just six returning starters off last year's team that finished 5-4. Hill said while they're young, they're talented, showing potential.
"They're good quality kids," Hill said. "They just lack pace and aggressiveness on Friday night. They've really improved since game one."