By Gail Wood
They're like road signs directing their younger teammates, shouting this way.
As seniors and returning starters, Megan Schoate, Myranda Floch and Hannah Jensen are the heart of the Montesano High School volleyball team. They bring that been-there, done-that experience and lead with their lunch-pail work ethic.
"They're the hardest workers on the team," said Debbie Gibson, Montesano's head volleyball coach for over 20 years. "They're always giving 100 percent. They're great kids."
Schoate is a four-year starter, an all-league player who always tries to squeeze the most out of her talent. She's not a coaster, content with how she's playing. She's always pushing herself to get better.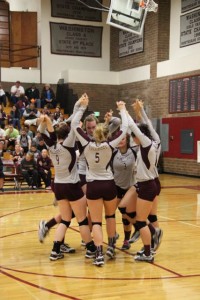 "Pushing yourself in practice sets you apart from everyone else," Schoate said. "I don't think I'd be satisfied if I didn't work hard. I don't want to settle. I always want to push myself to my best ability."
As a freshman, Schoate worked herself into the starting lineup as a back-row player. As a sophomore, she started as an outside hitter and then moved to setter as a junior. And she's the setter again in the Bulldogs' 5-1 offense. She's a coach on the floor.
"They all have different roles," Gibson said about her three starting seniors. "Megan's title is the vocal leader, floor captain. She leads everything. Myranda and Hannah always have that positive output on the court."
Floch and Jensen lead more by example.
"Both are very humble players," Gibson said. "They're very good team leaders. I really believe the kids respect them just for their hard work ethic alone. They're always working really, really hard."
This says a lot about all three seniors. Sometimes the talented player can rely more just on ability and skill, and not work as hard at preparing for the next match.
"Myranda is just a natural athlete, yet she's a really hard worker," Gibson said. "Hannah has really come a long ways since her sophomore year. She knows her assignments. She knows exactly what she's supposed to be doing."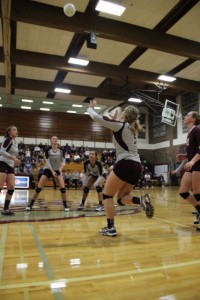 Floch has started at middle blocker since her sophomore year, giving Gibson steady play at that position. Jensen also played some middle blocker as a sophomore and plays right side hitter this season.
"Myranda jumps out of the gym," Gibson said.
After four matches, Floch has 104 kill shots and Jordan Stradlin leads the team in kill shots with 131.
Gibson's three seniors were keys in the Bulldogs' wild comeback win at Tenino in a hard-fought five game match, allowing Montesano to improve to 4-0.
"I think that's a great testament to my team," Gibson said. "That's a good team. You're down two games in a somewhat hostile environment. The fans are very vocal. It was very intense. It was one of those things were nothing was going our way and to come out of that third game 26-24  and to come back and take the next two games right after that, it was huge. It just showed a lot of confidence in what they're capable of. I know what they're capable of. Getting them to believe it is another story. So I think that's something definitely for us to build on."
Schoate, who was all-league in volleyball and softball, didn't think the comeback in Tenino had anything to do with a strategy change. It was just a matter of cranking up the intensity dial.
"Honestly, I just think it was the intensity that turned it around," Schoate said. "We were really intense in the third match. We had to win. We didn't want to settle. We got really intense. Then our coach was yelling and setting us up to win."
For Schoate, Floch and Jensen, this is their final hurrah, their last time together on the varsity volleyball team. They've been teammates since they were sophomores and they want to finish strong.
"It's sad this is our last season playing volleyball together," Schoate said. "But it's really fun knowing that we have a good group of girls who can actually get to the playoffs from what we think."
As a team captain, Schoate knows her role isn't just setting up kill shots and game-point winners. It's also helping her younger teammates improve, giving them encouragement and advice when needed.
"I just have a lot of experience so I can help others and help others on my team," Schoate said. "I've been to state my freshman year so I have a lot of insight on how to keep calm under high pressure situations. That helps a lot with those who don't have that much experience."
For Montesano, last season's league champs, it's the ingredients for winning.