By Justin Damasiewicz

Typically in a football game, when the clock runs out and the scoreboard reads 20-0 the contest is over. However, this was not the case at Miller Junior High School on Saturday, October 11, where the Montesano Bulldogs played against the Aberdeen Bobcats in a minors youth football game.
Instead, the Bulldogs were granted one more play. One untimed down from the 15-yard-line. One final snap to make a very special youngster's dream come true.
Montesano's Evan Gentry received the handoff from his quarterback, Carter Crites, and burst through a hole up the middle. Guided by a pack of lead blockers, Gentry scampered 15 yards for a score, ending the game on the highest possible note for the Bulldogs.
Aberdeen prevailed by a final score of 20-6, but the Bulldogs did not seem to mind. Despite the lopsided loss at the hands of the Bobcats, Montesano's players and coaches walked off the field with smiles on their faces, and fans from both teams applauded and cheered, all thanks to Evan.
Evan is completely blind in his right eye and partially blind in his left eye. He also has diabetes insipidus, which basically means that he has no pituitary gland. As if those struggles were not enough, Evan was also born with a cleft lip and a cleft palate. He has been through a lot in his 11 years of life, including brain surgery as a baby.
"The doctor's weren't sure if he was going to make it for a long time," Evan's mother, Breanna Gentry, said. "Even now, if we didn't stay up on all of his medications he wouldn't be here. He's just always happy, though, for everything he has to go through all the time, taking pills three times a day and shots every night."
Evan is a Bulldog. He is a member of the team. He attends practices in full gear, suits up for games, participates in drills and walkthroughs when possible, and helps Montesano's head coach, Steve Bove, address the team at the end of each practice. Bove believes that having Evan on the team has had a positive impact on the rest of the players as well.
"He's been great for the kids," Bove said. "He's teaching them things. It's not just going out and winning. We walked away with a smile on our face and we got beat 20-0. Montesano Youth Football, youth football in general, is not about winning and I tell them that before every game. The scoreboard doesn't tell the tale of the game. Today's tale of the game was the fact that we had somebody that may never do it again – score a 15-yard touchdown. (Evan) just told me it was one of the happiest things he's ever done."
"He loves sports," Breanna said of her son. "That's all he talks about all the time. He went to camp this summer and they had everybody write 'what makes you happy,' and he wrote 'sports.' When the Huskies play, he's got to have on his purple shirt. He's got to have on that jersey. When the Seahawks play, he's got to have on his Sherman jersey for that. We'll go to the Bulldogs games now and my boyfriend's son is on varsity and (Evan) is wearing his number from when he played youth football. He was pretty excited about that. He got pictures with him after games."
After Saturday's game, Steve presented Evan with a football that had been signed by all of his teammates. The football is a keepsake that Evan can cherish for the rest of his life, but it is really much more than that. It is a symbol of what Evan's teammates mean to him, and what he means to them.
These young Bulldogs, who are all either in first, second or third grade, are more than just Evan's teammates. They offer him guidance, watch out for him and ensure that he is included. They are his cheering section and his best friends.
At the end of the Bulldog's final practice before Saturday's game, the team ran through "Evan's Play" to make sure they were ready for the big moment. The kids were so excited after their end-of-practice team huddle that a player-initiated chant of "Evan, Evan, Evan" broke out.
"These kids, all three years younger than him, rally around him and take care of him," Bove said. "It's not just today. In practice they do it. They follow him around and make sure he's always included."
"When big challenges come in life, keep trying and you'll overcome them," team captain and lineman Cohen Andersen said when asked what he has learned from Evan.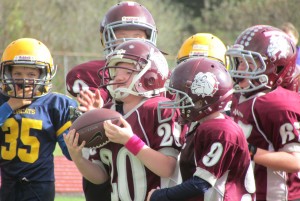 "I can't believe that a kid that's blind can actually play football," Skylar Bove, another team captain and lineman said of his teammate. "It's unbelievable. I have learned so many things from him. It's just amazing."
Skylar and Cohen agreed that having Evan at games inspires them to play harder, and that Evan's touchdown took some of the sting out of the loss. They also both cited Evan's touchdown as their favorite part of the game.
"It's special how Evan has friends on our team that make him feel good," said Peyton Damasiewicz, another teammate of Evan's. "We always make him feel good when he scores a touchdown at practice. We like to cheer for him to make him feel good about what he has done. I like having Evan on the team so we can teach him how to do things that he hasn't done yet."
Evan's touchdown has been in the works since a coaches meeting in August, when Steve offered to pay another coach to let Evan score in a game. Aberdeen's head coach, Hank Burdick, volunteered, but refused compensation.
"What they're doing with Evan is great," Burdick said. "It's awesome that they bring him in and make him part of the team. We wanted to be a part of it. To help make Evan's dream come true meant a lot to us. Earlier this week when I brought it up to my team at practice, they were all so excited. They were on board right away."