By Justin Damasiewicz
When Todd Lindley first started coaching youth soccer in the mid-1990's, he was not an expert on the sport, or even a fan of it. He was just a dad with a five-year-old son who wanted to play soccer, but needed a coach. For the last 20 years, the financial advisor and owner of Lindley Financial Services in Montesano has been continuously learning about the sport. Even though his own children are grown, he has continued to coach.
During his coaching tenure, Lindley has led three Montesano-based youth soccer teams to state championships. In 2006, his daughter, Marissa, played on the team, Lightning, to win the U-14 state President Cup in 2006. Another team he coached, the Starz, won the girls U-14 state Recreational Cup in 2011. And in 2013, Lindley led the girls U-14 Renegades to the state championship.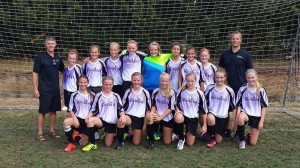 Now Lindley has teamed up with Steve Poler and Chris Hutchings, former rival coaches who have merged their teams together this season.
Last year, Hutchings coached a U-12 team called the Cougars and Poler coached the U-12 Wildcats. However, each team struggled to field a team. This year, the two teams, who have spent the last few years as opponents, joined forces to form the Mavericks. Poler and Hutchings asked Lindley to take the reins and help the two teams become one.
"What we have is two teams that were competitors last year," Lindley said." They have had to find ways to be friendly."
The Mavericks are a U-13 team that is playing up an age group, to U-14. They are essentially a group of seventh grade girls playing against eighth graders. The Mavericks have had a successful season so far despite the age disparity and Lindley believes that playing against older girls has been a good experience for his players.
"(This season) is going really well," Lindley said. "These girls are playing up an age level. Being in search of tougher competition is how you get better. Watch this group of girls. They are going to be a great team. Someday they're going to help the high school team. We're just playing a role in their development."
The trio of coaches, who all have head coaching experience, have been able to work together well this season because their coaching strengths complement each other well.  Hutchings focuses on fundamentals, Poler encourages teamwork, and Lindley is tasked with creating a competitive environment and tying all of the elements together. Each of the three coaches places a special emphasis on turning lessons learned on the pitch into life lessons.
"For me, it's always about the basic fundamentals of ball control, and the skill of understanding the game," Hutchings said. "Competitiveness is something that I rely on (Todd) for, to drive those girls into feeling that desire. For me it's always, 'Alright, I'm going to teach you these fundamentals. I'm going to train you, and hopefully you'll find that spark.'"
"I look at it more from a teamwork standpoint," Poler said. "I'm really competitive, and I like to win. I think that I can help a little bit in that aspect, but I don't look at it as 'how good are these soccer players going to get?' I look at it as 'how is it going to impact their lives?' Are they going to learn to work together? Are they going to learn to compete? If we teach them right here, we can teach them how to compete in life. In anything you do, you want to do well. You want to learn how to have a bad day and come back from it, how to have a bad practice and come back from it."
"For me, not having a kid on the team, I want to go home feeling like I had fun, too," Lindley said. "So we want fun, we want mutual respect with the girls, and we also want to develop a structure of accountability and hard work. Those are all lessons they learn on the pitch as well as learn them in life. We might as well start right here. We have influence, like their parents, sometimes more. They sometimes don't listen to the parents about this age. So we can be impacting to the youth using soccer."
"We have the benefit of making them run if they don't listen," Steve added with a smile.
"I would say that I have a real heart for kids," Lindley added. "There's an opportunity that coaches have to be a real positive mentor in a kid's life. Also, I'm competitive. I want to take these 18 athletes and turn them into the best soccer players that they can become. That kind of a puzzle that we put together is a wonderful challenge."