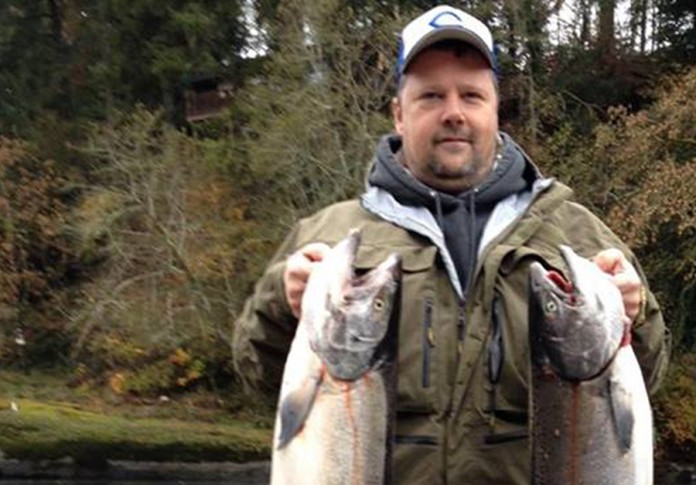 By Douglas Scott

Most of the country knows about Grays Harbor because of Kurt Cobain, or possibly the older generations will remember the logging industry that helped build the nation. However, fewer and fewer people seem to be aware just how amazing the fishing is in our neck of the woods. From world-class ocean fishing out of Westport, to incredibly scenic stocked lakes and the salmon-filled rivers in-between, Grays Harbor County is an angler's dream. Whether you are new to fishing or you have been catching them all your life, Grays Harbor offers the most unique and successful fishing opportunities in the state, if not the entire country.
Finding the right location to go fishing in Grays Harbor can be daunting. Fishing isn't just as easy as grabbing a pole and casting a hook into the water. One needs to find the right gear and  know where to go. Luckily, there is almost no wrong choice in fishing Grays Harbor, but there are some definite favorites, which you'll find listed below. Another great resource is Hooks and Horns, an excellent outdoors magazine published in Montesano. With a large amount of fishing information, as well as gear, I recommend checking them out for everything to do with hunting and fishing in the Northwest.
Lakes
Duck Lake
Duck Lake in Ocean Shores is said to be home to giant largemouth bass. Rumors circulate among those who live along the canals and lakes of Ocean Shores, swearing they know someone who saw a bass swallow a baby Canadian goose. While they may be just rumors, fishing for black crappie, yellow perch, largemouth bass and rainbow trout in the lakes and canals of Ocean Shores is a great way to pass the time and quite possibly catch a goose-eating monster. The best months, according to the Department of Fish and Wildlife, are from April to October.
Failor Lake
Failor Lake is considered by many to be the best location for lake fishing in Grays Harbor. With rainbow trout 10 – 12 inches long and some weighing up to six pounds, catching a fish here is quite fun. The lake is also home to coastal cutthroat and largemouth bass, but the latter is quite rare to catch. With the best months coming between April and October, this is definitely a location to remember come spring. Failor Lake also has a fishing derby on the Saturday before opening day, sponsored by the Grays Harbor Poggie Club.
Rivers
John's River
John's River is where you go when you want to catch trophy salmon. According to Salmon University – a self-proclaimed complete guide to saltwater fishing – the area is home to trophy king salmon, with some weighing more than 40 pounds. While the salmon here are huge, the fishing can be tough for those not in a boat or experienced in salmon fishing. Despite that, the area is popular throughout the fall with anglers hoping to catch a behemoth king. A guide on how to fish John's River can be found here.
Humptulips
Fishing the "Hump" is an experience like no other. Considered a favorite by many, the river is full with fish almost year round. In the fall months, fishing for cutthroat and sea-run trout is great. The months of December to January and March to April offer fantastic steelhead fishing, with steelhead weighing up to 20 pounds commonly caught. However, the best months are from September to November, when gargantuan chinook return to the river, many weighing over 40 pounds. More information on fishing the Humptulips can be found here.
Quinault
The Quinault is a personal favorite of mine, as there is something amazing about fishing in the rainforest. Many will forego the Quinault since the Quinault Nation owns the land, making it closed to the public. However, permits to fish in the lake can be obtained in local stores. There are also numerous guide services available to take you out on the private river where salmon run nearly every month of the year. Robert Thomas, a guide at Private Water Adventures, says that people should fish on the Quinault because, "State regulations regarding bag limits, releasing wild Chinook and wild Steelhead, and hook restrictions do not apply!"
Pacific Ocean Beaches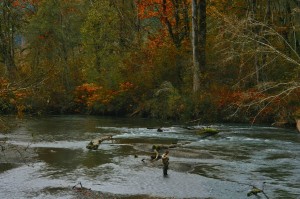 Westport
If you ask around, nearly everyone will tell you that Westport is the undeniable salmon capitol of the West Coast, at least in the contiguous United States. From tuna and halibut to salmon, ling cod and rockfish, fishing out of Westport is hands-down the best fishing experience one can have. Whether you are taking a boat out to the Pacific, or are casting your line from the beach, jetty or marina, Westport's waters are teeming with aquatic wonders and delicious fish. The Port of Grays Harbor website has great information, helping with everything from booking a charter to listing all the rules, regulations and seasonal information to make your Westport fishing adventure become a reality.