By Aaron Dyer, Aberdeen High School Intern

Every year at Aberdeen High School, students and adults alike come together to create the annual musical. It is always an entertaining show, filled with lights, singing, and dancing. But, this year the school has gone all out with their production of the family classic: Annie.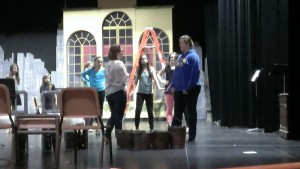 "We wanted to do something everybody knew," said director Tamara Helland. "Something that would draw in the community and be fun for our cast at the same time." This classic story of an orphan in New York took Broadway by storm decades ago, and has been warming the hearts of people everywhere ever since. Helland said she hopes that the popularity of this musical, as well as the family-targeted content, will bring more of the community walking through the doors of the auditorium.
The show that leapt off Broadway in 1977 includes the usual fun choreography and music, as well as challenging roles to fill, with ages from 9 to 59, and even two live dogs. Based on a popular comic strip from the early 1920s about an orphan named Annie in New York City, the show stunned audiences and became an instant classic. Including the same choreography, music, and roles that leapt off Broadway in 1977, the local performance is sure to stun you in the same way with local talent and fantastic music provided by the all-volunteer pit orchestra. It also features special touches such as a custom built set straight from the recent production in Seattle.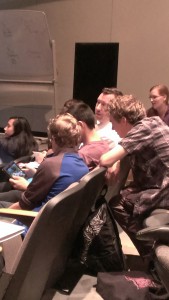 "There were a record number of people who auditioned this year," said Helland. "We have an especially large cast, filled with talented actors and performers. Every year the kids put hundreds of hours putting together a fantastic show, and it makes me disappointed at the number of people who actually come and watch. This year [we're putting] on a show that everybody knows, and our hope is to draw in the part of the community that doesn't typically come to our shows, as well as our regular supporters." It is for this reason that the cast will be performing all original choreography. "We want to make the crowd feel the same thing that the original Broadway audience did."
While performances like these are always great, not many people know just how much work goes into a huge show like this. It starts months in advance, with the casting of roles. Shortly after, the pit orchestra begins to rehearse. Then publicity about the show goes out, with banners in stores and fliers all over town. By this point in time, rehearsals have begun, with members working for hours each day. By the time of the performance, each actor, actress, pit member, and even members of the backstage crew have put in countless hours to ensure the best show possible. After the show, cleanup begins, and it's all hands on deck to tear down the set and begin preparation for the next big event to cross the high school's stage.
Filled with infectious numbers like "Hard Knock Life" and "Tomorrow," each song tells the story of Annie's journey, leaving you incapable of not falling in love with the show by the time the final curtain closes. With local talent like Lauren Fagerstedt (Annie), David Quigg (Daddy Warbucks), and Ryan Urvina (President Roosevelt), it is guaranteed to keep you rooted in your seats.
One of the best parts of every musical is the set. For this task, Helland went directly to the source, purchasing the high quality set from the company producing Annie in Seattle.  As they were no longer in need of this professional set, Helland was able to use it for the show. It arrived in style, filling a full-sized semi-truck trailer from end-to-end. After unloading, the construction process began and the many set pieces used in the show were assembled. From painted skylines of New York to a full-sized grand staircase, this set is sure to wow you.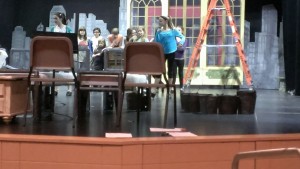 After attending a recent rehearsal, I can safely say that this year's musical will be like nothing you have seen before. I highly encourage you to attend. Not only will you be helping  Aberdeen High School, you and your family will be treated to a world-class show from talent that could only come from the Harbor.
The performance dates are Friday, Nov. 21, at 7:00 p.m., Saturday, Nov. 22, at 7:00 p.m., and Sunday, Nov. 23, at 2:00 p.m.
You can reserve your seats now at Rosevears Music Store, or at the door. Come and experience Annie at Aberdeen High School.