By Chelsea Royer

Shopping in Grays Harbor just became simple. Don't know where to begin? Below are local places to shop for gifts according to interests and hobbies. Let the holiday gift giving start here.
For Craft Lovers
One of my favorite places to shop for items I would otherwise purchase at a corporate shopping center is the Elma Variety Store. Toys, household items, and toiletries aside, it has one of the best selections of quality fabrics, ribbons, and lace in the Harbor.
Quilt Harbor, in downtown Aberdeen, regularly hosts sewing classes and who doesn't love a handmade gift? Sign up for the weekend mini-retreat December 5 and 6 to create a gift with an extra personal touch. Quilt Harbor also sells trims and ribbons sourced from all over Europe that are difficult to find.  These exclusive items would make a great stocking stuffer for the craft enthusiast in your life.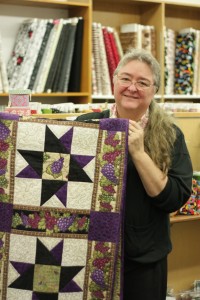 Harbor Beads and Crafts hosts knitting, crocheting, and beading classes and is home to a wide variety of beads and accessories. Unleash your inner bead-goddess to make handmade jewelry for a loved one or merely pick out beautiful beads to add to someone else's collection.
For the Fashionistas
Total Trends in Elma offers new and consignment clothing both online and on location. They have clothing for young girls and pre-teens on up along with trendy, handmade ear warmers and headbands. From prom dresses to Rock Revival jeans and fun stocking stuffers, Total Trends fills a niche in the Harbor by providing clothing not just for older teens, but also the younger.  Total Trends, while a clothing store, also hosts a variety of vintage items – lots of furniture, barnwood creations, and handmade signs.
All Blinged Out in Montesano is everything sparkly and trending. Aissa's team gives you a confidence-boosting shopping experience as they help you find the perfect outfits, pair of boots, or "Ginger Snaps." Carrying Miss-Me jeans, Rock Revival, and other top-notch brands, All Blinged Out caters to both men and women and hits a variety of price points.
Wiitamaki Jewelry Store in Aberdeen is a family-owned business. From boho-themed jewelry to diamond earrings, purses and scarves, Wiitamaki's wide selection gives you fun and affordable or priceless and memorable. Colored gems are trending and their items in this theme are beautiful.
For the Sports Enthusiasts
La Vogue's Bicycle Shop has just about every kind of bike you can think of. From mountain bikes to vintage-style road bikes to BMX and children's sizes, there is something for everyone no matter what the skill level.
Dennis Company has multiple branches across Grays Harbor, including Montesano and Long Beach. Whether you are looking for sports equipment or something for the hunting and fishing enthusiast, you can discover gifts large and small.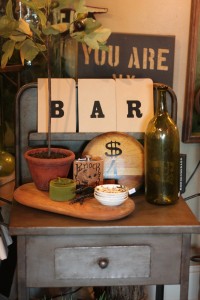 Girly or Themed Gifts
Pomegranate in Grayland sells all kinds of jewelry and eclectic gift ideas.
The Grand Heron in Aberdeen has everything graceful, classy, and festive! From candles, home decor, funky wine-themed gifts and jewelry, there's nothing that won't draw the eye.
The Country Closet in Aberdeen has Christmas decor galore.  Stop in for a new holiday decoration for your home or a lovely hostess gift.
The Market Place in Aberdeen sells much more than health food. Check out the shop's enormous collection of Willow Tree figurines, fair trade jewelry and scarves, as well as adorable, frilly boot cuffs.
Stop by Kaufman Scroggs and find a new accent piece.  Select a new piece of furniture to update your home.
Eclectic Styles and Vintage Concepts
The Past and Present Mercantile in Aberdeen is full of vintage linens, antique furniture, and handmade or refinished items by local artists. The store is made up of vendor spaces, which means every ten feet or so you have a different theme, different items, and so much variety to choose from. Some of my favorite things to look at are old linens, handmade lamps, and repurposed furniture.
Simply Said Flowers has items found at estate sales up and down the coast. The owner of this shop makes it a point to find the most eclectic, unique items and then sells them in the front part of her flower shop. One of her current finds is a pair of bronzed, vintage work-boots. Sounds odd, but something like that would make the most adorable flower planter.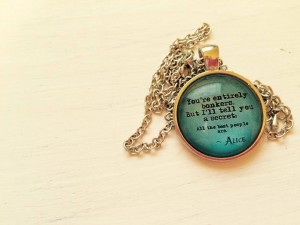 For the Go-Green Crowd
Vintiques by Venus is in the Elma Farmers Market and there you will find the most glorious handmade soap as well as fun holiday decor and country-themed items. I recommend the Lime-Poppyseed scented soap – so much so I bought a bar to prove it.
The Hoquiam Farmers Market is home to many, many vendors. Rainwater Botanicals is one of those and has many natural skin care products including deodorant, lip balm, and body butter – all packaged attractively and perfect for stocking stuffers.
For Coffee, Beer, and Wine Lovers
The Tinderbox Coffee Roasters have such awesome roasts that other coffee stands in the Harbor are starting to use their beans. A bag of one of their many roasts makes a great gift any day.
The Wishkah River Distillery has all kinds of gift items – a small barrel and "white dog whiskey" for someone to age their own whiskey can give your loved one the opportunity to try something new.
Grays Harbor Wine Sellars has over 90 different wine selections. Ryan's enthusiasm for wines is catching and the tasting experience fun. I walked into the store to ask questions and walked out with a bottle of chocolate dessert wine I decided I couldn't leave without. With price points from $14 to $400, there's something for everyone.