By Justin Damasiewicz

When translated from Italian to English, "poco voce" means "little voices." If you were to stop by the First United Methodist Church in Aberdeen on a Wednesday evening, that is precisely what you would hear. The church, which is located on East 2nd Street, is the weekly meeting place of the Poco Voce children's choir.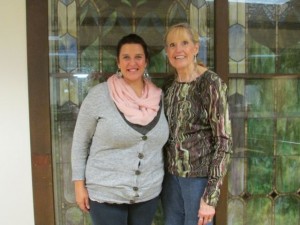 Poco Voce Director and former Aberdeen High School (AHS) Choir Teacher, Pat Wilhelms, assembles her group of between 30 – 40 third, fourth, fifth, and sixth graders and rehearses a number of musical pieces. Members of Poco Voce learn a variety of music related lessons, such as how to sing different parts and harmonies. However, according to Wilhelms and Assistant Director, Angel Damasiewicz, the lessons learned reach much further than just music.
"They learn self confidence," said Wilhelms. "They also learn teamwork, just like in athletics. A choir is a team. They have to work together, otherwise it doesn't work. They learn how to present themselves in public, how to behave in public and how to be a part of a large group, and not necessarily always be the one that gets to do everything."
"It helps them with presentation. They have to be able to stand a certain way and hold still. It teaches them to listen to each other," said Damasiewicz. "They also get to learn new things. Kids who are growing really enjoy learning new things. They get to meet kids from other schools and other cities, which is something that they may not normally get to do. They get to make friends who are older, too. For them, age doesn't matter."
"Music is so important, and the research has shown that kids who participate in music programs in high school do much better on the SAT's," added Wilhelms, who retired in June 2012, after 29 years as the choir teacher at AHS. "There is a statistic that says that a very high percentage of CEO's of Fortune 500 companies participated in music programs in high school."
After retiring from teaching, Wilhelms waited just a few months before starting a new project. The long-time educator founded Poco Voce in September 2012, and has been working diligently to keep the program going ever since. In cooperation with the Aberdeen School District, Wilhelms and Damasiewicz visit local elementary schools to encourage kids to join.
Wilhelms believes that getting children involved in a choir like Poco Voce at a young age will help the music programs at local high schools as well.
"It was very frustrating for me all the time I taught at Aberdeen that we had no feeder program in the schools," said Wilhelms. "We have a wonderful elementary band program, a wonderful elementary orchestra program, but there are no after school choirs."
Damasiewicz is the worship director at Harbor City Church in Aberdeen and a former student of Wilhelms'. The 2004 AHS graduate speaks very fondly of her memories in the high school choir, and her former teacher speaks very highly of her as well. The plan is that, eventually, Damasiewicz will take over for Wilhelms as the director of Poce Voce.
"I am so pleased and proud to have Angel with me," said Wilhelms. "She was one of my favorite students in high school, and I am so proud to pass the torch to her. I have nothing but confidence in the future of Poce Voce. I know it's going to be around for a long, long time. It's nice to know that if something happens and I can't come to rehearsal one night, there's someone here who is fully capable of taking over. She is so good with the kids."
"I had good training," Damasiewicz said of Wilhelms. "I had a teacher who made me work on my music at home and told me how important it was to put in the extra time. It's lucky for me, because now I can pass it on to these kids and that's all from Pat, who I now get to work with again. It's like a big circle."
The cost to participate in the choir is $30 per child each session. A session lasts for one school semester except for the second semester, which is split into two sessions because of regular conflicts with other extracurricular activities. However, kids can still pay the $30 and participate in both second semester sessions. The entry fee helps cover the cost of the sheet music and matching shirts for the kids.
"We give lots of scholarships," said Wilhelms. "Last year, half of the kids were on scholarship. If parents come in and say, 'we don't have the money, but I want my kid to be a part of this,' they are more than welcome. We are not going to turn anybody away because of money."
Poco Voce is also funded in part by a grant from the Grays Harbor Community Foundation and donations from people who attend their concerts. Poco Voce puts on one big concert each session, and schedules some other performances at other local events as well.
Poco Voce is for kids in third through sixth grade, but sometimes special exceptions are made for second graders. It primarily consists of children from Aberdeen, but also has had some Hoquiam, Elma, and Montesano residents as well. Typically the choir consists of between 30 – 40 children, and has had as many as 50 at one time.
"It's an opportunity for me to sing in a choir where I get try to do harmony and sing different parts," said choir member Solace Johnson. "It's a really good experience. It helps you build confidence in your singing and it helps you develop your voice."
"I like having the option to have a children's choir for our city," said Macy Holcomb, another choir member. "It's just a really fun opportunity for kids who want to come and sing and make some new friends."
Johnson, Holcomb, Michael Smith, Kacie Caskey, and Hannah Mareth all agreed that their favorite songs to perform are scores from the Disney movie, Frozen.
Mareth, who regularly sings at her church as well, looks at Poco Voce as an opportunity to have fun while developing her musical skills.
"My mom said that it will help me, and it has," said Mareth. "It's really fun and I really love singing. I do choir every year at my church. I really like it. It's really fun and it helps you to feel confident in yourself."
If your child is interested in learning more about Poco Voce choir, contact Pat Wilhelms at pdwilhelms@msn.com or Angel Damasiewicz at angel.dama@harborcitychurch.org.