By Chelsea Royer

At times, Aberdeen reminds me of the "Little Engine that Could." Despite negativity and setbacks, it's plugged along whispering, "I think I can, I think I can." After a couple of days interviewing business owners and shopping, I realized that whisper has raised to a confidant statement of, "I know I can!" Downtown Aberdeen is gaining traction and as one business pops up to join the chorus, it encourages yet another to strike out on their own and provide us with a plethora of options – from restaurants and date-night venues to shopping experiences, you will be surprised at all Wishkah and Heron Street have to offer.
My challenge to you is to start your Christmas shopping off in downtown Aberdeen rather than the big city. And don't just shop! Go there to have a Christmas shopping experience. Snag your spouse or friend and go have a night out. Don't know where to start? Nearly every business owner I spoke to said the least likely audience to know they exist are the ones who have lived here for years. Much of their buyers are from out of town. Use my suggestions to get started.
Go on First Friday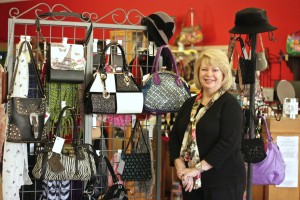 The first Friday of every month is a big deal for Aberdeen businesses. Stores stay open late so that people have time to grab dinner and shop until 8:00 p.m. Tours of historical buildings downtown are hosted, and sales are held. At Grays Harbor Wine Sellars, you can pick up a downtown "passport." Every time you purchase something from a participating business, your passport will get stamped and once it's filled, you'll have the opportunity to win a prize or gift certificate. Every First Friday is something special, but especially the one this December 5. Grays Harbor Wine Sellars will be hosting Christmas caroling as well as a concert by the Salmonberry Band, with much more in the works.
For Stocking Stuffers
Start at Harbor Shoes where stocking stuffers are easy to find. Cindy DeBard has all kinds of recommendations for you – and a new discount every day until Christmas. From the "world's softest socks" to natural skin-care and perfume products, everything sings of quality. Oh, and you know those boot-cuffs your fashionista has been coveting? Harbor Shoes has them starting at $16.95.  Guys can be the hardest to shop for and Cindy suggests an all-purpose emergency flashlight. It's magnetized (perfect for a mechanic), has emergency flashers and two different types of bulbs. Guys love this handy, high-tech gadget that's made to last.
For Name Brands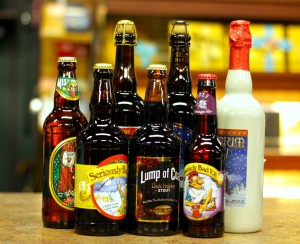 The next place to hit is Waughs Men's and Women's Apparel. From Northface, to Toms Shoes, Miss Me Jeans and Under Armor, Waughs offers very popular and durable brand names for men, women, and children. The store opens at 6:00 a.m. on Black Friday and always offer free gift wrapping. Their holiday beers are exclusive to Waughs on the Harbor – you can find the "Bad Elf" series, "Lump of Coal," and "Reindeer Droppings" amongst many other beers and wines. On top of having a beautiful, walk-in wine cabinet, they also have a humidor with the best selection of cigars around.
All that Glitters
For home decor, knick-knacks, and overall loveliness, the Grand Heron has an overwhelming number of choices. Whether you are looking for something small and frilly, items to "deck the halls" or merely find basket-stuffers, everything available was hand-picked to make your local shopping experience easy. Unless you have a difficult time making decisions…then it may be more difficult.
Put Your Feet Up
You aren't in a rush! If you have kiddos and are shopping on First Friday, stop by CakeCakes for crafting and holiday treats. She wasn't making any promises, but Brittney, the baker, hinted at having fudge and other holiday specialties available.  She offers gift certificates and accepts orders for holiday parties. You can check more than one thing off your holiday to-do list here.
Santa Claus is Coming to Town…
Hop down to Flowers By Pollen – one more reason you need to shop on the first Friday of December. From 5:00 p.m. to 8:00 p.m., this store will be hosting Santa.  After Brittney has fed you her holiday fudge, skip down to Flowers By Pollen where you will find all sorts of holiday decor, handmade gift items (such as purses, pillows and cards) by Carrie J. Westby, and flower arrangements for your upcoming parties.
Wrap it Up
With gifts that are already bought and wrapped, your party planning well underway, and a better appreciation of your hometown merchants, end it all with a holiday brew. The Tap Room will have plenty of holiday beers available. Or if wine is more your style, ask Ryan at Grays Harbor Wine Sellars for a glass of the dessert wine that smells like a tootsie-roll.  It was so delicious that I bought a bottle after just one taste. If cocktails and dessert is more your style, Rediviva's bartenders are always concocting something new to sip on while you eat their signature Beignets.
Lucky for you, there are more businesses open during the week and on First Friday than mentioned above. Make a date to go wander and explore and have a great experience shopping local and meeting the people who make it possible.