By Rachel Ayres, Montesano High School Intern to GraysHarborTalk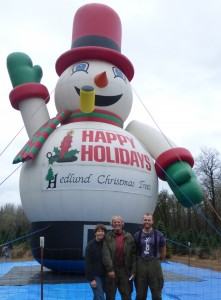 Tucked away 1 ½ miles north of the little town of Brady, a 42-foot-tall snowman stands. He waves to all who come to the tree farm where he lives: Hedlund Trees. Because Christmas is getting close, it is time to choose the tall green piece of flora that will live in your house for the next month or so. But, where to pick one out? Hedlund Trees is a Grays Harbor Christmas tree farm that has been selling wholesale and U-cut trees since 1980, with national acclaim.
Ed and Cindy Hedlund, along with their son, Thomas and his fiancée, Sarah, are Christmas tree farmers. It all started with Ed who worked for a local Christmas tree farm as a teenager. He went on to obtain a bachelor's degree in forestry management from Washington State University. Ed worked as a forester at Rayonier Timber Company for 30 years. In 1978, he bought his first piece of land and planted his first trees. Now, Hedlund Trees is a very highly esteemed business, with more than 50 acres of trees.
"Growing Christmas trees is a lot harder and more time consuming than it might seem," Ed Hedlund and son Thomas agreed. "Sometimes we will get questions like, 'I am trying to grow my own Christmas trees, but they don't look anything like yours,' or 'What do you do the rest of the year when it isn't Christmas time?'" Ed said. For the Hedlund family, their farm is almost a year round operation. When they are not selling you trees in December, the Hedlunds are busy planting new three-year-old trees, sheering the bases, pruning, side sheering, and putting splints on tops of each tree. Also, since the majority of their business is wholesale, they color code tag every tree to indicate its species and height, inventory entire fields, and of course cut trees for wholesale.
"It was hard knock, new and an uphill climb when we started," said Ed. "Still, most days are 10-hours-long for us, starting before dawn, and ending after dark," said Thomas. But, this family is passionate about what they do, and they have earned many prestigious bragging rights thanks to all of their hard work.
In the Christmas tree growing world, there is the big prize. Few obtain it, but many try. The honor? Supplying a tree for the First family in the White House. Hedlund Trees has tried many times and succeeded not only once, but twice.
To earn this honor the first time, the Hedlunds took a tree to the Pacific Northwest districts competition, and then advanced to the finals put on by the National Christmas Tree Association at the conference in August 1999. The competition is very tough. The judges are very particular about every little thing; so many growers literally use tweezers to perfect their trees. "It is almost impossible to win," said Ed.
After winning the honor of providing a Christmas tree for the White House in the winter of 1999, Ed and Cindy made the trek out to deliver their tree to the Clinton family. After they returned home, First Lady Hillary Clinton called asking them if they would like to attend the Millennium celebration back in Washington D.C. "Yeah!" was their reply, so the headed back. Not only did they have reserved seats at the celebration, they were invited to the party afterwards in the White House where they were guests along with famous celebrities and high officials.
There they met film director, Steven Spielberg. "So, how did you get into this thing?" Spielberg asked. "Well, we brought the tree," Ed said, recalling their conversation. "'That's so cool!' Spielberg told me. 'Well you make movies,' I said. 'But anyone can make movies,' Spielberg answered back," said Ed.
In 2002, the Hedlunds repeated the win at regional and national levels, once again earning the honor of supplying a Christmas tree – this time for the Bush family. Thomas, who will be taking over the farm in the future, said he might try again later and enter into the competition.
Hedlund Trees also has other claims to fame. Some of their shipped trees have gone to places like fancy hotel lobbies, Disneyland, and football players' homes, along with destinations such as Hong Kong and New York. Their wholesale customers are loyal because, "they know what they are going to get: consistent quality". That same quality can be found in their U-cut acreage.
Being in the business for so long, the Hedlund's have witnessed many families go through the ritual of picking out the perfect Christmas tree. "Usually, the mom or the kids pick the tree," agreed Ed and Thomas.
Ed recalled a young newlywed couple who had strong opinions over which Christmas tree to pick. "I got a chance to talk to the young man, so I gave him some marriage advice. I told him that you will fight about a lot of things being married, so pick your battles wisely. Let her pick out the tree," said Ed.  "They left, but came back a few hours later and happily bought the tree the wife wanted. The young man thanked me quietly," Ed explained.
Many magical moments happen at Hedlund, too. A baby's first Christmas, wedding engagements amongst the trees, and even military families asking to come in January to get their tree so they can celebrate Christmas with their returning soldier.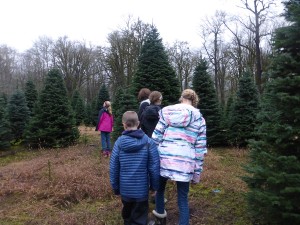 Over the years, the Hedlund family has gotten to know and remember their customers. "While I am not as good with names, Cindy can remember everyone's names and even their dogs sometimes, but I can tell you what tree they got last year," said Ed. Also, if someone describes a tree with specific characteristics, they are able to quickly point out the perfect tree. "It is a peculiar thing; you are working with each tree for about 10 years, so you get to know them."
The farm offers a wide variety of tree species including Noble, Fraser, Nordmann, Grand, and Douglas fir with a prices ranging from $15 to $60.
Ed's biggest tip for a fresh tree: "The key to keeping your tree nice and fresh so the trunk won't seal over, is water, water, water," said Ed. "When you brush your teeth or drink your coffee, go check the tree's water, and make it a routine."
Hedlund Trees is open 9:00 a.m. till dark on weekends, and 10:00 a.m. till dark on weekdays. In addition to the huge beckoning snowman, there are covered wagon rides, visits with Santa Claus, and food vendors are all available on the weekends to enrich the experience.
To learn more and plan your visit out to the farm, check out the Hedlund Christmas Trees page on Facebook and their website at hedlundtrees.com.