By Gail Wood

To understand Larry Moore, to appreciate his commitment and love of coaching boys basketball at North Beach High School since 1984, you just need to know one thing about him. He still cares.
Thirty years at North Beach High School haven't diminished his passion for coaching, for putting his teams through another two-hour practice. The long bus rides, late night dinners, missed family events, hours and hours of planning and scouting, haven't popped his bubble, his commitment to coaching. As he talked about upcoming games, about his team's chance of reaching the playoffs again this year, his enthusiasm was obvious.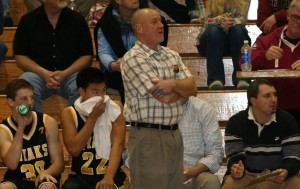 "Probably the biggest thing is I've met a lot of really neat people. That's what made it fun," Moore said, summarizing his reasons for continuing to coach. "It's definitely not the money that keeps me coming back. It's for the kids. It's for the community."
Next to Webster's definition of a coach, there should be a picture of Larry Moore. It's who he is.
"I think coaching is everything to him," said Christy Moore, Larry's wife and biggest fan. "It is his passion and what drives him – sun up to sun down, 12 months a year.  He never stops trying to do it better – watching games, videos, reading books.  He is truly the consummate coach."
As he reflected on 30 years of coaching, his stories focused on two subjects. There were the big victories, the comeback wins. And there were the players, the standout starters.
"One of the best people I've coached was Nelson Papp," Moore said. "He's a good friend of mine now. Another kid who played for me is Frankie Pope. He's a really good friend now. That's one of the best things is being around the kids, joking around with the kids, getting to know the kids, trying to push them in the right direction."
One of his biggest moments was making it to the state championship.
"As a coach, you're always trying to make it to state," Moore said. "When we were finally able to make it to state, that was one of the biggest highlights for me."
That 1994 team, especially a player on that team, Joe Pulsifer, brings back fond memories for Moore. "Pulsifer has got a special place in my heart," Moore said. A few years after graduating, Pulsifer died in a car accident.
"Every day he worked hard," Moore said about Pulsifer. "We made it to state that year, which was my first trip to state. That's a highlight there. We played for the district championship that year."
Johnny Johnson was another player who Moore talked about. Johnson, a 6'6″ center was the MVP at state his senior year, leading the team to place in the tournament in 1997.
"We finally placed in state with Johnny Johnson," Moore said. "Johnny was a big kid with great hands and a great disposition because he never got mad. He didn't get excited. He was virtually unstoppable down low."
Ben Shaffer, an all-state selection, was another standout player for Moore. Shaffer was a senior when Johnson was a junior.
"That's the year I thought we had the best chance at placing," Moore said.
But North Beach beat a private school in Seattle to reach the state playoffs and then lost to St. George.
"Against the Seattle team, we were down by seven with about a minute and a half left," Moore said. "I say the shot heard around the world happened in that game. One of our kids shoots an air ball. And Johnny Johnson grabs the ball in mid-air and floats the ball out to Ben Shaffer behind the 3-point line. And Ben lets it go and we win it at the buzzer."
Then in the next game North Beach loses to St. George.
"We were ahead by seven with a couple of minutes to go and we missed a couple of lay-ins and missed a couple of free throws and got beat," Moore said. "I think that was our best chance to actually win state."
Winning is always the bottom line and the driving force for Moore. But a golden nugget for Moore has always the chance to teach his players life lessons. That's part of the reward of being coach. Like all coaches, Moore loves winning and seeing his players come from behind to pull out a victory. But for Moore, coaching is more than watching the scoreboard.
"I think one thing, I don't want to brag, but what I'm fairly good at is getting to know the kids," Moore said. "I like trying to know what pushes their buttons, what makes them click and try to get the best out of them."
Throughout a season, Moore regularly posts quotes of the day. One he recently put up was from Phil Jackson, the long-time NBA coach. It said, "To be successful, you have to like to lose a little less than everybody else."
Moore also posts quotes from John Wooden, the long-time UCLA coach. Moore got the book about Wooden from his daughter.
"My daughter bought me John Wooden's book for Christmas," Moore said. "I'm going to get that framed and put it in my office."
Another one of Moore's highlights was coaching his son, Derek, in 2009. That year North Beach beat Toutle Lake to go to state.
"That was really emotionally for me because I got to do something with my son," Moore said. "That was the last time we placed in state."
Each year, Moore focuses the season on the seniors, often putting them in the spotlight. It's their moment.
"All the other kids, they have to buy into whoever the seniors are – those are the ones the season is dedicated to," Moore said. "It's not for anybody else."
It was in November 1984 when the young coach showed up at his first practice at North Beach High School. Moore, a 1977 graduate from Aberdeen High School, was an assistant coach for a short time at Aberdeen and then at Grays Harbor Community College before coming to North Beach to be the head coach and PE teacher. Now, 30 years later, Moore is like the national anthem at North Beach. He's part of the game.
And through the years, Moore has appreciated his supportive and understanding wife.
"I really love my wife and really appreciate that she lets me do this," Moore said. "My daughter says I am going to coach forever. No. When I retire it's my time to be more loyal to my wife and do what she wants to do. She let me coach all these years. And she kind of had to take the backseat. But that will change."