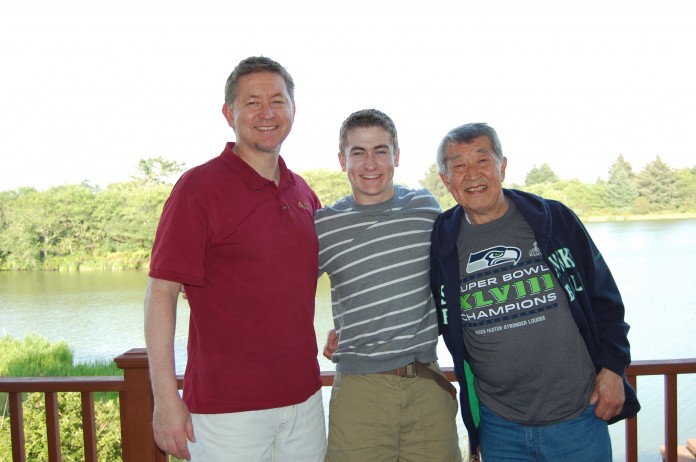 By Madi Ivey, North Beach High School Intern
Alec Takagi, owner of the restaurant Alec's by the Sea, located in Ocean Shores, has always held an interest in cooking. Born in Tokyo, Japan, Alec and his family moved to Seattle when he was 12. His interest in cooking grew from there. Throughout much of his adult life, Alec worked as a chef in a few different restaurants, including a job working as a cook for Kim's Broiler on Lake Union, until an opportunity through networking arose for him to finally open a place of his own at age 54. This opportunity would result in the opening of Alec's by the Sea, which has not only turned into a successful local restaurant but also a place of work for three generations in his family.
The first years of owning a business of his own, Alec says, were very busy and overwhelming. Having already gathered a following from his previous position as a chef at Bridges in Aberdeen, getting people to come was not an issue. Most of his loyal customers followed and supported him on his newest endeavor. Needless to say, success was immediate, and Alec had found where he could do what he loved, and, he adds, be his own boss.
Alec's son, John Takagi, starting working alongside his father at Alec's at age 33, about five years after the opening of the restaurant. John was born in Seattle and moved to the North Beach area at age three. After college, he initially began to work in the food broker and retailing business. He made the decision to come home based on his family values and wish to work with his father. He says his job at Alec's was "a lot of work," especially in the beginning. Alec adds, "he had some growing pains in the beginning." But John says he's learned a lot about work from his father.
John's son, Josh Takagi, was born in Kirkland, where John was stationed working as a representative for the company Uwajimaya, an Asian foods distributor, then moved to North Beach when he was two. Stating that he's always viewed his father as his "idol," Josh says that it's always been a goal of his to one day own Alec's. John says he's very proud of Josh, and has really enjoyed watching him work and take initiative to learn the business. He adds that three generations is, "definitely something to be proud of." Josh is currently receiving an education from Grays Harbor College and is in his freshman year.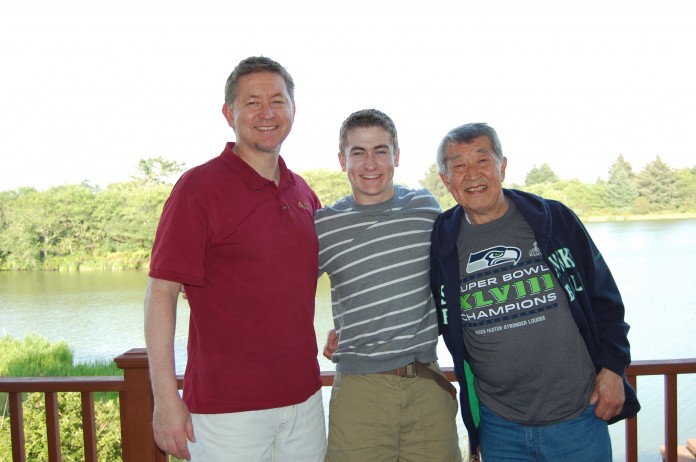 If you were to eat at Alec's by the Sea, you would have a multitude of dishes to choose from. There is something for almost every taste. From their classic steak and potatoes and different pasta dishes, to the various seafood-incorporated options and – my personal favorite – their selection of delectable soups and chowders, the food will not disappoint. The atmosphere of the restaurant is similarly pleasing. It's quiet and the interior is nice without feeling pretentious or overdone. It's perfect for every occasion. Wondering what's fresh, in season and on the menu? Visit Alec's by the Sea's Facebook page for information about their latest offerings.
I asked Alec, John, and Josh what, according to them, were the best parts of working together in such a small, close-knit community. For Josh, he says the best part is being at work and being recognized by community members as "John's son" and "Alec's grandson." John says he enjoys the closeness of working together and living in the same community. When things get tough, he says he is never alone because he is always surrounded by family. He also enjoys the support of the family that is received through the business. For Alec, being around John and watching Josh grow up are some of the greatest privileges of working with family. Alec says he began the restaurant not just to fulfill a personal dream but with his future generations in mind. Business is important, but to the Takagi's, family is number one.
131 W Chance a La Mer Northwest in Ocean Shores
360-289-4026