By Gail Wood

In addition to their offensive schemes, their Xs and Os, and their hustling, ball-stealing defense, the Montesano High School Bulldogs girls basketball team have another secret weapon in their undefeated season.
They're friends.
"We like hanging out together," said Hannah Jensen, one of just three seniors on the team. "We get along. We're friends."
Whether it's going out to eat at a friend's house, visiting a restaurant, or catching a movie – they've gone to 10 this school year – this team works and plays together. That bond, and get-along friendship, is part of the reason why Montesano is undefeated in the regular season for the past two years – 20-0 last year before losing in districts and 15-0 so far this season after their 53-38 win against Hoquiam.
There are no cliques or jealousy about who's taking and making the shots. Friends don't quarrel.
"This is a very cohesive group," said Julie Graves, Montesano's head coach. "They like each other. They do things on and off the court. You can see they're having fun when they're playing."
Montesano, with its affinity for full-court pressure and fast-break offense, has been blowing opponents out, including a 62-28 thumping of a good North Thurston team. Megan Choate, a senior and a four-year starter at point guard, has been the passer-shooter leading the way. The 5'5″ senior guard is averaging 13 points and five assists.
Jordan Spradlin, a 6'1″ sophomore post and a returning starter, is averaging 20 points, three more than she averaged last season.
Choate and Spradlin are the only Bulldogs averaging in double figures in scoring. But there's been seven players who have scored in double figures this season, making them hard to stop.
"It's really different on any given night," Graves said. "Other teams can't just key on certain kids. Other kids have stepped up all season."
Choate's role isn't limited to shooting and passing. She's also the "let's get it done" leader, shouting encouragements throughout a game.
"Megan is definitely our leader on the floor," Graves said. "And she's a leader defensively. She talks all the time."
Choate is all about the final score. She's not worried about her stats.
"I have no idea what my stats are," Choate said with a smile. "I just go out there and play. I guess I play all the roles. I pass. If I'm open, I shoot."
This is a Bulldogs team, which has swept 2A schools Black Hills, Tumwater, Centralia and North Thurston, that doesn't rest on defense. They're averaging 56.9 points on offense and giving up just 35.1 points, holding Aberdeen to a season-low 15.
Myranda Floch, who plays forward and center, is a hustler on defense and a headache for opponents. She's averaging four steals and five assists.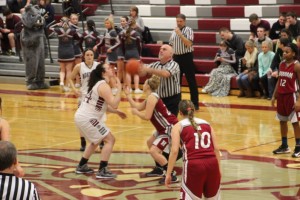 "Myranda is our defensive minded kid," Graves said.
This team isn't just about basketball. Graves listed off seven kids on her team who have a 3.5 GPA or better.
"I don't have to worry about them getting their homework done," Graves said. "They take care of that themselves. They're good students."
Graves isn't just loaded with "brianiacs," but she has depth in her player rotation, frequently going seven, eight players deep in her rotation, keeping their legs fresh. She's used seven different starting lineups this season. Against Hoquiam, Graves started Choate, Spradlin, Floch, Cortney Miller, and Cheyann Bartlett.
Graves knows all about Montesano basketball. She played there, graduating in 1995 and then going on to play at Saint Martin's University. After being an assistant coach at Montesano for two years, she became head coach and is now in her 11th season. Now, the Bulldogs hope to do something a Monte girls basketball team has never done – make it to state.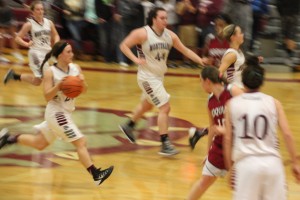 Graves has an intensity about her coaching style, a fire that's contagious. Her team's hustling ways is a reflection of her go-hard approach.
"She pushes us to be better," Choate said. "She really fires us up. She gets pumped. You want to go out there and play better because she's jacked. I'd say it effects how we play."
There's a sense of unfinished business after going undefeated last year in regular season and losing before the state tournament. Being undefeated in regular season the past two seasons has been a spark.
"It helps build our confidence," Floch said. "It pushes us."
Now, with the playoffs approaching, Graves is hoping her team still has their best basketball ahead of them.
"We talk about going to state as our overall goal," Jensen said. "But you can't look too far ahead. You have to go game by game."