By April R. Duncan, Elma High School Intern
Girl Scout Cookie season has begun! Cookie pre-sales started on January 16, giving friends and family of Girl Scouts the opportunity to buy these delicious cookies (in advance) for only $4 a box. For everyone else in the Harbor, booth sales start February 27 at stores across Grays Harbor County like the Wal-Mart in Aberdeen. And, excitement is high, as two new cookie flavors, Rah Rah Raisins and Toffee-Tastic, have been released for this year. Cookies this year include Tagalongs, Thin Mints, Savannah Smiles, Trefoils, Rah-Rah-Raisins, Toffee-Tastic, Samoas and Do-Si-Dos.
While Girl Scout cookie sales help teach scouts valuable entrepreneurial skills, money raised from sales also helps fund important group activities like camp. And, the more cookies a scout sells, the more badges she earns, so incentive for selling is high.
Of course, if you don't have any more room in your cupboard for cookies, cash donations are always accepted (and appreciated). Some Girl Scouts troops also participate in a program called Operation Cookie Drop. Through Operation Cookie Drop, you can purchase a box (or more) of cookies and send them to military troops deployed overseas.
The mission of the Girl Scouts of America is to "build girls of courage, confidence, and character, who make the world a better place." While selling cookies helps Girl Scouts develop some of these traits, there are countless activities held throughout the year designed to teach girls valuable skills that they will carry with them for a lifetime.
Camp and Other Skill Building Activities
Camp allows girls to learn their limits and gain skills in a way that differs from school. Skills gained could include outdoor skills, leadership, archery, rock climbing, boating, swimming, horseback riding, critical thinking, and decision making.
There are usually two main types of Girl Scout camping: troop camp and summer camp. Troop camping often happens in mid-to-late spring at the location of their service areas choosing. Summer camps generally begin in late June and go through mid-to-late July. Summer camps that Girl Scouts in Grays Harbor can attend are Camp River Ranch, Camp Robbinswold, or Camp St. Albans. One or more week sessions are available with many payment and financial aid options. In Grays Harbor at the end of August, Camp Juliette is offered for three days at Camp St. Albans. Day camps are offered as well. Visit the Girl Scouts of Western Washington website to see various options.
Other Girl Scout outings could include everything from fun trips to Wild Waves Theme Park, Great Wolf Lodge, or wherever their troop decides to travel with their cookie money. Just last June there was a Girl Scout weekend at Great Wolf Lodge where a discounted price was offered for an overnight stay.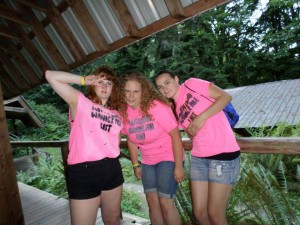 What Else do Girl Scouts do?
Girl Scouts do more than just sell cookies. They are involved in community service projects and other community functions. Girl Scouts can be seen aiding at senior citizens homes, pet shelters, homeless shelters, the food bank, local libraries, or other community centers, striving to follow the Girl Scout Law:
"I will do my best to be honest and fair, friendly and helpful, considerate and caring, courageous and strong, responsible for what I say and do, and to respect myself and others, respect authority, use resources wisely, make the world a better place, and be a sister to every Girl Scout."
Girl Scouts also have various badges and awards to earn such as the bronze, silver, and gold awards. Coming up, there is a Digital Movie Maker badge workshop on the January 24, where girls will be able create their own Girl Scout commercial while earning the badge. This is sponsored by the Girl Scout council who also sponsors many region science workshops.
Crafts and games are among the highest regard for Girl Scouts. Fun and cool-looking crafts that girls can bring home or give to others is a Girl Scout tradition. Playing games to pass the time or to learn something of educational value is essential in the Girl Scout experience.
How Can You Be a Part of It?
Girl Scouts opportunities are available for girls grades K-12. Here is the list of age levels:
Daisy (K-1)
Brownie (2-3)
Junior (4-6)
Cadet (6-8)
Senior (9-10)
Ambassador (11-12)
Parents and girls can find out more by going online at www.girlscoutsww.org and pressing the "request more information" button. Or give Juli Maiuri, Grays Harbor's Troop Program Manager, a call at 253-985-7752 or email her at julim@girlscoutsww.org. Adults in Grays Harbor looking to be leaders or looking to find a troop for their girls may also call or email Maiuri for more information.