By Gail Wood
Coming into the season, Jason Quinby had reasons to be optimistic that this would finally be the year the Wildcats reached regionals, breaking a 44-year absence.
First, the Ocosta High School's boys basketball coach had two, three-year starters back in Caleb Tackett, a muscular, hard-working scorer with a knack for pulling down rebounds, and Dan Sobrera, a 5'3″ senior guard filled with hustle and get-after-it gumption.
Quinby was also counting on his team's depth, which he hoped would be a deciding edge in the fourth quarter when an opponent began to tire.
But nine games into the season, that optimism had turned to questions. Getting off to a 4-5 start, Ocosta hardly looked playoff bound. But, in his search for answers, Quinby tweaked his offense with an up-tempo pace, increased defensive pressure and decreased turnovers.
And the result? Surprisingly, the Wildcats went on a 13-2 run, beating opponents (Raymond, Willapa Valley, Rainier and North Beach) the second time around after losing their first game with them. The cherished reward, following a convincing 51-44 win against Raymond on Thursday at districts, is Ocosta's first trip to regionals since 1971.
"This is pretty cool for our community," a jubilant Quinby said after the game. "It's been a long time coming."
Tackett, banging away inside, led Ocosta with 16 points, helping the Wildcats overcome a 16-7 deficit after the first quarter. Ocosta's defense, the Wildcats' lifeblood in the second half of the season, held Raymond to just 17 points over the next two quarters and led 38-33 going into the fourth quarter.
Tackett said his team's comeback from a 4-5 start to the season and from a 9-point deficit against Raymond in a winner to regionals and a loser-out game was teamwork.
"We're like family," said Tackett, a three-sport star in football, basketball and baseball. "We all hang out together all the time."
Whether it's pizza at Tackett's or swimming at a teammate's house, this team plays together – on and off the court. There really is a family feel to the team. Quinby's younger brother, Tommy, is an assistant coach on the team. Both the Quinby brothers played basketball at Ocosta.
"It's been a long journey," Tommy said about Quinby reaching regionals. "We started off slow this season. But the guys have been improving every practice."
This win and trip to regionals is especially significant to Tackett. His neighbor, Phil Merino, played on that 1971 Ocosta team that made it to regionals. However, Merino died last summer.
"It would be cool if he was still around," Tackett said. "It would have meant a lot to him."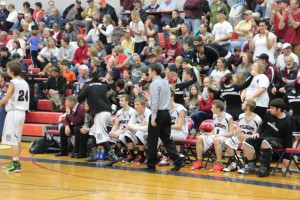 Another big turnaround factor for Ocosta's season has been Connor Pegg, a 6'6″ pogo-stick center who didn't play last season. As a starter, Pegg's shot-blocking presents on defense, his rebounding and his 6.7 points per game have been huge. His role is threefold.
"Defensively, it's just stopping anything in the paint," Pegg said. "Offensively, it's score when I get the ball. And rebound like crazy."
All season long, Ocosta has done its scoring by committee. Tackett leads the team with a 10.3 average. Then there are five players averaging 6 or more points a game. Zach Alton, a 5'6″ freshman guard, is second on the team in scoring with 8.9 points per game. Sobrera is third at 8.7. Pegg, Kyle Bambauer, and Anthony Juarez are all at 6 points a game.
"I love that," Jason Quinby said. "I don't need super stars. I love team basketball. That's always been my preference. I think Tackett could average 20 a game if we geared our offense around him. But that's not our game."
With a 10-man rotation, Quinby likes to keep the defensive pressure on opponents. He said that's where his team has made their biggest growth from the start of the season. They're holding opponents to 10 points fewer than last year, holding teams to 49 points. The Wildcats are averaging around 59 points, one point less than last year.
And Ocosta is taking better care of its possessions, cutting its turnovers from 24 per game to 9.5 in the last ten games of the season.
"That will win you a lot of games," Quinby said.
Quinby has confidence in his backups.
"My subs all have certain strengths," Quinby said. "I've played with five subs in a tight game in the fourth quarter. It's a complete team effort."
Ocosta plays Onalaska in a seeding game for regionals at 6:30 p.m. Friday at Rochester High School. The winner plays on Saturday for third-or-fourth place and the loser plays for fifth-or-sixth place.
This hasn't only been a dream season for Jason Quinby. It's a dream job. When he graduated from Washington State University with his teaching degree, Quinby, a 2002 graduate from Ocosta High School, had one aspiration. He wanted to return to his hometown, become a cranberry farmer and teach.
"I don't want to live anywhere else," said Quinby, who is a middle school math teacher. "After I graduated from WSU, I bought my cranberry bog as soon as I could."
And now besides tending to his cranberry bog, Quinby is also planting dreams. His goal isn't just to win games. He also wants to help shape lives.
"Coaching is pretty cool," Quinby said. "If you're not going to make a difference with the kids, then why do it?"