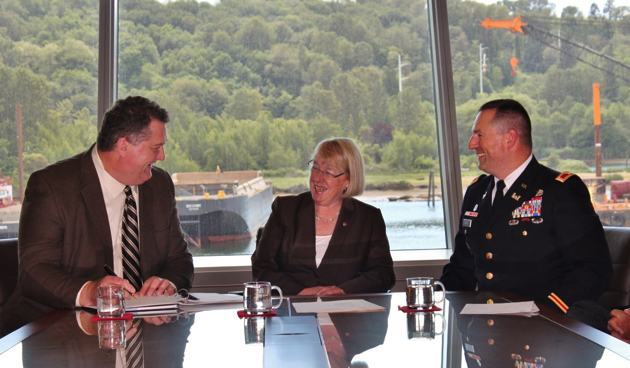 Submitted by Port of Grays Harbor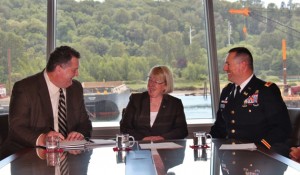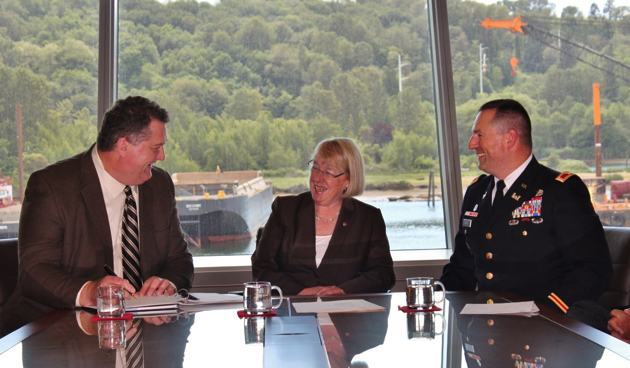 Port of Grays Harbor Commissioners and staff celebrated a pivotal milestone with the signing of the Project Partnership Agreement (PPA) for the Grays Harbor Navigation Improvement Project on Tuesday, May 26, 2015, at the US Army Corps of Engineers (USACE) Seattle District Headquarters.
US Senator Patty Murray and Colonel John G. Buck, Commander of the Seattle District USACE, joined Port Commissioners Jack Thompson and Stan Pinnick, Executive Director Gary Nelson and ILWU Local 24 President Mike Brown for the ceremonial signing of the PPA which allows the project to begin construction later this fall.
"Grays Harbor provides an important link between United States products and international markets," reports Port Director, Gary Nelson. "This project directly supports hundreds of family-wage jobs and ensures our position to serve our diverse users well into the future."
"We sincerely thank all of the partners that have made this momentous occasion possible, from our elected officials at the Federal level, beginning with Senator Jackson and Congressman Dicks and transcending to Senator Murray and Congressman Kilmer, whose support and leadership has been mission critical to the project; to the hard-working staff here at the Seattle District who have been diligent and resilient over the duration of the project; to the commitment by our state elected officials, in particular Senator Hargrove, whose career has spanned both phases of the Deeper Draft project, has been instrumental in making sure we continue to improve transportation infrastructure that supports regional job growth. We look forward to continuing to work with all of you to complete this critical project for the future of Grays Harbor," stated Port Commission President Stan Pinnick.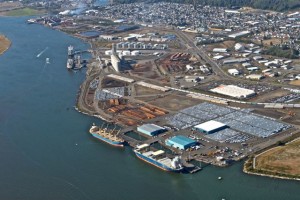 Washington State's only deep-water port directly on the Pacific Coast, the Grays Harbor Navigation Channel was authorized by Congress to a depth of -38 feet MLLW in 1986. Construction of Phase I was completed in 1991, improving the channel to a depth of -36 feet MLLW. Efforts for Phase II, constructing the channel to its fully authorized depth of -38 feet, began in 2007 and have included feasibility reports, biological assessments, impact mitigation studies, environmental assessments and Supplemental Environmental Impact Statement completed in June 2014. In August 2014, USACE Brigadier General John Kem of the Northwestern Division signed the Record of Decision (ROD), officially recommending deepening the channel to -38 feet MLLW and that it was technically feasible, environmentally justified, cost effective and in accordance with environmental statutes and public interest.
Founded in 1911, the Port of Grays Harbor is one of Washington State's oldest port districts. The Port of Grays Harbor operates 4 deep-water marine terminals, the Westport Marina, Bowerman Airport and numerous industrial and business parks throughout the region. The addition of Satsop Business Park increases the Port's properties to more than 1,000 acres of industrial properties and an additional 1,200 acres of sustainably managed forestland.   Strategically located midway between Seattle and Portland and less than 1 ½ hour from open sea, the Port of Grays Harbor provides businesses a diverse portfolio of facilities. More information on the Port of Grays Harbor's facilities and operations is available at portofgraysharbor.com.