By Gail Wood
First, they dared to dream, then Coach Steve Jump and his Hoquiam High School baseball team dared to make a state championship a goal.
Before the first season's pitch was thrown, Jump talked optimistically about his team's chances.
"I said this was our year to make a run at the state tournament," Jump said. "Our focus was getting to Yakima. I said we're ready."
Naturally, dreaming about winning it all wasn't enough. Then the Grizzlies backed it up. They pitched like crazy, with 6'7″ Kyle Standstipher averaging a remarkable 12 strikeouts a game. And they hit like crazy, with Jared Steen batting a team-best .550 as a sophomore, Zack Spradlin, also a sophomore, hitting .450, and Austin Edwards, a senior who played with passion, hitting .400.
With great pitching and great hitting, Hoquiam overcame a three-game losing streak late in the regular season and placed third in league, then won a district title and then capped it off with a state title. It's Hoquiam's first state title since 1980 when Lem Elway coached the Grizzlies.
Hoquiam went 7-0 in the playoffs, capping their tremendous run to a title with a 6-4 victory against South Whidbey in the 1A state championship game.
"It's just amazing," Jump said about his team's state championship run. "Our feet are almost on the ground, but not quite."
Coming into the season, Jump had reasons to be optimistic. He had an impressive one-two pitching combo in Kyle Standstipher, a senior with a strikeout fastball, and Skyler Jump, a sophomore who has already accepted a baseball scholarship to Washington State University.
Hoquiam, which finished with a record of 19-5 overall and 10-4 in league, also had depth. The Grizzlies landed eight players on the all-league team – four on first-team, two on second team and two on honorable mention. Standstipher and Jump both made first-team all-Evergreen League as pitchers. Both Jerod Steen, a sophomore infielder, and Austin Edwards, a senior outfielder, made first-team all-league. Sophomore catcher Zach Spradlin and senior third baseman Kolby Standstipher, Kyle's twin brother, made second team. Camden Andersen and Jack Skinner both made honorable mention all-league.
"We've been looking forward to this group of kids for a couple of years," Coach Jump said. "We had a couple of top rate pitchers and some really great position players. And more importantly we had just a feeling of belief that we could actually achieve that goal."
Hoquiam's playoff dreams were shaken late in the season when Skinner got hurt doing a suicide squeeze bunt, severely cutting the tip of finger when it was hit by the pitch. He was out for three weeks and the Grizzlies lost three straight.
"It put us in a chaotic mode," Jump said. "It took us awhile to get back on our feet."
Skinner returned to the lineup for the regional and state tournaments.
"That was awesome," Jump said. "But for the most part, our lineup stayed the same throughout the whole season."
For Coach Jump and two of his assistants, Zac Reynvaan and Tracy Pelan, Hoquiam's state championship has a special meaning. All three of them played for the Grizzlies when they were in high school. Jump, a 1988 Hoquiam graduate, played on a team that reached the regional playoffs. Reynvaan, a 2001 grad, played on a Grizzly team that placed fourth at state. Jump coached that team.
Now, this year's team is linked to all those Grizzly teams that reached the state playoffs, including that 1980 championship team.
"They're going to be baseball brothers for life," Reynvaan said. "They'll always have this memory and they're never going to forget it."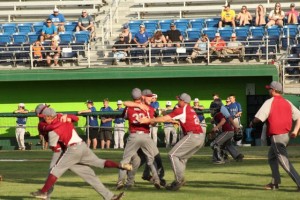 The Grizzlies are thinking repeat. They lose four seniors who started, but there's lot of talent returning.
"We've got some really big shoes to fill with some seniors," Jump said. "Our center fielder, Camden Andersen, was probably the best center fielder we've had. And Kyle and Kolby Standstipher will be pretty tough to replace. Both those boys are baseball bread kind of boys. And Austin Edward's leadership is going to be tough to fill."
The Standstipher twins will both play baseball at Grays Harbor College next year, unless Kyle goes high in the baseball draft. Kyle had 101 strikeouts at the end of the regular season and finished with 160.
"It's going to be hard to replace Kyle," Reynvaan said.
Gonzaga University coaches called Kyle just before the playoffs started.
"They called right before our regional tournament," Reynvaan said. "That's a great honor to be called by them."
When Hoquiam made the state tournament, Reynvaan was thinking the Grizzlies, with their solid one-two punch pitching, had a great shot at winning it all.
"The big question was could we score runs," Reynvaan said. "With our three pitchers, including Colby, with Kyle and Skyler, I knew our chances were pretty darn good. In high school baseball with two game set in regionals and state, if you have the two pitchers you have a good chance. My big question was defense and hitting. Could we score runs and throw them out?"
Hoquiam did.
Now, Coach Jump is calling the state title a community achievement.
"It takes a community to build a championship team," Jump said. "We had lots of great youth coaches. Parents who were willing to stay up late and drive their kids to ballgames and practices and buy them gear. So it takes a lot of great support."
It's not an individual award. It's a team award.
"There's a lot of Grizzly pride in this town," Jump said.