By Douglas Scott

In the 1990s at Ocean Shores, my family knew where to find me. On windy days year round, I would be flying my stunt kite with my sister or the neighbors, getting into what we called "Kite Wars." Countless days were spent on the sandy shores, flying our kites over the dunes, testing our skill, as strong winds blasted inland from the mighty Pacific Ocean. In the summer, our favorite beaches would transform away from their empty winter cocoon into a vibrant cacophony of kites of all shapes and sizes. Giant twirling beasts would be circled by stunt kites, zipping in and out of sight, while box kites would sit perfectly still high, above the crowds of people, horses and cars below.
The beaches and coastal towns have long served as weekend and summer destinations, giving families and visitors of all ages incredible opportunities and activities, like kite flying. Kite flying has been a pastime enjoyed around the world for over 2,000 years, but in Grays Harbor, kite flying has only been an activity for less than century. The region is home to dozens of kite stores, featuring numerous of styles of kite for every occasion, making finding the right kite tough work. Luckily for the people of Grays Harbor, Ocean Shores Kites are here to help.
"Kites are unique, and there is no kite that fits everyone," says Brenda Sias of Ocean Shores Kites. "Everyone has a different taste in kites, and there is not one popular style. Most families want something to put in the air, while some like power kites, and others like stunt kites to do tricks with. It is really up to the flyer."
Ocean Shores Kites is one of many kite stores in Grays Harbor seeing a change in times regarding kite flying. In decades past, kite flying was incredibly popular, with experts all around to help repair broken kites, teach how to fly new ones, or even give refresher courses. Today, not a lot of people are left who are passing down the knowledge, nor is the younger generation taking to kite flying as they did in years past. Groups like the Westport Windriders try to keep the sport popular and engage the youth to show the immense enjoyment many get from the activity.
"I enjoy it because there is nobody on the planet that can't fly a kite," said Brenda. "When someone buys a kite from us, we help them have a great time. If they have never flown a kite, we take the time to explain kites styles, giving, if desired, a detailed 30 minute lesson on their kite so they can have a great vacation and a good time flying."
Once you have found the perfect kite for a day at the beach, it is time to find the perfect beach. While technically any beach will work, the following six beaches will ensure not just a great day kite flying, but access to beach combing and a handful of other fun activities along the beautiful beaches of Grays Harbor. 
Six Great Kite Flying Beaches Around Grays Harbor
Chance A la Mer in Ocean Shores
Where: https://goo.gl/maps/sM084
Why: Quite possibly the most popular place to fly a kite in Grays Harbor, this beach in Ocean Shores gives those visiting access to over six miles of kite flying within city limits. On windy summer days, this beach is full of kites of all styles and is a perfect place to watch, learn and fall in love with kite flying. If you love kites of all shapes and sizes, passing up this beach on a sunny, summer day is something you don't want to do.
Westport Light State Park
Where: https://goo.gl/maps/C4ZeY
Why: There is something iconic about flying a kite within sight of a lighthouse, and this location gives that and more. Located close to miles of walking trails and even longer stretches of coast, Westport Light State Park also has steady strong winds nearly every day, making it ideal to fly to your hearts content. If the wind isn't perfect, take a tour around the lighthouse, walk the dunes, or watch for whales off the coast.
Moclips Beach off 2nd Street
Where: https://goo.gl/maps/g8v5X
Why: This beach, accessed off of 2nd Street in Moclips, is a hidden gem from the crowds further south in Ocean Shores and Westport. With strong afternoon winds coming in almost like clockwork with the tides, flying at Moclips gives you more room to explore, both in the air and along the relaxing beach. To the north, walk along the mouth of the Moclips River, or venture south to the for a few miles to the town of Pacific Beach, all accessible for you and your kite.
Twin Harbor State Park
Where: https://goo.gl/maps/XqiQR
Why: Located directly off Highway 105, Twin Harbors State Park is a perfect place to fly your kite of you don't want to head to the more crowded beaches to the north. In the summer, the beach and the sky can be full of people and kites, but a steady wind will have you more interested in kites than crowds. Visitors from all over the region come to this beach in all months of the year, so keep an eye out for some amazing kites.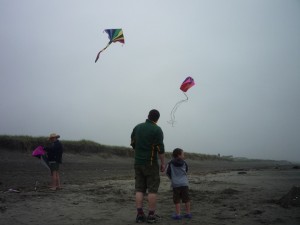 Grayland Beach State Park
Where: https://goo.gl/maps/422Ht
Why: While Long Beach may have an amazing kite museum and be known for their kite contests and events, the northern beaches near Willapa Bay give kite flyers the same strong winds as Long Beach, without the crowds. For two miles to the south, explore the air and beaches by flying your kite to the mouth of the bay. Strong winds blast the beaches, making this a year round favorite destination for those along the southern beaches in and around Grays Harbor.
Westhaven State Park
Where: https://goo.gl/maps/Up8Mq
Why: Between the jetty and the marina in Westport, Westhaven State Park sits perfectly, waiting for your kites. Offering stunning views of the Pacific Ocean, Grays Harbor, the Olympic Mountains and Ocean Shores, this area will have you looking up, down and all around. The winds here are steady and strong at times, but also gentle enough for those looking to fly kites that require less wind. Close to town, this place is perfect to enjoy the city of Westport and your kite.