By Kristine Lowder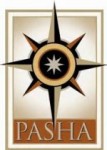 If you blink, you might miss it. Especially if you're tearing down Highway 101 en route to Quinault or the beach. But Al's Hum-Dinger in Hoquiam is worth a second look.
Perched on the Hoquiam River across the street from Art Pocklington Park, Hum-Dinger is a long-time favorite for locals as well as tourists. Built in 1942, the unpretentious mom and pop burger joint features simple fare in a family-friendly ambience.
Owner Ron Marlow bought the white-walled and blue-trimmed business from his in-laws in 1978. "It's a family kind of place," he says. "You get to know people. They have children and their children have children. I have a girl working here now whose grandmother used to work here. Her mother worked here, too. Now she works here. So we've had three generations [of that family] working here."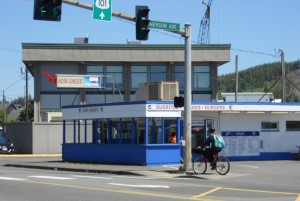 Assistant Manager, Tamy Rissmann, echoes Marlow's assessment. "It's like family," she says. The restaurant has a dozen employees, many of whom have been with Hum-Dinger for years. "I was here before Ron bought it," explains Rissmann. "He's a good boss and he treats us good. A lot of us have been here for years and years," she adds.
Marlow explains that "some of the help has been here almost 38 years. Two have been here for 25.
Summers and weekends are busiest for Hum-Dinger. "We get a lot of tourists and clam diggers" says Rissmann. They also get plenty of return customers. It's a regular hang-out for Hoquiamites as well as visitors to the area, according to both Marlow and Rissmann. Marlow says, "Most of our customers are locals. We have a lot of people we see on a regular basis." Rissmann adds that while employees may not know the names of every patron, they see and recognize "regulars" every day.
The menu at Hum-Dingers includes burgers and sandwiches, chicken and seafood dinners and fountain treats like sundaes, milk shakes and soft-serve ice cream cones. To place your order, you simply drive into the parking lot, order at the window and eat on the run, in your car, or at one of two outside picnic tables. If you're waiting outside for your order, staff will bang on a window — with a smile — to let you know it's ready. The restaurant's best sellers are the Hum-Dinger burger, the bacon burger and chicken and seafood dinners.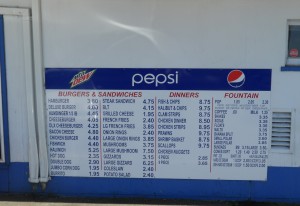 While Hum-Dingers has earned "best burger" recognition several times, it doesn't really matter to the staff. They listen to their customers. "We know we've got good burgers and people come from all over telling us how good our burgers are" says Rissmann.
Patrons agree. A Yelp review by Aberdeen resident "Jim" reads, "The burgers and fries are first rate and the service is good. We always get the Hum-Dinger burger. The shakes are awesome. For not much more than the cost of getting a generic computer generated burger with sprayed on meat from one of the big fast food chains you can come here and get something really good."
Sara, a tourist from Poulsbo, writes, "So glad we stopped on our way back from the ocean!  Great service, great food, great prices."
Old enough to retire, Marlow says he's not ready. "I just like it. It's like family," he says. "We're not real creative. We just try to sell a good old-fashioned burger."
With good food, a family-friendly ambience and a killer view of Hoquiam River, it's all worth a second look at Hum-Dinger.
Note: Hum-Dinger doesn't take reservations but you can order take-out. The parking lot is private but small. There is no indoor seating.
Hum-Dinger
104 Lincoln St.
Hoquiam, WA 98550
360-533-2754
Hours:
10:00 a.m. to 10:00 p.m., daily