Grant Clark

Greg Reynvaan is quick to point out the inaugural Loggers Playday in 1965 wasn't held at Olympic Stadium, but, in fact, it took place at Emerson Field. He also remembers the event's title was Loggers Jubilee back then before being re-branded a couple years later.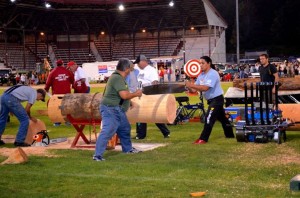 Reynvaan knows these facts because he was there. After that, however, the details of that day 50 years ago became somewhat hazy.
"It's been a big deal in this community since it started. I remember being there for it," Reynvaan said. "That first year though, once things actually got going, I don't remember too much of it. I was a kid then. I was probably 8. I had always been around logging. So, once the event started, I think I went somewhere to play and ended up missing most of it."
It's safe to say he hasn't missed too much of the action since.
With Reynvaan serving as the Loggers Playday Committee Chair, the annual event, which showcases lumberjack competitions, will celebrate its 51st edition at Olympic Stadium on Saturday, September 12.
"This is our history," Reynvaan said. "So many people help out to make this happen each year. I think it really shows what a great community we have."
Loggers Playday will kick off at 6:00 a.m. with the Rotary Club's Famous Pancake Feed. The Downtown Street Fair will open at 10:00 a.m., and the Elks Lodge Grand Parade will march through downtown Hoquiam from noon until 2:00 p.m.
Then the highlight of the event — the Loggers Competition — will begin at 6:00 p.m. at Olympic Stadium.
The event has grown substantially since its modest beginnings when Don Barton, Sr. and Reynvaan's father, Jack, began planning their own local event after seeing a logging show during a trip to Alaska.
"They really thought it was just going to be a one-time thing," said Reynvaan, whose father was the event's chair in 1965 and 1966. "My father and Don had a logging outfit up in Alaska. When they came back home they put on a show here and then one in Coeur d'Alene for the Boy Scouts of America. People seemed to enjoy it and it just continued to grow every year since. I actually think it's pretty special that my dad was involved in the first one and now 50 years later I can be a part of the 51st one."
Selected as one of the state's Best Small Town Celebrations during Evening Magazine's 2015 Best of the Northwest recognition, Loggers Playday will feature axe throwing, log chopping, Ma and Pa bucking, obstacle pole bucking, choker setting, speed climbing, power saw bucking, tree topping, double hand bucking, and springboard chopping among other activities. The top overall performance will earn the annual distinction of All-Around Logger.
"The great thing about Loggers Playday is that everything goes right back to the community," Reynvaan said. "It has provided numerous scholarships over the years. There's been a lot of work done on Olympic Stadium that was made possible because of this event. We've supported youth sports programs, Babe Ruth baseball programs over the years. This event has really helped fund a lot of community projects over the last 50 years."
This year's event will also honor David "Dewey" Dupont, who died on December 16, 2014 at the age of 56 from injuries suffered in a logging accident near Belfair.
Dupont, who owned Double D Logging, was involved with Loggers Playday since 1980 and served as the event's chairman in 2011.
"I've always said that I think if my father knew David he would have really liked him. David was a logger's logger — just a great guy," Reynvaan said.
According to Reynvaan, Loggers Playday is always looking for additional volunteers to help out in a variety of capacities — both this year and for future events.
"Whether you can volunteer for an hour or two weeks, we want you to come out," Reynvaan said. "One thing that is great about this community is we may not have a lot, but we certainly give a lot."
For more information about Loggers Playday, including a schedule of events, visit www.cityofhoquiam.com/events/loggers-playday/