By Chelsea Royer

At this time last year, Susan Peters was finishing up her first year teaching band at Hoquiam High School. This year, she's preparing to send 14 students to Hawaii as a part of the Washington All State Honors Band.
Led by Dr. Brad McDavid, director for the University of Washington Huskies Marching Band, the honors band members are nominated by Washington State high school teachers and selected based on a grading system by McDavid. It is the only band of its kind in Washington State with requirements for nomination being that the nominees meet a certain musical criteria, be great marchers, and also good citizens of the band program. "Every kid from Hoquiam entering this program were in band, many in student leadership, and all of them worked hard in all aspects," explains Peters.
Representing the 14 band members are Jeremy Glasgow, Hannah Hasbrouck, Jessica Cole, and Robin Cozad. Cozad and Glasgow, as well as several other band members are qualifying alumni members of the Honors Band who graduated from Hoquiam High School in 2015. While Cozad is looking forward to pursuing his degree in Archaeology, all four of these students are anticipating lives full of music and rhythm.
"I want to be in a band when I go to college and this is an opportunity to broaden my experience beyond what we do at school," says an excited Cole.
"I'm not majoring in music, but I will be taking some lessons in college and I plan on pursuing music my whole life," says Cozad, who plays over 14 musical instruments.
"It's more about meeting new people for me," adds Hasbrouck. "It's about coming together with other people because of music. Because we have the same passion, we can come together in common purpose despite the fact we are all strangers."
The Honors Band, upon completion of the member process, will contain between 75 and 100 teens. These teens will be joining from all over Washington State, with Hoquiam students being the only participants from Grays Harbor County. Peters will be participating in the Honors Band as a staff member and explains that students are expected to learn their music from home until they have the opportunity to practice as a group the week of the big performance. "They must be driven students to participate," says Peters. The students will be performing in Oahu, Hawaii at Pearl Harbor and will also be participating in the large 4th of July parade as well as three other island events.
"I've taken two bands to perform at Pearl Harbor in the past," reflects Peters. "There is nothing like it. It is usually life changing for the students who participate. There is something incredibly emotional about the experience and seeing first hand what is left of the wreckage from the history there."
"I am excited about the trip to Hawaii," says Glasgow, who hopes to one day develop a career as a music producer. "Being a part of the parade is a big deal. I think the whole experience will benefit my career. Anything music related helps me become a better musician. It helps develop a feel for rhythms and grows my knowledge of music. I think the more you do, the more you understand."
"I'm really not sure what we've gotten ourselves into," laughs Cole. "It's a new experience and we don't know what to expect. I am looking forward to learning new things and excited to see how a college director will manage a marching band."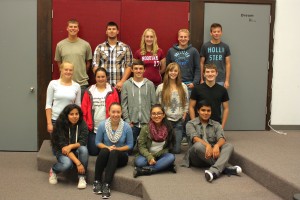 The largest hurdle for these 14 students is not their musical ability as they are all incredibly talented and driven. Rather, it is the estimated $2,000 per student required to make the trip to Hawaii and back. The group will be hosting a couple of different fundraisers to accomplish this feat and hope the community will be enthusiastic to take part. The first will be a "Monster Mash Zombie Dash" 5k. This event will take place at Makarenko Park in Cosmopolis on October 24. A race for small kids will begin at 3:00 p.m. while a race for older kids and adults commences at 4:00 p.m.
The second fundraising event takes place November 11 at the 7th Street Theatre. This Veteran's Day Concert will be performed at 2:00 p.m. and 7:00 p.m. Students will also be holding a raffle for cords of firewood. Susan Peters may be contact at speters@hoquiam.net for more information regarding fundraising and events.
Other students participating in the Honors Band and proudly representing Hoquiam High School are as follows: Dean Benjamin (senior – baritone), Jessica Cole (senior – flute), Robin Cozad (alumni – trombone), Morgan Dehnert (senior – clarinet), Alex Elledge (sophomore – flute), Lizbeth Farias (sophomore – trumpet), Paloma Fruto (senior – clarinet), Jonny Fruto (junior – trombone), Jeremy Glasgow (alumni – percussion), Hannah Hasbrouck (senior – clarinet), Courtney McCormick (junior – trumpet), Shane Murphy (senior – percussion), Brett Pelan (senior -percussion), and Alex Sigman (senior- trumpet).