By Chelsea Royer

Not everyone has the opportunity to live out their childhood career dreams, but Kara Trimble does. From a young age, Kara knew she was interested in teaching. Serving as a teacher's assistant in high school and helping out with sports camps solidified the notion, and the fall after graduation, Kara began her first year of college at Grays Harbor Community College. From there, she went straight to Central Washington University where she graduated before returning to Grays Harbor to complete her required internship.
Kara's career in teaching carries on a family legacy that goes back another two generations. Much of her hands on experience occurred in her mom's first and second grade classrooms. "I helped my mom, Stacie Trimble, a lot in her classroom. I'd help set it up before the school year and assist in class when I could all during my four and a half years of college. I learned so much from her about how to handle students and situations, like what to do when they get sick, when they misbehave, or do something amazing or unexpected. Her best advice was not to yell at kids and that a low, firm voice goes a long way," says Kara.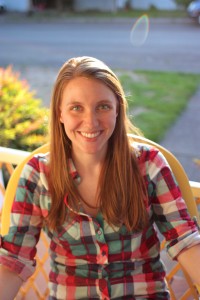 This practical application greatly supplemented what Kara learned in school. "The hardest part in school was learning how to teach without actually teaching kids. There was a lot of theory and talk about how kids 'typically act,' but in real life, you don't really encounter the 'typical' kid. They are all so different," explains Kara. "Alternatively, the best parts about preparing to be a teacher were the times you did get interaction with kids and the times you were able to put the lesson plans into practice to see what would or wouldn't work."
After all her hard work, Kara now has a classroom of her own in the Hoquiam School District. She teaches a kindergarten class, like her grandmother did for 28 out of her 30 or so years of teaching. Back when Betty Barkema Sieler was a teacher, kindergarten was not always offered within the school districts. Her original plan was to be a stay-at-home mom, until she was asked to teach kindergarten in Centralia. Because kindergarten was such a new idea, Betty had to write all of her own curriculum. "Things were far more relaxed back then than they are now," says Kara. "We have way more rules, but something I learned from my grandma about this grade is that you have to have fun – it can't all be about academics. You have to let them explore, play, and be kids. They'll have to grow up too soon anyway."
Despite her heritage and practice in the classrooms of other teachers, Kara still felt nervous her first day on the job. "I once heard that if you aren't nervous, you don't care. So I guess it was a good thing I was so nerve-wracked and excited. It's a huge learning curve as you are teaching students how to be students and preparing them for learning in the grades to come," says Kara. A month later, Kara has had good days and difficult days and everything in between.
"The best part about teaching is that kids have the best imaginations in kindergarten. There is so much excitement about every little thing. I brought the markers out today and my students acted like it was Christmas," chuckles Kara. "The hardest part so far has been the variety of students who all react differently to things. It's difficult to teach kids how to be a problem solver when they are upset about something."
For Kara, it's weird to remember that she isn't just managing another person's classroom – it's her room and she is the teacher. Every day involves planning, carrying out that plan, and then reflecting on what worked or didn't work. "A lot of that happens in the car on my way to work," says Kara. "It's my time to get my caffeine in and mentally prepare myself for the day." This first year, Kara will be learning more about how to teach than she ever has before and it is both challenging and exciting.
"I feel like I am maintaining a legacy. Kids remember their kindergarten teacher. I have been with my grandmother Betty or my mom when people have come up to them and said, 'you were my teacher when I was a kid and always believed in me,' or 'you were my mom's teacher.' I feel like I get to continue what they've done and carry the torch. Just watching how proud a child gets when they write the letter 'A' for the first time – you feel you are making a difference," Kara reflects.
Kara still has a long way to go with her first school year, but with the advice and support of the two generations, she'll likely be in a classroom for the next thirty years, like so many family members before her.