After the stress of the holidays is over and the start of the New Year has begun, decompress with an Elma favorite during the 9th Annual Winter Wine Festival on Saturday, January 23 from noon to 9:00 p.m. at the Grays Harbor Fair and Events Center.
Over the years, the Elma Chamber of Commerce has grown the Winter Wine Festival to become the chamber's largest event. And with reds and whites from more than 20 Washington wineries, live entertainment from big names like Heart By Heart, countless food vendors, a silent auction and other exciting attractions, it's no wonder that this event has more than doubled since its first year.
"This is our largest event of the year," Winter Wine Festival Coordinator, Debbie Adolphsen, says. "Our whole entire chamber board works on this."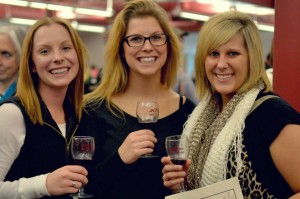 Debbie says planning for this event takes place year-round. "I don't think we ever quit talking about it," she says. It takes a village to pull off an event this big, but that's part of what makes it so special.
Without community sponsors like Aberdeen Honda, Vaughn Company and Grays Harbor Tourism, just to name a few, Debbie says the event probably wouldn't be able to happen. "We get so many donations for wonderful items for our silent auction," she says, "and we have more than 60 volunteers each year, most of whom come to us from local businesses."
Debbie says it's the support of these local sponsors that allows the event to continue to grow each year. "We're really working on sponsors so we can bring in bigger entertainment," she says. "Vaughn Company is one of our biggest sponsors for entertainment."
And entertainment is a huge part of the event. In addition to tastings from more than 20 Washington-based wineries, the Winter Wine Festival also features live entertainment from local and visiting artists alike. Back this year by popular demand, Heart By Heart will return to the Winter Wine Festival's mainstage.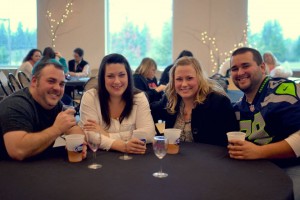 For fans of the band Heart, this is a special treat. Heart By Heart, which includes original Heart members Steve Fossen and Mike Derosier, covers all your favorite Heart songs from the '70s and '80s.
In addition to a headlining performance from Heart By Heart, entertainment from local artists like Ericka Corban and Centralia-based band Backfire will also rock the stage.
New for 2016, the Winter Wine Festival is expanding its entertainment offerings with the introduction of the Courtyard. Complete with dining tables and music, the Courtyard allows festival-goers to grab some food, grab some wine and enjoy sipping, savoring and listening to music with friends.
"We will have soft entertainment going all day in the Courtyard from 1:00 p.m. to 7:00 p.m.," Debbie says. Music from local artists like Ken Albert and Christine Hill will delight listeners as part of this new attraction.
Debbie says the chamber tries to bring something new to the Winter Wine Festival each year. New favorites and old classics are what keep visitors coming back time and time again.
In addition to the Courtyard seating and entertainment area, Debbie says festival-goers will appreciate the new coat check, which allows them to drop off their bulky winter coats and bags so they can enjoy perusing the festival with a lighter load.
One of the festival's mainstays, which will return for 2016, is the silent auction. During the silent auction, festival-goers can bid on items ranging from small to large. "The biggest auction item we have this year is a three-night vacation stay in Pacific Beach," Debbie says. Smaller items include everything from wine baskets and treats for your four-legged friends.
After the hustle and bustle of the holidays is over, Elma's Winter Wine Festival offers Grays Harbor-area residents and visitors alike to enjoy sipping wine, listening to music and visiting with friends — stress-free.
With so much to see, do and taste, you don't want to miss the 9th Annual Winter Wine Festival. Visit Elma Chamber of Commerce's website for more information.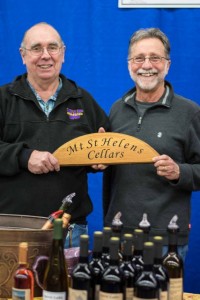 9th Annual Winter Wine Festival
Saturday, January 23, noon to 9:00 p.m.
Grays Harbor Fair and Event Center
32 Elma McCleary Road in Elma
360-482-2651