Dressed in his crisp blue pants, ironed white shirt, and red garrison cover adorned with pins attesting to his service in the Vietnam War, Orville (Russ) Russell is the "go to guy" in the community when there is a need for the exhibition of the red, white, and blue. The 72-year-old Marine carries the U.S. flag at high school football games, rides patriotic floats for parades, and presents the hallowed colors of our country to families at funerals of fallen heroes.

The uniform is the outward expression of Russell's dogged determination to remind us of the importance of the American flag and what it stands for. There is another side to Russell. Dressed in his every day clothes, Russell has quiet conversations with struggling veterans. He listens to their stories and offers one of his own: hope.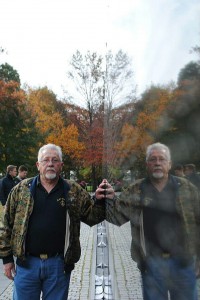 All members of the military who separate from service are veterans. Military members who served in wars are considered war veterans. Regardless of kind of veteran, benefits such as medical, education, job searches, and counseling are available for free. That's where Russell comes in.
"I just start talking. Then it spreads. Vets hear about me by word of mouth," he explains. "I've been approached at the grocery store and the gas station. I go up and talk to every guy I see who has a patch on their coat or a hat with their branch and pins on it. I always say, 'thank you for your service.' That usually opens the door."
"Every veteran needs something," he continues. "I have to figure out what they need. Sometimes it's a wheel chair, other times it is a ride to a doctor appointment, a lot of the time, it's just a few minutes to talk to someone who understands their experience. Ask anyone. It's about veterans taking care of veterans."
Russell has some important people supporting his mission. In Shelton, Ricky Grayson, volunteers her time as a Veterans Service Officer. Grayson begins her job where Russell leaves off.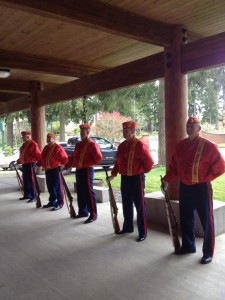 "Our office is run by volunteers. Russell literally scoops the vets up and says 'follow me.' When he brings the vets in, he's already figured out a lot of their issues. I can begin the paperwork," she says. "Then, Russell is gone. He is already looking for someone else in need of help."
"There's a young man I'm working with who really pulls on my heart strings right now," Russell says. "He has little kids. He did three tours and got out of the military eight months ago. When he discharged, they gave him relocation funds. They were supposed to last until he got a job. Well, the job didn't happen. He's still looking. In the meantime I'm hitting up every organization I can think of. The Community Action Program in Grays Harbor may be able to help with housing, utilities, food, and work assistance support."
Russell believes maintaining veteran organizations is imperative for the long-term support for Americans who served in the military. He is the Senior Vice Commander for the VFW Veterans of Foreign Wars District 5 and a member of the Marine Corps League #482.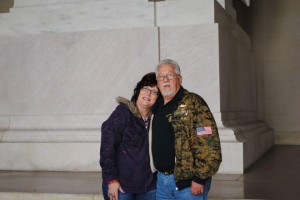 Russell has stepped forward into a new role—a mentor for incarcerated veterans at the Stafford Creek Corrections Center in Aberdeen. The Department of Corrections is partnering with Washington State Department of Veterans Affairs to create a program where 130 veterans live together in two pods separate from the rest of the inmates. Russell helps them with what seems the impossible—talking about their experience in the military, especially if they served in combat. For him, there is only one rule: There is no failed veteran.
"My goal for the veterans at Stafford Creek is to have a flag on display while they are holding their meetings in the educational library. I'm raising funds for that. I've had a great time doing all of these things. I've met WW II Pearl Harbor survivors and Medal of Honor Recipients. I gave a speech at my granddaughter's school and even showed them how to fold the flag."
What Russell won't tell you is that he served in the Marine Corps for twelve years. He has three Purple Hearts from his service in Vietnam. He was awarded a Navy Achievement award for his years as a Marine. He has many other awards and commendations he is too modest to talk about. Russell, like so many veterans, also has PTSD that he manages every day of his life. And yet, there is no task too small for Russell.
"Someone asked me to put up their father's headstone in a cemetery. A friend and I did it together. The guy was a veteran; he deserved it. I should probably go out and check on that and see how it is doing. I didn't exactly have that experience beforehand." Russell smiles and gets up from the table where we are talking. He sees a car pull into the parking lot with a Marine emblem on the license plate. He is back to work.
If you would like to contact Marine veteran, Orville "Russ" Russell, his email address is olrussell@hotmail.com.