How do you recycle? Do you place aluminum, plastic and paper products on your curb for pick-up? Do you take the time to sort through glass bottles and drop them at your nearest collection site? Do you send gently used items to the donation bin instead of the landfill?
There are many ways individuals can decrease their carbon footprints, and with new technologies making large-scale recycling more accessible, more organizations are finding creative ways to decrease their footprints, too.
Grays Harbor Community Hospital is one local organization that is committed to reducing, reusing and recycling. Over the past 15 years, the hospital has continuously found creative ways to limit the amount of waste it produces, and thanks to a new partnership with LeMay, 2016 will see an expanded version of the hospital's already impressive recycling program.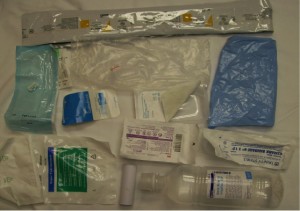 Midge Gamboa, coordinator of central sterile at Grays Harbor Community Hospital, has been with the hospital for 30 years. Fifteen of those years have been focused toward reducing the amount of waste the hospital produces along with her partners, Mandy Shumate, RN and Kelli Strom, OR Tech.
Originally a scrub technician in the surgery department, Gamboa says she's always been passionate about the environment and recycling.
"I knew there was an opening in the department, and I was ready for something a little bit different," Gamboa recalls. "After getting some more education, I found a nice segue into the sterilization department."
Passionate about recycling and in a position that afforded her the opportunity to make a difference, Gamboa didn't hesitate to inspire better recycling practices at the hospital.
"When I first started, we were recycling some things like the polypropylene wraps we used to wrap trays," Gamboa explains. "We also started collecting sequential compression devices (SCD)." Gamboa says both the polypropylene and SCDs are considered single-use items, but with the advent of technologies that were fairly innovative at the time, the hospital was able to send them back to a company that would process and remanufacture the products.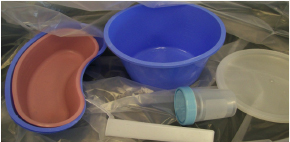 Thanks to these technologies and reuse programs, what were once considered one-time use items became multi-use items. "The items can be processed at least twice and as many as ten times," Gamboa says.
While Gamboa is passionate about reducing the hospital's carbon footprint, she also says these kinds of programs save the hospital money, which ultimately trickles down to the pocketbooks of Grays Harbor Community Hospital patients.
Working together with Stryker Sustainability Solutions, the "leading provider of reprocessing and remanufacturing services for medical devices," Gamboa says the hospital has been able to repurpose more items than ever before. "In the past five years, we've been able to send more and more items through this process," she says. This includes everything from medical drill bits and staplers to laparoscopic sheets and more.
"From October 2014 to October 2015, we sent 3,381 pound [of medical devices] to Stryker for reprocessing and remanufacturing," Gamboa explains. "With an average national cost of waste pickup of $0.30/pound, we saved $1,014.30, but most importantly, we helped divert a huge portion of waste from the landfill," she adds.
While this is a great way to help reduce the hospital's carbon footprint and save money in the process, Gamboa says some people are skeptical that the items being repurposed are of a high enough quality to be used in the operating room. "Stryker is FDA regulated," Gamoba answers. "When things are manufactured the first time, some companies will test one out of every ten items. However, when you remanufacture, you have to test every single item," Gamboa explains. Because every item is tested, Gamboa is comfortable that the quality of the repurposed and remanufactured items is of equal quality to a brand new version of the same item.
Gamboa loves her job, but she says recycling doesn't fall under her job description — it's simply a passion that she applied to her role. "I see the need and value of doing this," Gamboa explains. "If I can reach outside and in turn inspire somebody else to want to do the same — that's what I most enjoy."
Gamboa has inspired many hospital employees to share her passion for recycling. "I am a part of surgical services, but I'm not in the surgical rooms every day," Gamboa explains. To make sure that things are getting recycled and sorted properly, Gamboa relies on other staff members to be her eyes and ears. Gamboa says she and the RNs and surgical techs who work with her are unofficially referred to as the "recycle team;" she says for them, it's just something they're passionate about.
Gamboa says 2016 will be an exciting year for the hospital. Grays Harbor Community Hospital is partnering with LeMay — which is expanding its recycling services — to recycle more items than ever before. "At the start of the new year, we're going to be sending LeMay 75 percent of what we open in the operating room. Before, what we sent back for a surgical procedure was less than 20 percent."
As the year continues, Gamboa says the hospital will expand the recycling efforts it's established in the operating room across other departments throughout the hospital. Gamboa says it's a very exciting time.
Gamboa's hope is that the more people — staff, patients and community members — who recognize the hospital as a local leader in recycling, will be inspired to reduce their own carbon footprints by pioneering new and innovative recycling programs in their own homes and offices. "Recycling does matter," Gamboa says. "Each and every time we recycle, we can make a difference."
Sponsored