The cold and flu bug managed to do something no other program has been capable of doing this high school wrestling season – slow Montesano High School down.

"We've been sick the last two weeks," said coach Jeff Klinger, who is in his 12th season at Montesano. "We're finally starting to get our lineup back. This is the first time we've almost had a full lineup in quite some time. So, that's nice. We're starting to get healthy and hoping for that postseason push."
That could potentially spell doom for the other Class 1A teams around the state as the Bulldogs are deep and talented, and appear on the verge of something special – actually, make that really special.
A year after finishing third at the state tournament with a group of fresh-faced youngsters, Montesano is poised, and determined, to improve on that bronze status by winning the entire thing this season.
The Bulldogs' roster this year features three wrestlers – senior Kylar Prante and juniors Jacob Ellefson and Austin Cain – who finished second at last year's state tournament and two wrestlers – junior Taylor Rupe and sophomore Tony Williams – who took home third-place state finishes last year.
That star power has Montesano, which posted its highest state finish in 1976 when it was the 1A runner-up, classified as "the team to beat" this postseason.
"It was an exciting year for us last year. This year has been a little different because we've had that target on our back," Klinger said. "People are looking at us and saying we were going to be good. We did good last year, but we cannot live on last year. They won't give us points in the state tournament because we finished third last year. I think when we went to California and Centralia at the beginning of the year we showed what we can do."
The Bulldogs opened plenty of eyes at the Centralia Tiger Classic on December 12 when they went head-to-head with several larger schools and found enormous success.
Six Montesano wrestlers (Rupe, Prante, Cain, Tyler Izatt and Ellefson) won titles. Prante defeated Patrick Flannery of 4A Olympia in the championship round by technical fall, 16-0, while Cain beat Selah's Aaron Pimental, who finished third at last year's 2A state tournament, to secure his title.
But it wasn't just in the Evergreen State where Montesano flexed its muscles. Over the winter break, the Bulldogs collected an impressive third-place finish at the prestigious Lou Bronzan Invitational in Northern California.
Montesano received championships in the 64-man bracket from Cain (160), Prante (182) and Rupe (220). Ellfson (120) and Williams (126) each collected second-place finishes.
"We left at 4:00 a.m., drove south, went to bed, made weight, wrestled two days and drove straight back home. It was a long ride, but it was a good tournament," Klinger said. "The top four teams there were us and three schools that had more than 1,500 enrollment. Everyone was looking at us and saying, 'Where did these kids come from? Where's Montesano?'"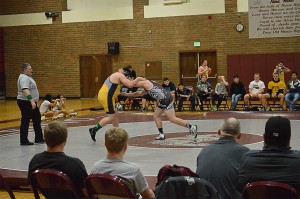 Cain and his teammates are hoping the answer to that questions is – home of the 2016 Washington state 1A wrestling champions.
"That's what we are going for. It's definitely the goal," said Cain. "We just want to get as many guys to place and into the finals as we can. We all have individual goals and one main goal as a team and I think that's pretty obvious what we want."
By comparison, Freeman won last year's 1A state crown with just a single state champion, but did have 12 total wrestlers place. While the Bulldogs may not be able to duplicate the Scotties' volume they certainly could surpass last year's champions in regards to quality over quantity.
"It's amazingly special right now," Rupe said. "Not having a state champion last year and having three second-place wrestlers was pretty rough at the time. But then we realized we were sophomores and juniors last year. We get them all back the next season.
"This is the year that we are focusing on. It starts right here," added Rupe.
With just two seniors in Prante and Izatt, Montesano has high hopes that this year will be the first of many which ends with a banner hanging in the Bo Griffith Gymnasium.
"We have a good core group right now," Klinger said. "The best thing is we just had senior night and we only had two seniors."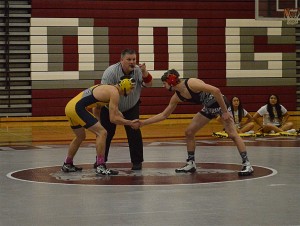 The Bulldogs open the postseason on February 6 when they host the 1A Sub-Regional Evergreen Conference tournament. Winners will advance to the region tournament at Castle Rock High School on February 13 with Mat Classic XXVIII being held at the Tacoma Dome February 19-20.
"We're just trying to get everyone peaking at the right time and getting into the best shape we can," Cain said. "We're definitely going to be ready for state. That's all that matters."