When was the last time the Ocosta High School boys basketball team advanced to the state tournament?
Kyle Bambauer and Connor Pegg blurt out the correct answer almost in unison.  "1971," the two senior captains declare confidently.
"There's been a lot of talk about it," Bambauer said. "A lot of talk."
The Wildcats are looking to end the program's 45-year drought this season and find themselves just one win away from accomplishing that feat.
With Ocosta's 57-38 victory over league rival North Beach in a 2B District loser-out playoff game, the team secured a berth into the regional round. A win there and the Wildcats are off to state for the first time since 1971 – a season where they captured the program's lone state championship with a 66-56 triumph over Cashmere.
"They know the history," Ocosta coach Jason Quinby said. "We've had guys from that (1971) team come in and talk at practices. This year's team wants to embrace the history and it's been fun to see the community get behind this group of kids the last couple of years."
Joining Bambauer and Pegg on the roster are fellow seniors Anthony Juarez, Peter Samuelson, Matthew Clark and Ryan Short.
"These guys had won one game through junior high. Elementary through junior high they had won one game until they got to high school," said Quinby, who is in his fourth season with the Wildcats. "I knew the potential was there. Basketball is so much more than Xs and Os. Every coach has great Xs and Os. It's the mentality about being a winner that is so important. It's the preparation, how you carry yourself on and off the court. Those things go so much farther than having good Xs and Os. We really had to install that in the program."
Quinby inherited a program which had won just five games the season before his arrival and were just three years removed from a three-win campaign.
While winning was foreign to this year's senior class growing up, they have certainly made up for it during their high school years.
Their win over North Beach in the district playoffs improved the Wildcats' record to a stellar 22-2 this season.
"This group of kids put in way more time in the offseason than any other group we've had in a really long time," Quinby said.
There's a highly-motivated reason for that.
Ocosta was in a similar situation last year. The team advanced to the regional round and were one win away from the state tournament when the Wildcats saw their season come to an end following an 86-37 drubbing by eventual undefeated state champion Morton/White Pass.
"Getting our butts handed to us in the last game last year kind of let the kids know that we're good," Quinby said, "but there's another level to get to and that's what they strive for each and every day."
The drive to improve surfaced almost immediately.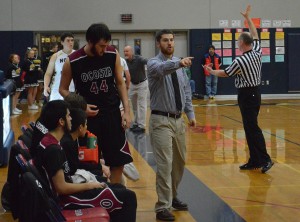 "Since the buzzer sounded at regionals last year," Pegg said. "That's how long we've been focusing on this season."
The Wildcats opened the year with a 20-1 record, but despite a 15-game winning streak, they found themselves in the loser side of the bracket at districts relatively quickly after a 62-46 quarterfinal loss to Mossyrock, which placed Ocosta one loss away from seeing its season end in disappointment.
"When we started off we were a house on fire. We were demolishing teams. The focus was really high and the energy was really high," Quinby said. "And then we got hit by the flu bug and it went through basically the whole varsity team. I don't know if that was the cause. We do have a lot of talent and the kids were getting kind of complacent. I kind of think that loss re-ignited that fire. We're starting to look like the team we started with this season."
Ocosta kept its dream of the state playoffs alive by winning back-to-back loser-out games, first hammering Onalaska, 45-23, before knocking off the Hyaks.
"That was our first loss in two months," Pegg said. "It just didn't feel right. We decided we didn't want any more."
The Wildcats play Adana on February 18 at Rochester High School and then will play in a district seeding game on February 20. The team can finish no lower than the sixth seed out of the district.
"We're just going to keep winning. We're just going to try our best," Bambauer said. "That's the mentality we have. It's been about getting to state this year."
The regional round will take place February 26 and 27 at various sites with winners advancing to the state tournament, March 3-5 at the Spokane Arena.
"We think of ourselves as brothers," Pegg said. "We're a family when we step out onto the court, we're a family when we step off it. We drive each other. We all are working towards the same goal."