In the winter of 1944, World War II was raging across Europe and the Pacific. A small Grays Harbor church decided to raise everyone's spirits by performing the area's first cantata during Christmas. Involving readings, solos, choral music, and instruments, a cantata is one of the most challenging musical pieces to perform. Montesano United Methodist Church performed its 71st cantata in 2015, and its longevity and success is due in no small part to Carol Boyer, Montesano United Methodist Church's choir director of 34 years.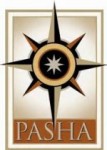 "I started taking piano lessons when I was 8 years old. The first piano teacher refused to accept me as a student because she told my mother that I would never learn to play. In fifth grade, the band teacher told me I should play the clarinet because I was tone deaf and wouldn't be able to play any other instrument. In seventh grade, I started to sing in my church choir—thankfully they didn't discourage me from joining."
Boyer glows when she talks about music. With a degree in elementary music education, music has been her passion all her life—especially directing choirs. She took on the directorship of the choir at Montesano United Methodist Church just three years after graduating from college.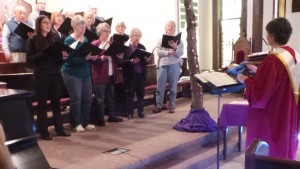 "I soon found that directing a choir requires a lot more than musical knowledge. A choir is a group of individuals who come together to send a message or communicate as one. That means developing a feeling of cooperation and loyalty to the group, motivating and encouraging the singers to do their best," Boyer said.
A cantata involves several hours of seamless music that tells a story. The most famous cantata is Johann Sebastian Bach, Jesus, Joy of Man's Desiring. Bach's cantata is unique in that the lyrics were written 100 years before the music. But when they came together, the fit was perfect. It's like that with Carol Boyer's work with a choir.
David Seymour is a member of the Montesano United Methodist Church's choir. "When Carol is directing us sometimes we know we aren't there yet, but her hands are so expressive, they make us believe we can rise to the occasion. She just reaches out and pulls us there."
Boyer's love of the cantata spills out into all of Grays Harbor. During the year there are just 16 members in the church's choir, but when rehearsals for the cantata start in October, the number usually doubles. People come from Aberdeen, Hoquiam, Elma, and McCleary just to sing with her. They are not just Methodists, either. In 2015, a significant number of Catholics joined the cantata choir. Of course, they are the Methodist's next door neighbors.
"When we start rehearing on Wednesday nights in October, our book is 80-90 pages thick with songs. We start out rehearsing one hour a week and right at the end, our rehearsals are two hours long. We are the last event during the Montesano Festival of Lights. Last year the church was full," Seymour said.
For the community, the cantata is an opportunity for neighbors to sing with neighbors, but for Boyer, it marks the beginning of the Christmas season in a more personal way.
"While many people are busy shopping and decorating, to me, the cantata is a reminder to slow down and think about the 'reason for the season,'" Boyer says. "The familiar scriptures and timeless music performed in our historic 1890 sanctuary remind me of the countless Christians who, through the centuries, have enjoyed similar experiences of scripture and music in their churches. I feel real connections with them."
Boyer's beliefs are the core of her commitment to directing the cantata every year. Once the performance of the cantata begins, it must transition between readings, solos, choral singing, and instrumental sections without a break. Believing that the cantata will happen as it is choreographed, is like believing in the miracle of Christmas each year—it will happen, but there is still uncertainty and a need for faith.
"Our candlelit sanctuary at Christmas, awash with the smell of evergreens, is breath taking. Every year there is a particular song that touches me personally in some way—often it's the one that inspired the entire cantata—and I get totally lost in the music," she says.
"Finally, I love the years when we end with Silent Night," explains Boyer. "The choir sings a cappella using sign language throughout. On each verse a part is subtracted causing the choir to fade away until the last verse is signed in absolute silence. It is a powerful message to the endurance of our faith and to music." 
When the first Christmas cantata was performed by the Montesano United Methodist Church in 1944, no one knew when the great war would end. The decision to perform the difficult musical piece was likely made by a choir director akin to Carol Boyer—someone who believed that in spite of what lay ahead, a choir, comprised of Grays Harbor parishioners, could provide a gift of peace, scripture and beauty in the midst of the darkness.