LG Auto Sales is prominently situated at the corner of Simpson Avenue and 5th Street in Hoquiam with maximum exposure to southbound traffic on Hwy 101. LG Auto Sales is being talked about in the community as the go to for used vehicles. Since he opened his doors to the public in 2008, owner Luis Garcia has been building a reputation for quality merchandise, honesty and excellent service.
What is Garcia's secret to his success?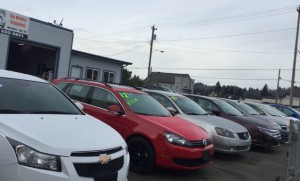 "I was just a country boy, but I wanted to make something of myself," says Garcia. "There was no way I could have started a business in Mexico. There just weren't any opportunities for young people. At the age of 16, I left my home in the state of Michoacán and emigrated to the United States."
In 1985, Garcia began his career picking strawberries in California. Two years later, he heard about better paying jobs in the Washington timber industry. He moved north to Aberdeen and began to work as a timber faller. "I enjoyed the work," he says. "I liked working in the forest. I might have gone on falling timber for a long time if a better opportunity had not come to me out of nowhere."
Garcia had been working in the forest for 13 years, had married and started a family. One day he bought a car. He turned around and sold it – for a profit. Encouraged by this unexpected success, he bought and sold more cars. After obtaining his dealer's license in 2001, he increased his sales until he was able to buy a corner lot in Hoquiam in 2008. LG Auto Sales was born. "I had never thought of becoming a car dealer," he says. "The opportunity presented itself and I took it."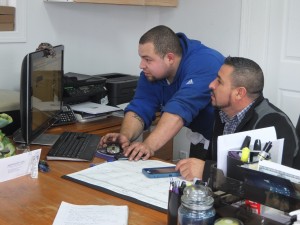 Garcia makes it clear that taking the opportunity required hard work and total dedication. Once he had envisioned his future in dealing cars, he concentrated all his considerable energy and intelligence into building his business. Garcia is completely self-taught. Arriving in the United States without a high school diploma, he learned to read, write and speak English fluently by interacting with Americans. "I had to," is his simple remark.
Garcia learned how to conduct a business in the same way. He talked to people and asked questions. "I went to the Department of Licensing," he remembers, "and asked them to help me fill out my forms, and they were happy to help me."
Today, Garcia can look back at the fruits of his labor. He has become a US citizen and is supporting his large family, his wife and six children, through his business. LG Auto Sales is now incorporated and employs two young automobile technicians, including Garcia's son-in- law, Jibran, who is 26 and lives in Hoquiam.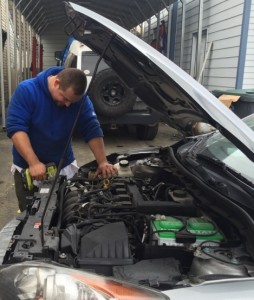 Aidan, a 23-year-old automobile technician, is a hard worker, knowledgeable and eager to help. He looks happy to work here. When asked how long he has been working for LG Auto Sales he has trouble remembering. "Time flies when you are having fun," he says with a smile and ducks his head back under the hood of the car he is working on.
Garcia loves Grays Harbor and its people. "I treat people the way they deserve to be treated," he says describing one of his principles. "I try to make things easy for them. I sell them quality vehicles. I finance their vehicles without charging interest for myself." His hard work and integrity are paying off since LG Auto Sales reports many repeat customers.
Garcia could easily sell more cars than the small Hoquiam lot can hold. In 2014, he made an attempt to expand and bought a lot at Boone Street in South Aberdeen. "It was going great, but it was too much work," he says. "I could not find a reliable person to manage the second location for me. It would not have helped my family if I had ended up with a heart attack, so I stopped."
Are there any suggestions this successful entrepreneur would offer to the younger generation? "If you have a dream, put all your effort into it," Garcia advises. "Have faith in yourself and God and things will happen. Listen to older people. Pay attention to what people do and learn from both the good and the bad things."
LG Auto Sales
508 Simpson Avenue in Hoquiam
360-533-6621 or 360-310-0642
Open weekdays from 8:00 a.m. – 5:00 p.m.
Saturday from 9:00 a.m. – 4:00 p.m.