A celebrity star is rising in Grays Harbor, launched aloft by championship status, notoriety and adoring fans. Such is the fate of a Fawn Great Dane owned by Nancy Groves of Ocean Shores.

Ziva claims a prestigious pedigree commanding attention not only for her physicality but for eloquence as captivating as an international runway model during fashion season. Standing tall, even at home, she takes to the moment, charming a visitor as if answering the dog show stage – a call that she has been doing since her initial debut at seven months. Ziva is the consummate performer.
"When I first picked her out of the litter," Nancy says, "I never intended, never thought, of showing her."
Since then Ziva and Nancy have not only competed in dog shows, they've been invited to perform at public events, accepting invitations for school class visits, parades and fundraising auctions. All the while, she has garnered fans young and old at every stop.
Animals have always been part of Nancy's life. She and her husband, Mel, have cared for and given refuge to dogs, cats, goats, chickens, a turtle, an iguana and various birds including a blue front Amazon parrot and a blue and gold macaw. All this is understandable when considering Nancy's former career.
"I worked at the Tacoma Pierce County Humane Society for 33 years. During the time I worked there, we were both a Humane Society and Animal Control for Tacoma as well as unincorporated Pierce County," she said.
Working as an office clerk, she applied for another job opening as Field Services Assistant and was selected for the position.
"Given my already 20 years of experience with City, County and State ordinances, it was the perfect fit for me," Nancy said.
She became part of a team comprised of the Field Services Coordinator and Humane Officers. She worked in support of the officers when responding to calls from complaints of aggressive dogs to animal cruelty. Nancy also sought search warrants, wrote reports and prepared case documentation for the Prosecutor's office when needed.
Her success at the job is echoed by Mel. "She was really good at that. I mean, really, she never lost a case in court."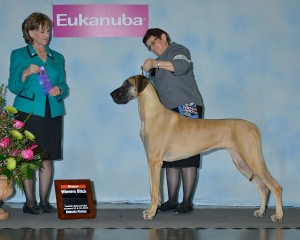 In July 2012, the Groves were offered the pick of a long awaited litter. Ziva became their seventh Great Dane.
"When I met Mel, I had my first Great Dane named Sadie. The Great Danes intrigued me and I just wanted to have one. I totally fell in love with the breed as did Mel," she recalled.
Queried about some of her favorite memories with Ziva, Nancy reminisced how she was working part time at a spa and had taken a couple of weeks off after Ziva was brought home. She got a call from the employer wanting her to come in for a computer class.
"Instead, it was a room full of ladies, presents, and good food. Luckily I had taken Ziva with me for the ride so she was a part of the puppy shower, too. She had a blast," Nancy said.
Nancy attended the Ocean Shores IGA annual Kids Fest, after moving to Ocean Shores, taking Ziva dressed as a pirate.
"That was in 2013. The kids went nuts over her – especially a little girl, who was so excited to see Ziva that she ran over to her with cupcake in hand, face covered in frosting.  I said 'uh-oh cupcake alert' and her mom took the cupcake. Ziva took great delight in licking all of the frosting off the little girl's face who giggled the whole time," she said.
Two other highlights she recorded, among many, were the 2015 Wearable Arts Show and the PAWS Auction.  At both events, the duo was in costume – Nancy as St. George with Ziva staged as the Dragon. Ziva and Nancy's arrival were reported as "show stoppers" in each event.
"All my years of playing dress up with her paid off," she said. "Ziva's very patient and tolerant."
Add gentle to the list of Ziva's attributes when in public or performing under the stress of long competitions. Traveling to dog shows has brought them together in a bond of unspoken trust. When the spotlight goes on, Ziva always gives her best.
Early on, Ziva's breeder and current competition handler Georgia Hymmen, encouraged Nancy to consider showing Ziva. Georgia was determined that this dog had the necessary temperament, intelligence and physical characteristics to go far in competition. Nancy took her advice embarking on the dog show circuit. Training, commitment and hard road miles have paid off culminating in Ziva's most recent successes.
First came the November 2015 International All Breed Canine Association & International Dog Show (IABCA) held in Lynden, WA where Ziva won her International Champion Title or BOB (Best of Breed) in four shows over two days.
Then this past January there was The Rose City Dog Show in Portland, OR where on the first day of completion, Ziva took the coveted 4-point Major as Winner's Bitch prize, a thrilling achievement for Nancy.
"Dog showing has blessed me with awesome friends and being with lots of Great Danes. Ziva and I have enjoyed camping trips with our new girlfriends as well as sharing hotel rooms with friends and their Danes," she said with humor.
The time has come for the duo to take a hiatus from the rigors of competition. The Groves now hope for a positive result in recent breeding attempts. Ziva, at the time of this writing, is beginning to show the subtle signs of its success. When anxious, Nancy asks Mel if he has observed any changes, and after some exaggerated thinking, he deadpans, "She's been really grouchy."