"I suppose that everyone who has ever become interested in food has nursed dreams of one day owning a small restaurant," James Beard writes in  his book "Delights and Prejudices: A Memoir with Recipes."
Visitors and locals alike are rejoicing with a new restaurant in town. Recently, Operations Manager at Bennett's Coastal Restaurants, Ron Lambert, realized a dream when he helped to open Ocean Grill.
Bennett's History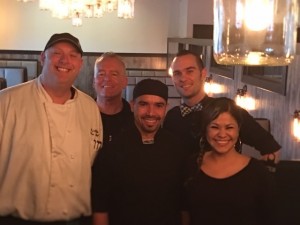 In 2005, Bennett's Restaurant opened in Grayland. "Although that particular restaurant closed in 2015, the original Bennett's was a resounding success," Ron says. It wasn't long after they opened the Grayland location that the team saw a need for a great place that served fish, chips and clam chowder in Westport's Marina District.
In 2010, Bennett's Fish Shack opened for business. Ron shared, "Bennett's Fish Shack in Westport took off and is a great success." Then a year later, the second Bennett's Fish Shack opened in Ocean Shores. Dina, a long-time server for the restaurant group says, "this is a great company to work for."
Bennett's Coastal Restaurant includes Ron's longtime business partner Greg Tumidanski.
When the Quinault Sweet Grass Hotel was looking for a family friendly restaurant, the Bennett's team put in a bid to open Ocean Grill. With a desire to expand their business operations, the team was happy to be selected.
Inside Ocean Grill
With fresh décor designed to invite guests in for a warm, cozy meal, you will find a relaxing atmosphere. The booths are spacious, encouraging customers to linger over a great meal and delve deep into conversations with family and friends. Ron has poured his heart and soul into this new establishment. In fact, you will often find him chatting with customers and sharing how this dream became reality.
The theme at Ocean Grill is seafood, and they serve great steaks. Ron explains, "We have three steaks to choose from — a classic rib eye — trimmed lean — a New York and a filet mignon. We cut and trim the steaks in-house and we buy the highest quality certified Angus beef that's possible. Then we charbroil them to perfection."
Long-time customer Mike Coverdale of Windermere Real Estate, whose office is located right across the street from the Fish Shack in Westport, gladly shares, "My favorite is the Dungeness crab melt, and my wife, Liz, favors the fish tacos, but most of the time I get their cheeseburger because it is fantastic! Their chowder is great as well."
This family of restaurants is already well-known for serving up hearty meals to regulars and first-time customers. The Ocean Grill's interior is just as delightful as its meals. The lighting and warm décor invite guests in for a great meal.
While visiting Ocean Shores, stop in for a hearty bowl of chowder, rice flour-fried calamari and a cocktail. Whether you are dressed in your lucky hat and hip waders, fresh off the beach from a clam dig, or dressed for a night on the town, you will be welcome at the Ocean Grill.
From classic fish and chips and delicious crab cakes to hearty clam chowder or fish tacos, there's something for every appetite at the Ocean Grill.
Ocean Grill
845 Ocean Shores Blvd NW in Ocean Shores
360-289-0530
Hours: Sunday – Thursday from 11:00 a.m. – 9:00 p.m.
Friday and Saturday from 11:00 a.m. – 11:00 p.m.