There's middle school fast and then there's high school fast.
Anthony Nash learned about the difference between the two such speeds during his first ever Hoquiam High School track and field practice two years ago as a freshman.

"The very first day of track I ran against Devin Kelly," said Nash, who had only began participating in track and field as an eighth grader. "I'll never forget it. It was very eye-opening."
At the time, Kelly, a senior at Hoquiam in 2014, was two months away from capping his high school career by winning the Class 1A state championship in the 200 meters. That same season he also posted a third-place finish in the 100 to go with the state title he won as a junior as part of the Grizzlies 4 x 100 relay team.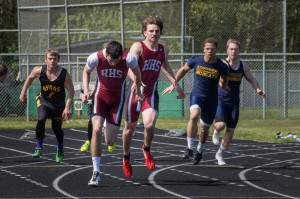 Simply put: he was fast, very fast.
The race was a humbling experience, but a learning one for Nash. The bar had been set. He now knew what it took. How much hard work needed to be invested if he wanted to excel. He had his measuring stick.
Fast forward two years – gone is that green 15-year-old trying to keep up with one of the state's premiere sprinters. In his place is a dedicated athlete capable of putting up blistering times himself.
"His sophomore year was such a breakout for him," Hoquiam track and field coach Tim Pelan said. "He really stepped it up. He's one of our captains this year. I think that goes to show how much the kids here respect him. They see his work ethic and how much he puts into it."
Nash is coming off a sophomore campaign which saw him advance to the Class 1A state meet in all three events he competed in last year. He finished 12th overall in the 100 meters at state, crossing the wire in 11.36 seconds and fourth as a member of the Grizzlies 4 x 100 relay team.
"I think the biggest change heading into this season is with my confidence," Nash said. "I have pretty high expectations for myself this season. I want to be competing at the second day at state."
His goal in the 100 is to cover the distance in a speedy 11 seconds flat.
"I think it's something I can achieve," said Nash, who opened the season by winning the 100 at the Rainier Icebreaker Invitational with a time of 11.53. "It felt pretty good for the first meet, but I really think I can improve on that time. I think I've become more explosive with my starts and the 100 is a distance that really relies on getting out of the blocks fast."
Interestingly, track was something Nash had to be convinced to try as his full focus used to be split equally between football and basketball. There just wasn't enough room at the time to bring on a third sport.
"My cousin tried to get me involved in track when I was in seventh grade. I just didn't have any interest in it," Nash said. "The next year, when I was in eighth grade, I wanted to keep active. I could either pick baseball or track. I thought doing track would make be a better athlete in football and basketball. So, that's why I originally did it. I really think it has helped."
In addition to looking to place at state in both the 100 and 200, Nash also envisions another solid place for the Grizzlies 4 x 100 team this year. The team, which Nash runs anchor for, lost Tyler White and Vince Tran to graduation, but fellow senior Trystan Skorzewski returns.
"Even though we have half the team back, you're basically starting all over again," Nash said. "It takes time to get comfortable with each other. It's a very slow process, but we're getting there."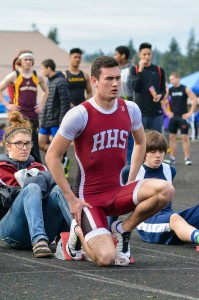 It's already been a hugely successful junior year for the three-sport athlete Nash.
A first-team All-Evergreen 2A/1A League defensive back, Nash helped the Grizzlies to an undefeated regular season, league championship and their first state football playoff win since 1978 this past season.
He hauled in a 30-yard touchdown pass in Hoquiam's 25-20 victory over Meridian in the first round of the state tournament. The Grizzlies' postseason football run came to an end in the quarterfinals, losing 42-21 to eventual state runner-up King's in a contest that saw Nash catch a 50-yard TD pass.
In the winter, Nash was a member of Hoquiam's league championship basketball team, which captured the program's first state trophy in a decade by finishing sixth at the 1A state tournament.
"I really think this all started when our baseball team won state last year," said Nash, referring to the Grizzlies' 2015 state baseball title, the program's first in 35 years. "That really got the ball rolling. We just carried that momentum over into football, and then we brought the success we had in football into the basketball season. Now I am just looking to continue that into track."