Gail Genzel is an energetic woman with a heart for health. She runs the cardiac rehabilitation program at Grays Harbor Community Hospital. This program, started in 1991, provides rehabilitation for patients after heart attacks, bypass surgery, stints, heart valve repairs or replacements, angina, heart failure, and heart transplants.
The hospital's cardiac rehabilitation program is carefully constructed and supervised and requires a physician's referral, with the key requirement being the patient has to have heart disease of some sort. Gail says that the ultimate goal is to get patients to a condition where they can exercise independently which typically takes about three months.
Coping with heart disease can sometimes feel like uncharted waters. It can be scary to move forward in life, adding an exercise routine to the mix, after a big event. Gail encourages patients to consider the contributing factors that may have led to the initial heart disease. Was this a genetic condition, or are there lifestyle changes that could ultimately add years or decades to your, or your loved one's, life?
The cardiac rehabilitation group acts as a guide and a place of safety. Patients should be prepared to sweat, but there is also education and support. During workouts, patients wear heart monitors with heart checks before, during, and after each session. After months of developing a personalized program, patients can join the YMCA of Grays Harbor to continue their workout regimen. The goal is not only heart health but an individual's healthy lifestyle, as well.
Gail emphasizes that the cardiac rehabilitation program is not a gym. On a patient's first visit, Gail talks about the differences between the clinic and a gym. "Yes, we want them to get conditioned and be independent exercisers," she says. "They need to learn lifestyle modification in order to reap the maximum from the program." Beyond workouts, the cardiac rehabilitation program emphasizes understanding of medications, learning healthy eating patterns, and how to communicate with physicians and pharmacists.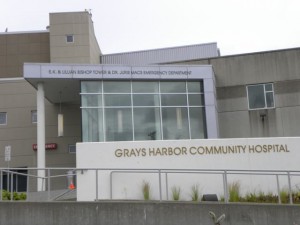 Patients exercise three days per week with more formal education led by nursing staff, physicians, nutritionists, or physical therapists on Wednesdays. Patients set realistic goals when entering the program, focusing their routine to guide their journey.
Gail states there is regular communication with doctors, including medical director, Dr. Ralph Morris. "I can't say enough about him. He is extremely patient and loyal to these patients. He completes evaluations on each patient, every thirty days. If I have problems, he evaluates them sooner," reports Gail.
Nutritionist Sarah Carossino completes body fat testing and teaches patients how to read labels, and how to shop on the perimeter of the stores. Nutrition education is extremely important to improving heart health. For example, Sarah educates patients that more than two-thirds of daily sodium intake can be found in a half can of soup.  Her role is to help patients make heart-healthy choices in the grocery store.
Gail starts her first patient on their exercise routine at 6:30 a.m. Another patient arrives every 15 minutes until several are working out. "Typically, you'll have three or four people in a room who talk and share," she says about the environment. This group environment can help ease some of the fears and answer some questions the patients may be having. Patients may share symptoms or experiences, but they also have been known to share diet tips and tricks, such as replacing oil with applesauce when baking.
To learn more about improving your heart health through the Grays Harbor Community Hospital cardiac rehabilitation program, speak to your family practice physician, internal medicine doctor, cardiologists, or cardiac surgeon.
Sponsored