In its 12th year, Seabrook, the decade old beach town along the Olympic Peninsula in Grays Harbor County is bringing yet another revolutionary idea to the sustainable, authentic beach village. The Seabrook town plan was designed in 2004 so that within a 5-minute walk or cycle, residents and guests would be connected to all retail and common areas.
In keeping with the notion of building community with easy access to goods and services, the most recent neighborhood is on the eastern edge of town. The Seabrook Farm District remains just a short walk or cruise from the beach and offers a relaxed, organic lifestyle in a more rural setting.
"The Farm District was actually one of our original design ideas for Seabrook," explains marketing director, Ivo Andov. "We wanted an area that would be more open and reminiscent of a farm along the ocean. We researched other beach towns yet did not really find the combination of beach and farm. We knew we had something unique and special. Within just a few minutes walk or bike, everyone can enjoy the beach, farm, and Seabrook's retail and dining district."
The Farm District is tucked away from the busier neighborhoods and the shops on Meriweather and Front Street . Characterized by open green areas, orchards, and berry patches, each craftsman style farm home has been expertly designed for the best woodland and pasture views. The home sites are each uniquely situated upon large green spaces ideal for small individual vegetable and fruit gardens.
"We launched the first phase of the Farm District in fall, 2015 with 19 home sites, many of which have been already sold. We are now offering some of the smaller Orchard Cottages while still having several of the spacious farm homes available. And soon this area will showcase the Seabrook Community Garden," shares Andov.
Neighborhood parks are a distinctive feature at Seabrook and the Farm District is no different. Horseshoe Park is the community gathering spot with a sunken stone fire pit overlooking the north pasture. Yet unique to the Farm District are the barn plus tennis and pickle ball courts. Wind Gate Equestrian runs classes and camps for both kids and adults wanting to learn more about the care and riding of horses.
While the Farm District is the newest addition at Seabrook for home purchases and rentals, Seabrook is an excellent destination for day trips and people living and traveling through the area. The beach town boasts a growing shopping and dining district with 15 boutique shops, gourmet restaurants, and entertainment nestled along the beautifully scenic coastline. A pizzeria compliments the other dining options including the main restaurant, Mill 109, which serves breakfast, lunch and dinner. Additionally, there are more specialty food shops like the Red Velvet Bakery, Sweet Life Candy Shop, and the wine and cheese shop, The Stowaway. Groceries and other necessities can be purchased at Front Street Market. Crafts, pottery studio, dog gifts, home decor and a spa round out the fun and experiences offered at Seabrook.
"There is always something going on at Seabrook. Not only do homeowners and rental guests plan their time at Seabrook based on our event calendar, but our nearby Grays Harbor community comes out in droves as well," says Andov.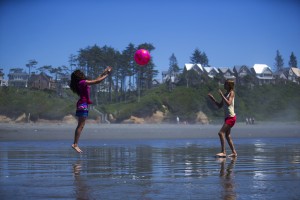 "As summer approaches, we will have even more special events including the Saturday Markets that run June through September, live music at sunset on Fridays and Doggies Days which is a fun celebration of dogs," he mentions.
"There are frequently bike parades, wine tastings, and movie nights in the park," Andov continues. "Seabrook also enjoys partnering with local organizations and businesses throughout Grays Harbor County either to give back to the community or offer additional community events such as Beach Volleyball Tournament and Fun Run."
Andov explains that one-percent of the purchase price of homes is donated to the Seabrook Community Foundation, who then provides grants for non-profit organizations supporting the North Beach and Grays Harbor County communities.
"Seabrook has become a town for all, whether it be shopping for a day, purchasing a beach home, or renting for a weekend," remarks Andov.
To learn more about Seabrook, visit their website or Facebook page or call 360-276-0099. Or simply stop by for the day in Pacific Beach, Washington.