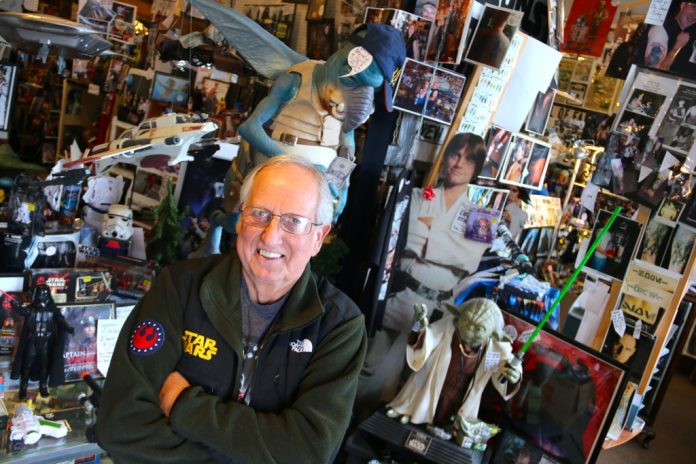 Walking in to the Sucher and Sons Star Wars Shop is an experience like no other. Located on Wishkah Street and bedecked with a bright mural, this family-owned shop is a quirky Harbor icon featuring "anything and everything Star Wars." Owned by Don Sucher and his sons, the store recently celebrated 20 years.
Outside the store, life-size mannequins and a gamut of Star Wars toys beckon you. Inside, the shop is packed floor to ceiling with thousands of items, including costumes, posters, action figures. It is a place where your imagination runs wild, and fun comes to life. It's hard to know where to start, and Sucher is happy to let you wander around: visitors of all ages can spend hours exploring this wonderland. The shop sells both new and used Star Wars merchandise with an unparalleled selection.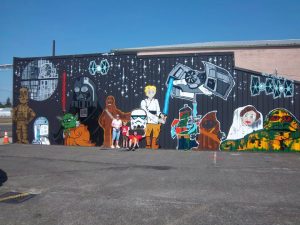 Visitors to the store are warmly greeted by Sucher, who is the heart of the business. An upbeat person and die-hard Star Wars fan, he understands the true passion people feel for the movie. He also makes sure every visitor has a good time, and lets kids play with the merchandise.
Sucher remembers first being captivated by sci-fi movies in his youth. When Star Wars was released in 1978, he was blown away. Raising two boys, Nick and Koby, during the 1980s, they began collecting Star Wars toys and memorabilia, and it took off from there. "It all just fell into place," says Sucher. The boys began working at the store in high school, and now have separate careers, but remain involved. The store was first housed at Sucher's home, and as many Harborites will remember, has had multiple locations around Aberdeen before settling at its current spot. About four years ago, the outside mural was created, complete with poles painted to resemble lightsabers. It draws visitors to the store and adds to the area's mural presence.
After a busy work and family life, Vietnam vet Sucher semi-retired several years ago and was able to throw himself into the business full-time. Word of mouth spread quickly. "It's like Frankenstein…it has just come to life. It's grown bigger every year," Sucher says with a smile.
The ongoing release of new Star Wars movies has been a huge boon for the store, revving up fans old and new. So has their Internet presence. In fact, the store is now listed as a top tourist attraction for the Harbor area, bringing thousands each summer to this "must see it" place on their way through. The store was even featured on King 5's Evening Magazine in 2013. (Read some of the rave reviews.)
Who visits the Star Wars store? In short, everyone. The store's ideal location by the highway means that 20,000-30,000 visitors drive by the store each day. Sucher has of course built loyal repeat customers. A guest book and visitor map with thousands of pins in it mark visitors from many countries, and there's even a tattoo wall for photos of – you guessed it – Star Wars-related tattoos (Sucher himself sports at tattoo autographed by Carrie Fisher).
The store has also grown to include other lines of merchandise, including Lego, Star Trek, Ghostbusters and most notably, Kurt Cobain and Nirvana items. In fact, it has become a destination for Cobain fans. Sucher bills it the "Official Kurt Cobain Memorabilia and Information Center" and offers a Kurt Cobain tour map, and has even sold bottled dirt from under the Young Street Bridge. (Check out this article on the Kurt Cobain tour of town here.)
Sucher continues to delight in his work on a daily basis. After 20 years, he still sees new items each day that surprise him. Special scouts from near and far search for inventory, and he has a backstock in storage beyond what you see out on the floor. Sucher's business shows that following your passion can pay off – as Qui-Gon Jinn says in The Phantom Menace, "Your focus determines your reality." His shop is proof of this.
With only minutes until closing, shoppers of all ages continued to look around. One can see how the store brings together generations: everyone gets to be a kid at heart here, and re-live favorite pop culture memories. And Sucher likes to keep the merchandise affordable (items start at $1), so everyone can find something.
The force has definitely stayed with the Sucher and Sons Star Wars Shop. Sucher sees it remaining open for another 20 years.
Sucher and Sons Star Wars Shop
413 East Wishkah Street in Aberdeen
Open daily from 11:00 a.m. – 6:00 p.m.
Follow Sucher and Sons Star Wars Shop on Facebook.