Since its inaugural year in 1930, Grays Harbor College has had several deans and four presidents. This week, I sat down with the fifth.
Last Fall, the Board of Trustees began their search for a new president, responding to the announcement from President Ed Brewster that he would be retiring in June 2016. After considering several dozen candidates, a final four were chosen for full-day campus visits, and from this group, Dr. James Minkler was selected.
Dr. Minkler's experience in higher education began first, like most of us, as a student. Growing up in rural Washington and Idaho, he earned his Bachelor of Arts in History and Philosophy at University of Idaho. Later, he received both a Masters of Arts degree in Philosophy and Doctorate of Philosophy in Higher Education Administration, also from the University of Idaho.
"The demand for philosophers then was about what it is now," he chuckles, adding that he found himself working in retail management and corporate sales. During graduate school, he realized that, much like his educator parents, he had a passion for teaching. Soon he was on his way to Japan in the hopes of finding a job teaching English.
"I left with nothing but a backpack," he says. In Japan, he was initially hired to sell language lessons to corporations, but soon found his way back to teaching when company executives began hiring him to teach business English.
"I also taught Japanese entertainers," he says, and recalls an incident of how a traditional form of comedic Japanese storytelling called rakugo became accessible internationally after one of Japan's famous storytellers studied English with him.
In the end, the adventure paid off. Not only did he gain teaching experience, new language skills, and a small role in the Japanese entertainment industry, he met Yoko, his wife of now 28 years.
"She was a friend of a student of mine," he smiles, "and he played matchmaker." The Minklers have two sons who spent childhoods traveling between both parents' countries, and are now college students themselves.
In 1988, the Minklers returned to the United States and he began teaching philosophy at North Idaho College. During his time there, he launched a conversational English program, and taught as an adjunct professor and high school teacher before becoming a full-time college instructor.
He eventually took a position with Spokane Falls Community College and became dean of instruction for Social Studies, Philosophy and Transfer Education. Later he served as District Academic Service Officer with the Community Colleges of Spokane District Office. Most recently, he has been  Vice President of Learning and Chief Academic Officer at Spokane Falls Community College.
But Spokane is a big city, and Dr. Minkler grew up in a rural area. He has always felt more comfortable in a small community and, as an avid outdoorsman and naturalist, was attracted to coastal Washington.
"It's a gem of the planet," he says of the Twin Harbors. "It's gorgeous."
When the opening for president at Grays Harbor College came up, he knew he was interested.  He was familiar with the Vice President of Instruction, Laurie Clary, and was impressed by retiring President Brewster.
"Grays Harbor College is really a great fit for the community," he says of GHC, noting how it truly serves the needs and represents the culture of the surrounding community. "I believe the College has a positive influence on the community."
Dr. Minkler sees even greater potential for the College and its connection with the community. For example, he mentions new tech programs that will not only lead to living wage jobs, but will "be a ladder to well-paying jobs, and will help incumbent workers."
This Fall, the College's first 4-year degree, Bachelor of Applied Science in Organizational Management is being offered. Next year, the College plans to add two more Bachelor of Applied Science programs once final approvals are received. These will be in Forestry Resource Management and Teacher Education.
"We want to continue the community college mission, to continue having an open door policy, and keep helping first-generation students," he says.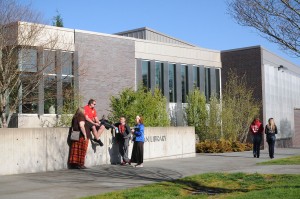 Dr. Minkler is especially looking forward to continuing the strong partnership the College has with The Evergreen State College. The College offers a Reservation-based Bridge program with TESC, providing the first two years of a bachelor degree plus support services to students from the Quinault Indian Nation; they complete the rest of their 4-year degree through TESC.
He also plans to work with the presidents at the University of Washington and Washington State University, who each have a vision and a history of partnering with community colleges. Connections already have been made for GHC students and an instructor with the UW ocean research vessel during summers. He is also focused on other networking and technological changes that could add jobs for area residents.
"The College serves both Grays Harbor and Pacific counties," Dr. Minkler says. "And we want to explore more opportunities for the most rural sectors of this community, bringing more opportunities to those who are place-bound."
He adds, "Ed Brewster made sure GHC served this entire community and I want to continue finding ways to help even more residents find educational opportunities to meet their needs."
Welcome, Dr. Minkler, to Grays Harbor College and the community it serves.
Sponsored