At Olympia Orthopaedic Associate's (OOA) their motto is "Life in Motion". For more than four decades, a life in motion looks different. In OOA's Sports Medicine Center a "Life in Motion" often revolves around helping patients get back to a sport or activity they love. And sometimes, it's the very activity that landed them in the clinic that patients can't wait to return to.
Grays Harbor County offers residents a myriad of activities, from beach to forest to bay. When that active lifestyle results in an injury, seeking a specialist can make a big difference. Dr. Tracy Hamblin and Dr. Dominic Femiano currently see patients in the Olympia Orthopaedic Associates Sports Medicine Center and they are excited to welcome a third member to the team – Dr. Bradley Christ.
Dr. Christ was born in upstate New York but grew up in southern California in the San Gabriel Valley. His undergraduate work in engineering was done at Claremont McKenna College and he continued to the University of California, San Diego to earn a bachelor's and master's in biomedical engineering.
When he graduated, his options were limited as the industry was in decline. "I had a chemical engineering focus and most of the available jobs were on oil rigs in the middle of the ocean and my wife wasn't interested," he says. Luckily, Dr. Christ had a fallback plan.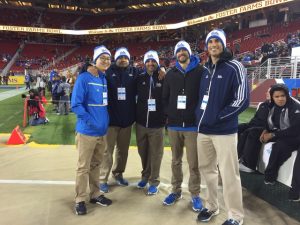 "During grad school I started playing cards just for fun with friends. Turns out, I'm pretty good at it," he laughs. "By the time I graduated, I was making money at it and decided to play poker professionally for a couple years." Dr. Christ's interest in attending med school had also grown and he studied for the MCAT and prepared for medical school while making a living at cards.
After two years as a professional poker player, Dr. Christ entered medical school at the University of Southern California (USC). He attended UCSF Fresno for his orthopaedic residency – the busiest level 1 trauma hospital in California. With solid surgical skills, Dr. Christ travelled south to UCLA to complete a Sports Medicine fellowship, adding layers to his specialty.
When it came time to find a practice to join, Dr. Christ's love of the outdoors – hiking, fishing and snowboarding – turned his search to the northwest. The unique combination of a dedicated Sports Medicine Center within a long-standing orthopaedic practice found at OOA was the perfect fit.
Not only is Dr. Christ a sports medicine specialist, but also an orthopaedic surgeon. Drs. Hamblin and Femiano are both family practice physicians with a sports medicine focus. Dr. Christ brings his surgical services to round out the team.Now, with Dr. Christ on the team, a surgical option is available directly from the Sports Medicine team.
"Being in clinic will increase appointment availability and free up Drs. Hamblin and Femiano to do more therapeutic medicine," explains Dr. Christ of his surgical specialties joining the team. "Together, we can give a broader scope of treatment for sports medicine patients offering non-operative modalities from Drs. Hamblin and Femiano and I can handle the more surgical cases." By joining forces, the Sports Medicine Center truly becomes a full-service option for athletes with sports related injuries.
Helping athletes isn't new to Dr. Christ. "I partnered with the UCLA training and coaching staff to ensure from start to finish – during practices, in-game, and after game – proper precautions were taken and injures were promptly cared-for," he explains. "Part of that is having a plan – an ambulance in place, equipment on the field – in the event someone is injured so we can take care of them." This same focus will assist local student athletes throughout the area.
You can visit Dr. Christ now at the West Olympia clinic. "My interest and passion in sports medicine lies in helping get people back to a high level of activity, back to doing the things they love," he explains. Using minimally invasive arthroscopic procedures for shoulders, knees and hips, Dr. Christ can address many common athletic issues. "It's easier to get people moving again when there is minimal trauma to the surgical site."
With the addition of a surgeon to the team, the Olympia Orthopaedic Associates Sports Medicine Center offers a comprehensive team of physicians serving nearly all patient needs, surgical and non-surgical.  "We are focused," shares Dr. Christ. "Sports Medicine is our life. We intimately understand sports injuries and have trained specifically to treat them. We have a narrower focus and it serves our patients well."
To schedule an appointment with Dr. Christ or any of the physicians at the Olympia Orthopaedic Associates Sports Medicine Clinic, call 360-709-6230. To learn more about OOA's services, visit Olympia Orthopaedic Associates online.