The numbers are simply staggering for the Montesano High School volleyball team – three years without a regular season loss.
It's such an unbelievable accomplishment, Debbie Gibson, the Bulldogs' coach, had to double check the math.

"Has it been three years?" Gibson asked after her squad competed its third consecutive 14-0 regular season with a 3-0 victory over Forks on October 25. "I just go one year to the next. It's hard for me to remember. I've been here so long."
Few groups have been as successful as this year's seven Montesano seniors during Gibson's watch.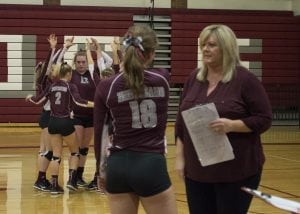 The veteran class includes Hailee Dierks, Shayla Floch, Hannah Manley, Jaden Schoch, Jordan Spradlin, Josie Talley and Josie Toyra.
Since their sophomore year, the group is 42-0 in regular season matches, winning a remarkable 126 of the available 136 sets.
You have to go all the way back to October 8, 2013 when this year's seniors were freshmen to find the last time the Bulldogs dropped a regular season match. That occurred when they dropped a five-match set to rival Hoquiam.
It's been pure domination ever since the setback as Montesano has registered 36 three-set sweeps, including 12 this season, over the last three years, while only going the five-set distance twice, both of which occurred last season against Tenino.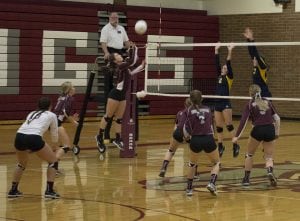 "It's a great group of seniors, great group of girls. They're just really fun to coach," Gibson said. "They're very coachable. They know when they need to pick things up, when they need to pick up the intensity. I am just so proud of this group. They have accomplished a lot in the four years they've been here."
The Bulldogs are now looking to add to their resume with a deep post-season run. Montesano will take the 1A Evergreen Conference's No. 1 seed into the Southwest District 4 tournament, which begins on November 2.
The Bulldogs host the Trico's No. 4 seed Seton Catholic, a team Montesano swept, 3-0, on September 22, in the opening round. The tournament's top three finishers advance to the state tournament.
After two straight years of seeing their season disappointingly end at districts, the Bulldogs finally broke through last year, advancing to the state tournament for the first time since 2012.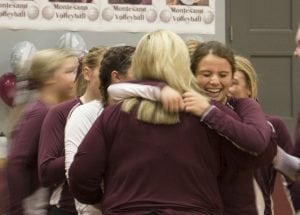 Montesano went 1-2 at state in 2015, losing in the first round to Lynden Christian, the eventual state champion, before losing to Freeman in consolation play as the Bulldogs came up short of securing their first placing since 2010 when they took home the sixth-place trophy.
"Last year it was our first time at the state tournament. There was just a lot of pressure," Talley said. "This year, as seniors, we have that experience of going as juniors. We know what it's like now. We want it to end better than how it has in the past. We want to bring a banner home."
But first, Montesano will need to navigate through a challenging district tournament.
"Now we focus on postseason. We go back to zero. We start over," Gibson said. "For us it's like a new season is starting."
In addition to defeating Seton Catholic during the regular season, the Bulldogs also knocked off Trico runner-up Castle Rock, 3-1, and went a perfect 4-0 against schools from the 2A Evergreen Conference, sweeping Aberdeen, Centralia, Rochester and W.F. West.
"We just started off fast and continued to make progress this year," Gibson said. "We did a good job in the pre-season. It's actually been hard for us to stay consistent (during the regular season). It has to be our focus going into practice this week and the beginning of next week. We just need to try to maintain some consistency and not wait for teams to make mistakes. We need to take care of things on our side."
Offensively, the Bulldogs have benefitted greatly from the play of middles Spradlin and Floch, who plays much bigger than their 5-foot-7 stature.
"I have seven seniors who are seasoned. They've been in the program. They know what's expected of them," Gibson said. "Hopefully, we can just continue the trend."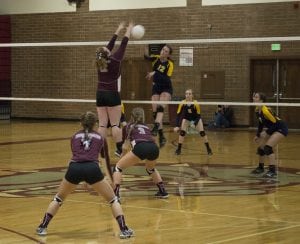 The 1A state volleyball tournament will take place November 11-12 at the Yakima Valley SunDome. The Bulldogs have made 10 trips to state all together with 2010 marking the only time Montesano has placed.
This year's seniors want to add to that.
"We're just a close group. We've been playing sports together since fifth grade," Toyra said about her fellow seniors. "It's just been great to be a part of it."