Pulling into a parking spot in front of Copalis Beach Grocery feels welcoming. Lively flower pots filled with fall colors and cheerful pumpkins greet you as you walk up to the front of the store. At first glance, it is a visual delight full of fresh produce, grocery staples, unique local products and whimsical decorations.
But it didn't start this way. The grocery building in Copalis, on State Route 109 and

Heath Road, sat in despair until a couple with a vision and a whole lot of determination made a leap of faith and began their plan to bring a much-needed grocery store and community hub to Copalis Beach.
Sharon and Steve Voss had already carved out a place for themselves in this beach community before tackling this new venture. Having known each other many years ago, their paths crossed again in Copalis Beach the summer of 2007. Two years later, the couple traveled to Reno to marry,  building the foundation for their future. This would be one of many foundations the couple would work side by side on in the following years.
Steve had already worked tireless to renovate the home on the couple's property in Copalis Crossing. "I watched him create much more than a building," Sharon said proudly. "He would work at the construction site all day (for his job) and then find the energy for every project that came along at home." Soon, the couple settled into the historic location.
Now known as Voss Acres Produce Market, the historic site was once a roadhouse structure in the late 1800's, and later the train depot and post office for Copalis Crossing. The building has a long history in the community and the couple knew it could be a productive community hub again. Steve's vast experience in the construction business paired perfectly with the project at hand.

Working on every aspect of their vision themselves, from the foundation to the hand-crafted woodwork, the Voss's lovingly created a fresh produce market to share with the community. Voss Acres Produce Market opened in 2011 and has become a perfect stop for locals and visitors alike during their open season from April through September.
With the rapid growth in the Pacific Beach area, due in part to the arrival of the Seabrook Community, business was growing right along with the vegetables at Voss Acres. Sharon enjoyed working in the market not only to provide fresh healthy food to her customers, but she also loved sharing in conversation. She shared local information and tips with travelers, hikers and beach goers.
Many of the regulars who stopped in for produce and plants were friends and neighbors. "I love hearing about their day and what they are going to create with the produce they are shopping for," she shares. It was through these conversations she found over and over that her customers wished they could grab a few staples and accompaniments to the produce they were coming in for. "I wanted to be there for the community year 'round, not just during the open season for Voss Acres," Sharon explains.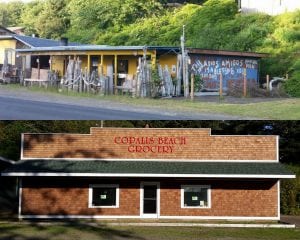 Fast forward a few years to the property on State Route 109 in Copalis Beach. Most might have looked at the worn out building with doubt, but not Sharon and Steve. They saw possibility. Steve saw the huge amount of work that needed to be done but knew he could do it. Sharon envisioned shelves filled with beans, pastas, vegetables, fruits and baked goods. They knew there would be challenges during the summer season having two locations up and running, but also knew they had the support necessary from each other and the community. "This is needed, and we can do it," she stated without a doubt.
They dove into the project with gusto and, after Steve's handiwork was complete, Sharon set about selecting just the right things to bring to the new community grocery store. To compliment the beautiful, produce the Voss's were known for, brought in by her trusty, "Charlie Guy", Sharon added a variety of items such as the fixings for stir fry, seasonings for soups and stews, dips and other delights. From Kombucha to cookies, the Copalis Beach Grocery has you covered.
The store officially opened in June 2016 and you can find the important staples such as milk, bread and basic household items in the cheerful aisles . Getting ready for the weekend? The beer and wine selection is spectacular. And everything you need to make that perfect clam chowder when visiting for a clam dig can be found in the cozy store.
The store is whimsical and fun, too, with gifts and décor items throughout. Sharon has carefully curated a selection of local products such as Giving Thanks Candles and Raw Honey as well as Rainwater Botanical products. "We have a connection to our local artists, we know their stories and share in their lives," she shares.
Brightly decorated and comfortable, the store is more than a grocery stop, it's a community gathering place. The staff welcome those hardworking fellas coming in for grab and go lunches in their work boots as well as the kids for after school treats. There are emergency supplies like candles, rain gear and batteries for stormy winter weekends at the beach, too. "We have a purpose here. We can help with the daily needs, but also help people prepare for stormy weather and bad conditions by offering important items," she emphasizes.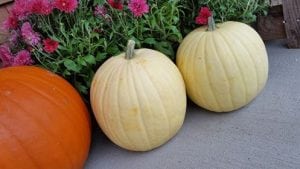 Sharon welcomes and visits with each person that comes in her door, making new friends with each smile. Music plays softly in the background and laughter floats in the air. "I want to provide good food, good conversation and good company for my friends and neighbors," she says. Stop by Voss Acres Produce Market in the spring and summer and Copalis Beach Grocery year round and watch Sharon and Steve's love of community, and their business, grow.
Copalis Beach Grocery 
3090 State Route 109, Copalis Beach, WA
360-289-0105
Open 7:00 a.m. to 9:00 p.m. daily