Just like the eclectic mix of folks that make up the unique community of Grays Harbor, the various activities offered are just as unique. We've scoured the Harbor for holiday fun for you and your family and have highlighted the many options below. Enjoy!
Historic Holidays
One way to re-visit what Aberdeen might have been like during the Holidays on the 1900's is to enjoy a tour of a local Victorian Mansion. Feel the warmth of the twinkling lights that adorn the outside of the three-story mansion, accompanied by several beautifully decorated Christmas trees and decorations filling every corner of the home. Tours offered December 15, 22 and 29 from 6:00 to 7:30 p.m.
Owners Al and Joan Waters welcome guests in Victorian themed costumes to set the stage while leading the tours of the classic manor. The finale to the tour is hot spiced cider and cookies in the formal dining area full of local history.
Tickets are available for purchase at the Greater Grays Harbor office in Aberdeen at a cost of $10 per person. Alternatively, tickets may be purchased on the day of the tour at the Aberdeen Mansion (cash or check only) located at 807 North M St.  Visit their Facebook Page for additional information or call (360) 532-1924.
Aberdeen Winterfest
In it's inaugural year, Winterfest is a celebration of community, holiday and the Harbor. Join the festivities December 2 and 3 in downtown Aberdeen where there will be caroling, a traditional tree lighting, special shopping hours and sales, children's activities and of course, Santa. A breakfast with Santa is planned for for Saturday morning (free for the little ones) where you can also snap a photos, do a craft and write a letter to the North Pole. Full details here or on the Winterfest Facebook page.
Ugly Sweater Opportunities
Ugly sweaters are all the rage during the Holidays. Here on the Harbor you have opportunities to wear them more than once this season.
Buddy the Elf says, "The best way to spread Christmas is cheer singing loud for all to hear!" and the event organizers of this year's Grays Harbor College Christmas Karaoke agree. Wear your ugliest Christmas attire and bring your appetite for free pizza on a first come first serve basis along with festive holiday beverages.  The event takes place on Saturday, December 3 from 7:00 p.m. – 10:00 p.m. at Grays Harbor College located at 1620 Edward P Smith Dr. Aberdeen. This event is for college-aged students.
Want to win a prize for your Ugly Sweater? Wear it during the festivities of Aberdeen's Winterfest. Rich Hartman has donated 3 prize certificates to help beautify your vehicle in time for holiday travels as prizes for the winners. Post your ugly sweater photo to the Winterfest Facebook page for consideration. Full details here.
Show off that sweater at the "Ugly Sweater" dance at the Montesano City Hall. This fun evening will take place on Friday, December 9 at 9:00 p.m. – midnight at 112 N Main St, Montesano. Tickets are $15 in advance and $20 at the door. Your ticket includes a souvenir cup and 2 drinks during the event. This event is for 21 and over please. Pre-sale tickets available at Bulldog Lanes, KD&S Environmental, Kix95.3/Grays Harbor Radio and Umpqua Bank.
Holidays with your Furry Friends
Want to contribute to a wonderful cause this holiday season and make a Christmas memory with your special pet? Gentle Paws Hospice and Sanctuary are offering a special event. For two separate days, December 3 and December 10, Stone Soup Artists will be coordinating artists to perform between 11:00 a.m. and 5:00 p.m. at Hometown Feed in Aberdeen.
There will be food available and Santa Claus will be on-site to snap Christmas pictures for a donation to Gentle Paws Hospice.
Celebrate on the North Shore
Ocean Shores and the North Beach shares in the amazing variety of activities this season. Why not share the love of reading by participating in the 4th annual Ocean Shores Library Holiday Book drive? Their mission is to get quality books into local children's hands this holiday. Donate a new or 'like new' children's book, unwrapped, to the Ocean Shores Library at 573 Point Brown Ave NW in Ocean Shores. The library is asking for donations of books for ages infant through 12 years old. Just drop off at the library now through December 16.
Stage West Community Theatre presents "P.S. Merry Christmas", a delightful play for the entire family touching on the hilarious and heartfelt moments in every family. All performances held at the Ocean Shores Lions Club. Shows will be held Friday and Saturday December 2, 3, 9, and 10 at 7:00 p.m. and Sunday December 4 and 11 at 2:00 p.m. Tickets available at Ocean Shores Animal Hospital, Dolores' and Fay's, Mocha Madness, and the Ocean Shores Visitor Information Center located in the Convention Center.
A little further up the North Beach is a family friendly event from the creative folks at Seabrook WA. Seabrook Town Hall hosts the jolliest breakfast on the North Beach on Sunday December 11 and 18 . Starting at 9:00 a.m. Mill 109 restaurant will be serving a breakfast buffet priced at $15 for adults and $8 fpr kids under 12. Please plan to pay at the door. You can stay a bit and write a letter to Santa, get your family photo with Santa and paint a keepsake ornament.
Santa (and Pirates!) Visit Westport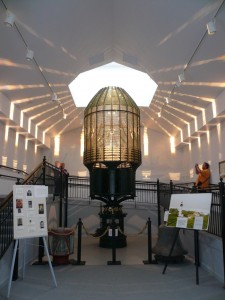 We can't forget about the south beach area. Join the Buccaneers as they welcome Santa to the Westport Marina on December 3 at 10:30 a.m. Delivered to shore by the US Coast Guard, Santa will be escorted to the Destruction Island Lighthouse Lens Exhibit Hall on the grounds of the Westport Maritime Museum.
You can visit Santa in the Lens Building and be sure to bring your camera to capture the fun. Next door at McCausland Hall you can party with the Pirates, enjoy free refreshments, play "Walk the Plank" for prizes and shop at the kids only store.  For more details call 253-381-5989.
Just as there is a never ending of beautiful places to visit during the summer in our little corner of the Pacific Northwest, Grays Harbor delivers a very happy Holidays as well.