It's the Tuesday after Christmas. The Southshore Mall won't close for another 30 minutes, but the place is already pretty empty with several of the stores calling it a night.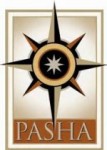 The most active space in the entire shopping center, however, isn't one of the main department stores. It's a makeshift wrestling room that wasn't even there five months ago.
The one-time retailer has been hollowed out. Mats cover every square inch of the floor and line the walls for safety. Several support columns are present each wrapped in padding with the word "Chokers" printed vertically down the front.
A handful of hills are present among the mats. A leak or two drips from the ceiling.
Andy Cook surveys the surroundings, pointing out both the positives and negatives of the place.
"This is us," Cook said beaming. "I like it. This is where it begins."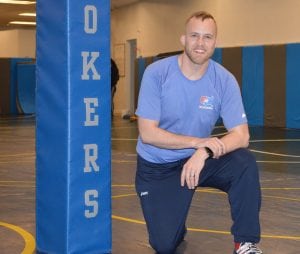 Cook is creating something from the ground up. A year ago he was a high school wrestling coach. Today, he has taken over the reigns as the head coach of Grays Harbor College's women's wrestling program.
"My goals are lofty," Cook said, his voice filled with enthusiasm. "I want to put six (wrestlers) from this team on the Olympic Team four years from now. That's as big as a goal as you can ever get in our sport. Do I think that can happen? Oh yeah."
Grays Harbor is one of only 32 colleges in the nation to feature a women's wrestling program.
Last year the Chokers brought back their men's team – a squad which flourished under head coach Phillip Pine in its inaugural season.
It was Pine who initially reached out to see if Cook, a former two-time All-American in high school and finalist for National Coach of the Year in 2014, was interested in starting the women's program.
Cook, who has coached more than 50 All-Americans in freestyle and Greco Roman, knew his answer immediately.
"When Coach Pine contacted me and asked if I was interested in starting this journey," Cook said, "my immediately reaction was…no."
It wasn't as if Cook didn't believe in what was trying to be accomplished here, far from it. It was that he'd already invested nearly a decade building the Skagit County youth wrestling program into a powerhouse.
"I ran a club for five years. I had multiple national champions out of that club," Cook said. "It was feeding the high school program at Mount Vernon High School where I just got the head coaching job last year and everything was funneling towards making that area great again in wrestling."
But the conversation with Pine stuck with Cook. All he saw was opportunity and potential with starting something new at Grays Harbor College. After all, less than three dozen schools in the nation feature the sport, and even fewer in the Northwest.
The wheels started to turn.
"The more I thought about it, the more I liked the idea of it. I asked my wife and she was super supportive," Cook said. "I wanted to prove to myself that I could start something from nothing and turn it into something big, and that certainly helped fuel me into thinking I could do something good here."
Cook had coached wrestling for 16 years, including a stint as an apprentice coach for the United States World Wrestling Team, but had never coached at the collegiate level.
"I was a touch worried about not being a college coach before. It's not a world I have been in. So that was kind of one hurdle I had to mentally get over," Cook said. "But on the other end of it, I have coached really high-level kids. I've seen the best and I've been able to go around the world with USA Wrestling. I was able to work with some of those coaches and realized I'm just as good as they were. That whole experience re-assured me that I could make it this happen."
Cook did no recruiting for the program this past offseason, stating that the program just starting up "recruited itself" due to the increased interest in women's wrestling. He has since been very active on the recruiting trail, sending out 300 recruiting packets across the country, starting with high school wrestlers in Washington state.
The Chokers currently have 16 wrestlers on the roster, all of which are freshmen outside of sophomores Marizza Birrueta and Chloe Spencer.
"It's building up. We're getting there," said assistant coach Alex White, a former state champion at Hoquiam High School who was one of first members of the Grizzlies girls wrestling team. "It's definitely going to be growing in the next few years big time."
Success has already come to the Chokers, who opened their season in late October with a meet at Eastern Oregon University. The team finished second overall at the Spokane Open and saw three athletes advance to the championship round at the Clan International in British Columbia, Canada with Birrueta securing first place.
Grays Harbor will host its final home match of the season on Wednesday, January 11 against Warner Pacific University at the GHC Bishop Center at 5:00 p.m.
"Give us three or four years," Cook said, "and we're going to be a juggernaut."