When Shawna Brown was growing up, her mother gave her a Cabbage Patch Kid with a doctor's examination kit. "It was all downhill from there" she jokes. From that point on she knew she wanted to work in pediatrics. "There was never a question for me," she says. "I was always drawn to kids."
This October that dream came true. After taking her board exams in July, Brown joined the team at Harbor Medical Group Pediatrics, a subsidiary of Grays Harbor Community Hospital, as a Pediatric Primary Care Nurse Practitioner.
Prior to joining the HMG Pediatrics team Brown spent ten years in the medical field as a registered nurse. Part of that time was spent as a traveling nurse, taking three-month assignments in Anchorage, Alaska to work in acute care and cardiac care situations. "I've also been in Kentucky, California, Hawaii, and West Virginia," she adds.
In addition, Brown travelled internationally working with children during mission work in communities in underserved areas throughout the world. "It was an unbelievable experience to be able to visit Kenya, Vietnam and Honduras and see these diverse cultures," shares Brown. "And, to be able to work with children in these places, where there is such a need for healthcare, was beyond rewarding for me. I strongly believe that these experiences have made me a more well-rounded healthcare professional."
In her domestic work, Brown spent four years traveling to and from Alaska on a regular basis and fell in love with the landscape, but it was too far from her family in West Virginia where she was raised. Her husband grew up in Neah Bay and once she earned her degree she began looking for a job and decided to check out Washington State. "He was pretty excited," she says. "I came out for a site visit and fell in love. This city has the same population as the town I grew up in. Seattle is too big and Portland is too far away, but this feels like home."
In her new role she conducts well child checks as well as acute visits. In addition, Brown helps patients and their families with developmental screenings, oral health screenings, cardiovascular risks and behavioral health screenings including anxiety, depression, ADHD and autism. "I work with families to not only screen for these issues, but to then assess their child's needs individually and create a care plan together with each family," says Brown.
Although Brown has only been practicing in Grays Harbor County for a short time, she's enjoying the experience. "There is definitely a pediatric need here and I've really enjoyed being needed," she says.
She also appreciates the overall culture of Harbor Medical Group Pediatrics. "You can be very independent and be a leader here," Brown shares. "There's a lot of room for your opinions and they actually matter. They've built up a really good program that's going to lead the community."  As someone who considers herself a leader, she finds it an ideal environment to both have a voice and be on the ground floor level of what is being created.
The organizational culture is focused on nourishing success, she says. "There is an overwhelming amount of support, and everybody here wants me to succeed. That's not easy to find. People want you to do well and grow your practice, but also to maintain a work/life balance. It's a good community environment to work in."
The services the hospital birthing center provides are critical, particularly with the departure of Dr. Sean White, the area's only on-call pediatrician in private practice. White will be moving his practice to Dickinson, North Dakota after the beginning of 2017. "People have been worried that there won't be pediatric services," says Brown. "They're happy that a new provider is here in The Harbor."
Being able to offer that care is clearly a driving force for her. "I'm very community oriented," Brown explains. "That's part of what drew me here the most. I want everyone to thrive and have access to the same care they would get in Olympia or Seattle."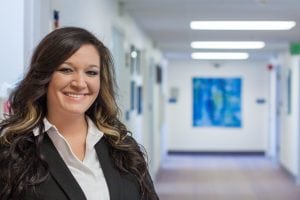 Although she's not yet a familiar face around town, she aims to be. "I ran into one of my patients at the skating rink, and she hugged me," smiles Brown. "I want to be the home grown pediatric provider where everyone knows me and is happy to see me." Part of that goal is getting to know the local teachers and their students. "I want to be a familiar face in a small community."
For more information about Grays Harbor Community Hospital, visit www.ghcares.org or call 360-532-8330.
Sponsored