The YMCA has been a centerpiece of the Grays Harbor community for over a century. The current location, built in 1998, is a 57,000 square foot facility well known for its child care options and the only swimming lessons in the county. But, the YMCA is so much more. Learn about nine unique ways the YMCA of Grays Harbor helps build up our community ­– body, mind and soul.
Find Direction – Do you want to improve your mile time? Be able to lift a bag of potting soil? Keep up with your grandkids? Or maybe you don't know where to begin, you just want to feel better? The YMCA's Wellness Connection offers a free session with a staff member where you will discuss your needs and concerns and set some SMART goals. You'll be guided through your first experiences at the Y and the same staff member will follow up to make sure you are finding success.

The support and encouragement offered in group fitness classes helps keep you motivated. Photo courtesy: Gray Harbor YMCA

Get Motivated – Getting to the gym can be a challenge. The staff know that friends and recognition for your efforts motivates you to keep up with your routine. The 26 adult fitness classes ranging from yoga to cardio kickboxing offer a chance to work hard alongside your classmates while you support and cheer each other on. Join the 100 class club and keep track of your progress. When you reach 100 classes you'll receive a t-shirt and certificate. Prefer a game of pick-up? Noon hoops run Monday-Friday for ages 18+. If swimming is more your style, aim for the 100 lap and 250 lap clubs for your own shirt and certificate.

Relax – All this talk of exercise wearing you out? Get some down time in the hot tub and sauna then head over to the cafe for complimentary coffee every day beginning at 5:00 a.m. You can drop the little ones in Busy Town, a free children's play area for newborn through second grade, and find a soft chair to read a book. Older children, up to grade 6, can enjoy the Impact Center while you go to yoga or chat with friends. The Y is a place for you to maintain your health, whether you need to sweat or simply chat.
Nothing says summer like time spent at camp. A variety of local options are available through the Grays Harbor YMCA. Photo courtesy: Gray Harbor YMCA

Explore – Field trips are not just for kids. For a minimal fee you can join a Grays Harbor YMCA Senior Field Trip visiting exciting places throughout western Washington each month. Grab your friends and sign up to enjoy a day trip to Mt. St. Helens, Pike Place Market or Seabrook. Cost includes transportation and admission fees. Kids' summer and spring break camps offer adventure, too, and family camps let everyone act like a kid.
Prioritize Family Time – Sometimes time together as a family is hard to find. One option is the all-ages Tae Kwon Do class where you'll learn the five tenets – Courtesy, Integrity, Perseverance, Self-Control, and Indomitable Spirit – side by side with your child or grandchild. Or, opt to spend time playing and splashing together in the pool. Daddy-daughter and mother-son dances this spring and a variety of free family activities let you enjoy time together during our busy lives.

All ages Tae Kwon Do classes allow families to have fun and get fit together. Photo courtesy: Gray Harbor YMCA

Develop New Skills – YMCA classes and activities are designed to help people of all ages develop new skills, but where they shine is the youth development programs. Whether it is swim lessons, basketball, gymnastics or one of the many other programs, each class helps kids learn to work as a team, build communication skills and confidence and develop as leaders.
Serve the Community – Serving others brings a certain satisfaction that few other activities provide. It gives you a sense of purpose and worth knowing you can help others. Service opportunities like coaching a team, mentoring at-risk youth, tutoring students or volunteering at the front desk can be found at the Y. Many of these service opportunities are on-site but off-site mentoring and tutoring options are available, too.

Enjoy some downtime at the Y! Photo courtesy: Gray Harbor YMCA

Socialize More – Whether your goal is making new friends or spending time with old, the clean, warm, inviting atmosphere of the YMCA is a place where you can make it happen. The wholesome activities provided at the Y are fun and promote a healthy lifestyle. If you have something special to celebrate you can even host a party at the YMCA of Grays Harbor. The pool, Busy Town and the Community Room are all available by reservation.
Work Towards Financial Peace – It's not just about physical fitness at the Y, but life fitness as well. One of the ways offered to better your life is through Dave Ramsey's Financial Peace University. The next class starts March 30 and meets weekly on Thursdays at 6:30 p.m. Sign up online now. No Y membership required. Speaking of finances, if you're worried about fitting a YMCA of Grays Harbor membership into your budget, take a few minutes and talk to a staff member about discounts for single parent families, sliding scale prices based on income and alternate membership rates. The YMCA is dedicated to making membership available to all residents who desire one.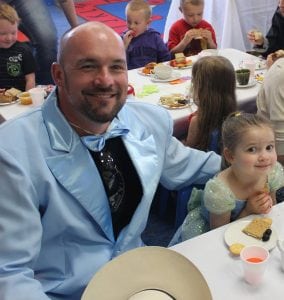 While the YMCA has been a part of our local community for many years, it's easy to overlook the wide variety of unique options it offers. With our lives busy enough, isn't it nice to know you can find friendship, fitness, financial advice and fun all in one place?
YMCA of Grays Harbor
2500 Simpson Avenue
Hoquiam, WA 98550
360-537-9622
Map to the Y
Sponsored